Will Redskins' Sexual Harrassment Scandal Impact Ex-Coach Jay Gruden's Job Hopes?
Jay Gruden spent recent days as a trending topic for all the wrong reasons.
In the days leading up to a Washington Post story alleging sexual harassment in the Washington Redskins organization, Gruden's name and his potential ties to the scandal flooded social media.
Gruden's name never appeared in the report, which instead focused on Washington Redskins executives and broadcasters. But after he spent six years as the Redskins' head coach, could the scandal impact Jay Gruden's future job hopes?
Washington's NFL team is involved in a sexual harassment scandal
RELATED: The Washington Redskins Face a Potential Disaster Other Than Dan Snyder
The priorities inside the Washington NFL franchise's building have changed from finding a new team name — the team retired the "Redskins" name and logo — to investigating multiple allegations of sexual harassment.
Fifteen former Washington staffers and two journalists told the Washington Post they'd been harassed, both physically and verbally, by members of the organization.
Among those named as harassers were Richard Mann II, the team's assistant director of pro personnel, and longtime play-by-play voice Larry Michael.
Michael, who also served as the team's senior vice president of content, retired July 15.
Owner Dan Snyder and former team president Bruce Allen were not directly implicated in the story. Several former Redskins employees criticized Snyder for the franchise's culture, though.
This isn't the first scandal that Washington's NFL franchise faced in recent years. Five former cheerleaders told the New York Times in 2018 they were forced to escort team sponsors to a nightclub during a 2013 photoshoot in Costa Rica.
Jay Gruden coached the Redskins from 2014-19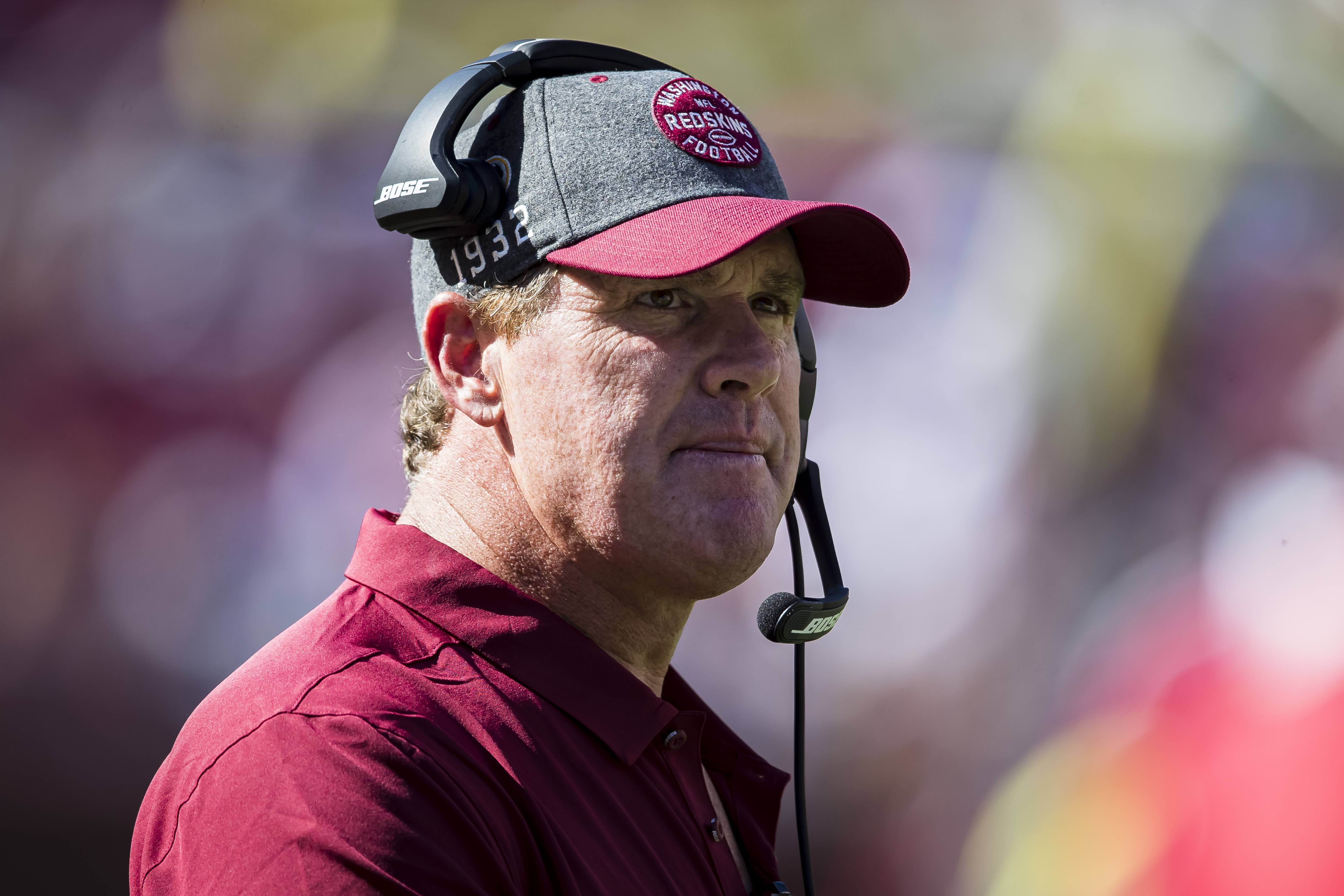 RELATED: What Is Former Redskins Coach Jay Gruden's Net Worth and How Does It Compare to Jon Gruden's?
Nowhere in the Post's story was Jay Gruden, who coached the Washington Redskins from 2014 through 2019.
The younger brother of Raiders head coach Jon Gruden, Jay led the Redskins to an NFC East Division title in his second year.
Before that, the younger Gruden was a star quarterback at the University of Louisville and later in the Arena Football League.
Gruden began his coaching career in the AFL. He served on his brother's coaching staff in Tampa Bay from 2002-08 and later rose to prominence as the Bengals' offensive coordinator.
Gruden's work with second-round pick Andy Dalton, as well as the Bengals' three straight playoff berths from 2011-13, earned him the Redskins' head coaching job in 2014.
Gruden finished 35-49-1 in his five-plus seasons with the Redskins. After a dismal 4-12 showing in 2014, Washington never finished with fewer than seven wins until the team fired him five games into last year.
The Jacksonville Jaguars named Gruden their offensive coordinator earlier this year.
Will Jay Gruden ever be an NFL head coach again?
RELATED: Jay and Jon Gruden Have a Forgotten Older Brother
It is important to note Jay Gruden's name never appeared in the Washington Post story.
None of Gruden's players or assistant coaches were named, either. The only alleged harassers were executives — and in Larry Michael's case, a broadcaster.
Viral tweets speculated Gruden participated in sex parties and drug or alcohol abuse. No such claims appeared in the story.
Gruden has not commented on those allegations or rumors as of July 17, 2020.
Still, could the scandal as a whole impact Gruden's future job hopes? Gruden held a position of power in an organization now investigating reports of cultural problems.
Gruden's mediocre coaching stint was already poised to keep him from earning another full-time head coaching job anytime soon. At best, the Redskins were inconsistent under Gruden and never broke through despite a talented cast.
Washington's NFL team has promised to investigate its cultural problems. Any findings could have a far bigger impact on Gruden's NFL future, either as the Jaguars' offensive coordinator or, down the road, as a head coach.