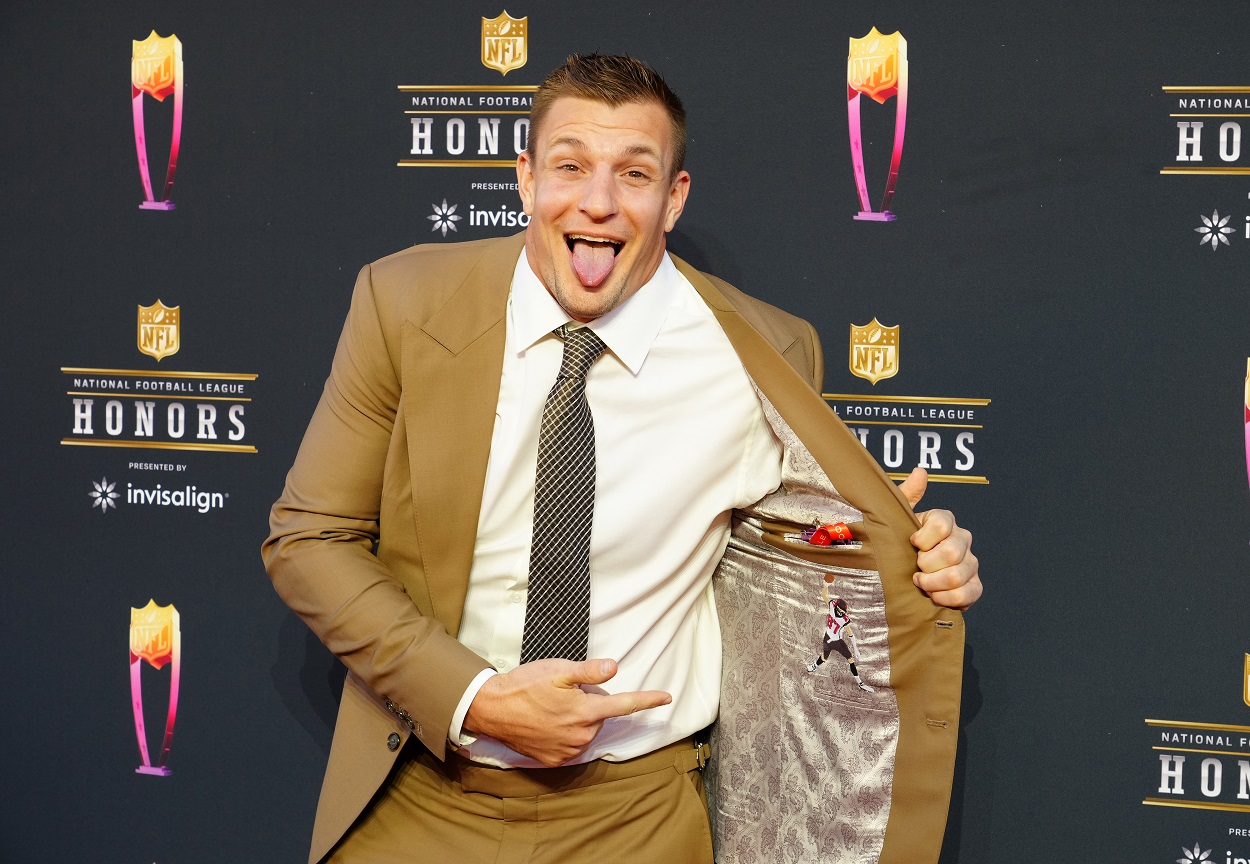 Will Rob Gronkowski Home In On Buffalo Bills' Latest Interest?
Could the Buffalo Bills lure Rob Gronkowski back to his hometown team for a final NFL season?
The title of the famous Thomas Wolfe novel read, "You Can't Go Home Again."
The Buffalo Bills have a novel idea of their own, when it comes to tight end Rob Gronkowski: Forget about Tom. Come back home.
Where once the Bills failed to land the best tight end ever to grow up in Western New York, they are once again interested in bringing Gronkowski to Orchard Park for one final season, and perhaps a final trip to the Super Bowl.
But is Gronk interested in a return to the AFC East? And are Bills fans' memories short enough to forgive a terrible past transgression?
The Bills tried to lure Gronkowski in 2021, but couldn't break the Brady bond
The Athletic reported on Friday that word at the NFL Combine is that the Bills are contemplating taking another run at signing Gronkowski to a free-agent contract, a year after trying to lure Gronkowski away from the Tampa Bay Buccaneers.
The 2021 bid failed, and Gronkowski re-upped with the Buccaneers on a one-year, $8 million contract primarily because Gronk wanted to continue playing with the only NFL quarterback he's ever known, Tom Brady.
But now that Brady has retired from the NFL – at least, as far as we know – the Bills would like to take another run at the native of Amherst, N.Y., on the belief that Gronkowski, who has retired once already in his career, might like to end his second stint in the league close to his hometown.
With Brady retired, the Bills are back on Gronk's trail
The Bills could probably get Gronkowski on something of a hometown discount.
Michael Ginnitti, managing editor of contract analysis database Spotrac, told the Athletic that they have projected Gronkowski for a contract worth about $7-9 million a year, perhaps more with incentives.
"There's a sense that a one-year, $5 million base contract, with somewhere around $5 million of incentives attached, could be a strong fit for the Bills," Ginnitti told the Athletic. "That's lower risk up front as they assess what kind of role he may play over the course of 17-plus weeks, and they'll be happy to add on bonus pay if things go swimmingly."
The Bills do not necessarily need Gronkowski, as Dawson Knox emerged last season as a legitimate red-zone threat, tying for the league lead among tight ends in touchdowns in 2021 with nine. In two postseason games, Knox snagged two more touchdowns.
But the Bills might envision a set-up similar to what the Bucs have employed in Gronk's two seasons in Tampa, using him along with the likes of Cameron Brate and O.J. Howard. Having both Knox and Gronkowski in two tight-end sets would make Josh Allen all the more dangerous.
"He'd pair nicely with Knox in a 'won't be asked to do too much' role, similar to what he experienced with Brady in Tampa Bay," Ginnitti said.
Is Gronk still a hometown hero in Buffalo after the 2017 cheap-shot incident?
But will Bills fans will have to answer a big question about Gronk: Can he go home again after the vicious cheap shot he delivered on the Bills' Tre'Davious White late in the 2017 season as a member of the hated New England Patriots?
The Athletic points out that Bills fans have not been quick to forgive and forget the incident, when intercepted Brady, and after the whistle and White defenseless on the ground, Gronkowski dived shoulder-first into White's back, earning a one-game suspension from the league.
Gronkowski apologized to White, who went through concussion protocol but didn't miss the next game. White said he accepted the apology. But in a recent episode of Brady's ESPN opus, "Man in the Arena," Gronkowski said he was happy to get suspended, because it gave his body a week to heal up before the 2017 NFL Playoffs.
If Gronk can lead the Bills to its first Super Bowl in 30 years, chances are good all will finally be forgiven.
Stats courtesy of Pro Football Reference