Will Ronald Acuna Make MLB History in 2019?
At just 21 years of age, Ronald Acuna Jr. is already one of the most promising young stars in Major League baseball. His combination of powerful hitting combined with his speed makes him a danger anywhere on the field. With just a few weeks left in his second season, he could soon be in some exclusive company if he finishes the season strong, too. 

Ronald Acuna's rise to stardom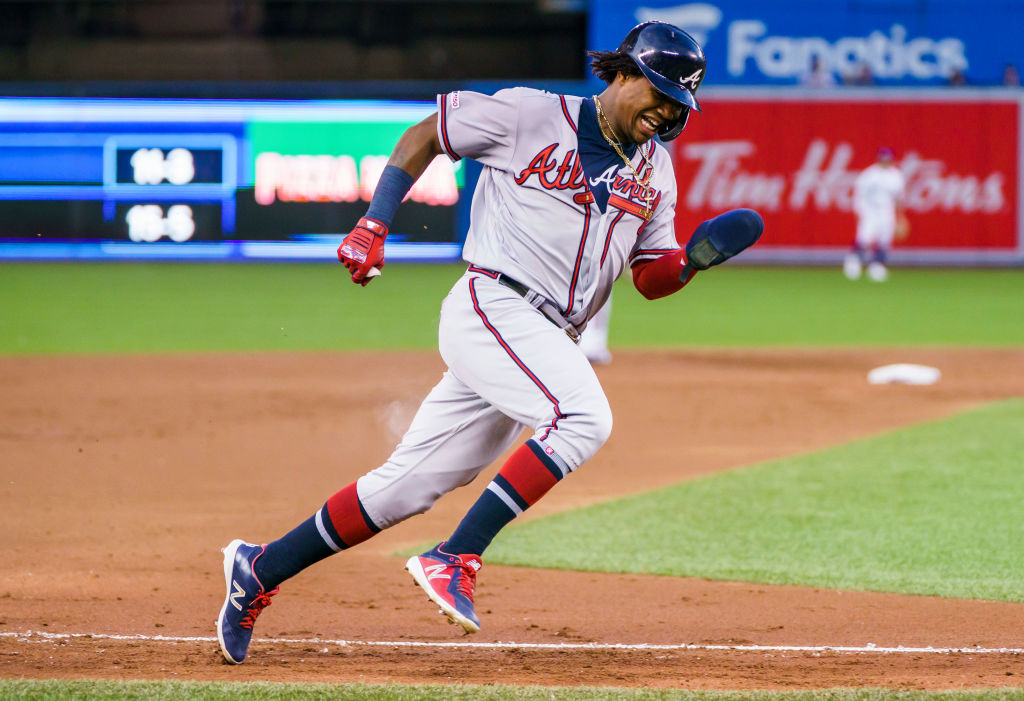 Acuna's rookie year was promising from the get-go. In 111 games, he racked up 26 home runs and 16 stolen bases. Not only did he receive the Rookie of the Year award, but he was also receiving the attention typically saved for a more seasoned star, coming in 12th in MVP voting for the National League. While that may be nothing, even disappointing for a seasoned superstar, it's something that a 20-year-old can hang his hat on.

This year, Acuna's expanded on his list of young accomplishments. Not only has his hitting and baserunning improved, but the Braves are also standing comfortably atop their division thanks in large part to his contributions. He's already been named an NL All-Star, and that 12th-place run in MVP voting last year may go all the way up to first if he finishes his season strongly. 

Acuna's defense isn't slouching either. He uses his speed and gifts of youth to throw his body around, dives for catches, and gives his all to ensure that nothing gets past him. He's young, and there can definitely be refining, but Acuna could be a complete superstar early in his career if his growth continues. One particular feat within his grasp this year may be his official indoctrination into the label.

The elite 40-40 club
As of August 29, Acuna had 36 home runs and 31 stolen bases. If he can get to 40 in both of those categories, he will officially be a member of the legendary 40-40 club. Home runs show that a player has the power to send it out of the field, and speed shows that even the weaker hitters can be effective if they reach the base, but having both is typically saved for legends.

Acuna only needs four runs to reach 40 on the season, but steals could come down to the final games. At 31 stolen bases, he will need to get almost a quarter of his homers in about a month of play. It isn't an impossible task. It was just about a month earlier that he was at 22 on the year, and if his improvement keeps up, then the 40 mark is still in play.

Who will he join if he makes it?
The club Acuna joins if he makes it to 40 in these categories accounts for some legendary, albeit controversial players. Alfonso Soriano came close to joining the club in 2002 but missed it by one home run. Four years later, however, he was able to do so after hitting 46 home runs to go with 41 steals. Also of note, Soriano is the only member of the club who hasn't been caught up in the steroid scandal, too.
Alex Rodriguez joined the club in just his third season in the majors. While late-career Barry Bonds wasn't known for his base-running, 1996's version of Bonds had the speed and creativity to join the club. Finally, there was Jose Canseco. Known for his long home runs, Canseco was the first player to successfully join the club in 1988. He was also the only player who won MVP during his 40-40 campaign.

Acuna's historic season will not be hurt if he doesn't reach this club, but for him to do it in only his second season would be a testament to his skill. Even if there was controversy regarding some of the members, being listed among the best to ever play is nothing to shrug off for a player who is barely old enough to order a beer. Perhaps it will be the first of many brushes with the legendary mark.