Will Stipe Miocic Transcend His Physical Limitations and Return to the Ring?
Current heavyweight champion of the UFC, Stipe Miocic unofficially carries the moniker of being the "baddest man on the planet." Despite this, Miocic hasn't fought since he reclaimed his title at UFC 241 in August 2019. He has a good reason for not fighting, however.
Stipe Miocic's injured eye
Every UFC fighter needs their eyes to maintain a high level of performance. Unlike in other sports, however, eye damage is relatively common in the UFC and in other MMA organizations. It's the same with boxing. Simply put, any sport where two people try to hit each other in the face may cause eye damage.
This is what happened with Miocic when he fought Daniel Cormier again, reports ESPN. Cormier accidentally poked the 37-year-old in the eye several times during their fight. Additionally, Cormier, who knocked Miocic out in their first fight together, landed many hard shots to Miocic's face during the bout. 
Without a doubt, the combination of unintentional eye pokes and heavy punches to the face led to Miocic's current condition. As ESPN reports, Miocic needed eye surgery and he's been recovering from it ever since. 
Will Miocic ever return?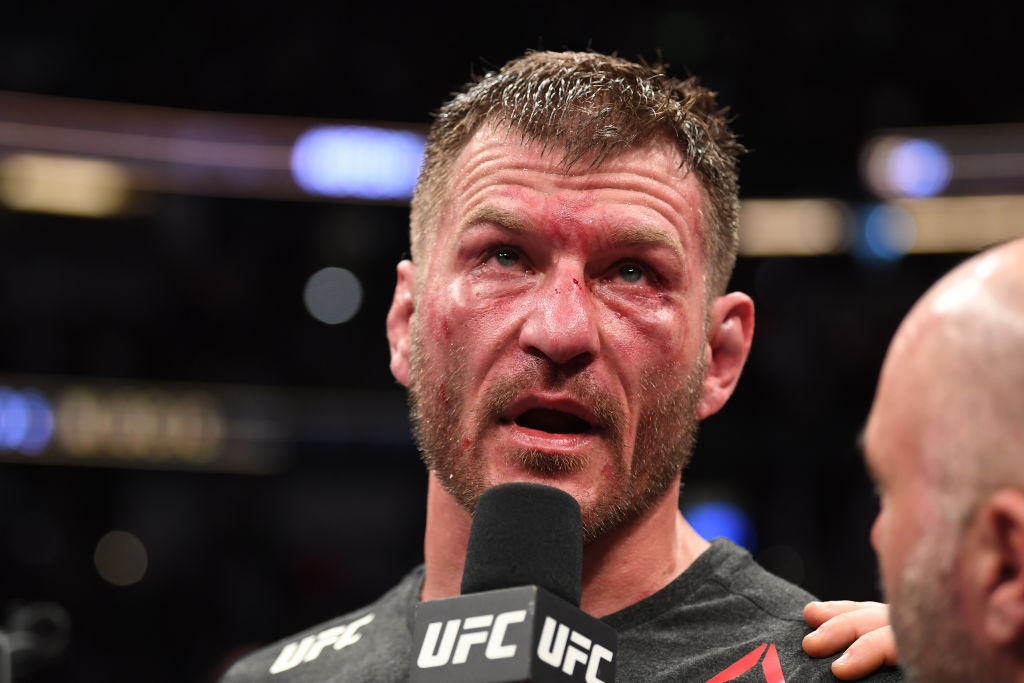 Miocic has not only been the heavyweight champion twice, but he's also been a dominant winner. He's beaten scary heavyweights few men could overcome, like Francis Ngannou and Alistair Overeem. With his latest win against Cormier, Miocic has avenged his most recent loss, too.
So, Miocic, who is still young for a heavyweight fighter, has every reason to continue fighting. It's just a matter of taking care of himself and his health right now. ESPN reports that Miocic won't fight again until he and his team are confident his vision will be fine. Eyes are a complex part of the body, so this may take a while. 
But recently, according to MMAfighting, Miocic explained that his eye is doing better after all the medical attention. He added that he's thinking about fighting again in the summer of 2020, assuming his eye continues to recover. This is an improvement over earlier reports that Miocic didn't have a timetable for returning. 
Who will Miocic fight when he returns?
Assuming nothing catastrophic happens to Miocic's eye, the person who Miocic will fight when he returns is pretty clear. His opponent is almost guaranteed to be Cormier again. This makes sense for many reasons. 
First, the two men have fought twice, and both have won once. A trilogy matchup to decide who is the better fighter is nearly a requirement at this point. Second, in both of the bouts, fans saw a very evenly matched, exciting fight. Although Cormier knocked out Miocic in the first round in their first fight, it was still a close fight before the KO. 
In their second fight, it was an even closer battle. Cormier dominated Miocic when the two men wrestled — and Miocic is a great wrestler. Cormier also landed many heavy blows, but Miocic endured. In the fourth round, Miocic changed his strategy and began hitting Cormier's body. These shots were so hard that Cormier finally succumbed to them and got knocked out. 
These two fights were also popular with UFC fans. As a result, when Miocic returns, it only makes sense for him to fight Cormier for the third and possibly last time.