If He Wins, Will the World Ever Forgive NASCAR Cup Series Driver Kyle Larson for His iRacing Streamed Racial Slur in 2020?
NASCAR Cup Series driver Kyle Larson is racing against time – and public opinion.
He wants his good name back.
Will winning a Cup championship at Phoenix Raceway on Nov. 7 invite Larson back into the good graces of corporate America?
That's to be determined, but Larson is in a much different place in 2021.
NASCAR Cup Series driver Kyle Larson attempting to speed away from iRacing racial slur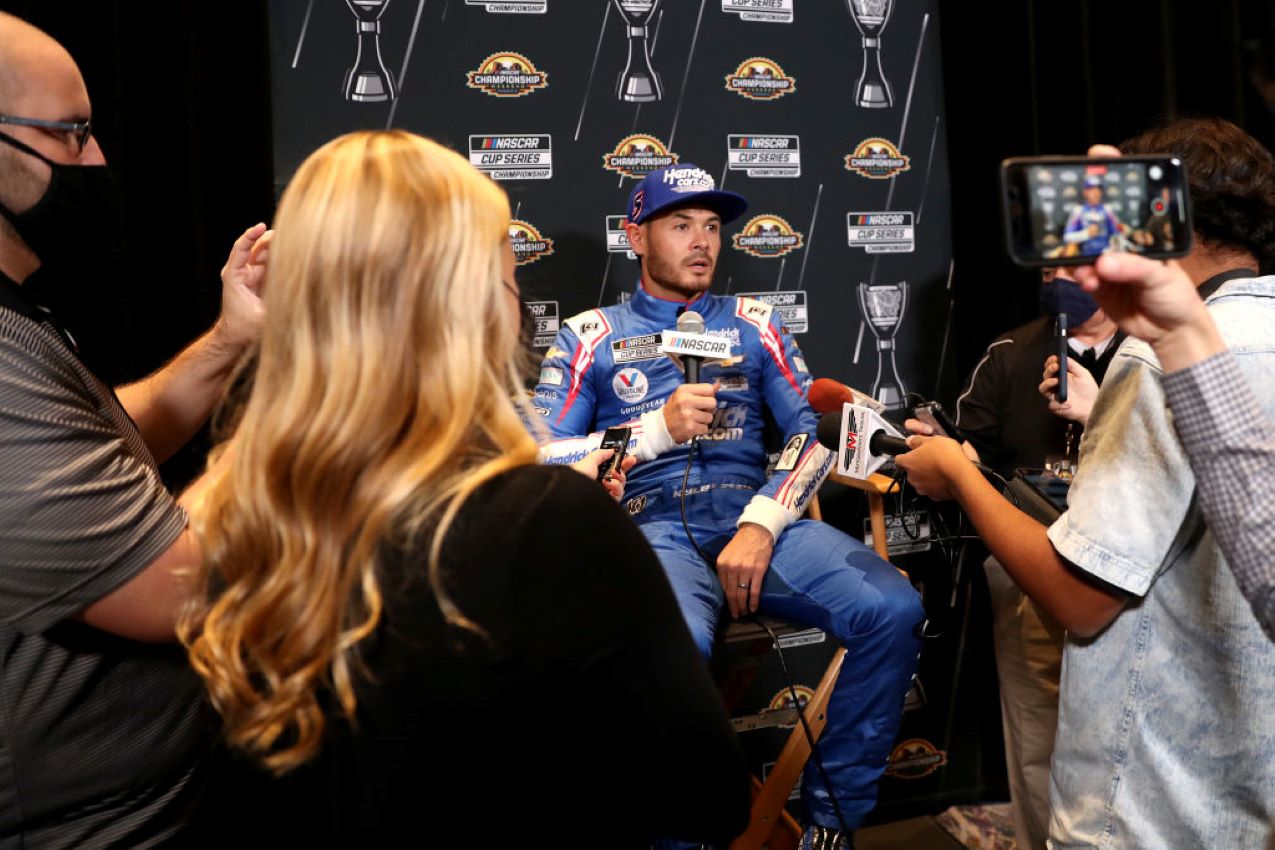 For the Championship 4 race last year, Larson watched his new teammate, Chase Elliott, capture Hendrick Motorsports' first playoff-era championship from the team garage in Concord, North Carolina.
With his career under siege, Larson was in good company. He sat with a score of team engineers and personnel. He listened intently to how the off-site team communicated with the on-track crew. At the time, Larson needed to be in a safe place, out of the spotlight.
Leaving the garage that night after Elliott's victory, Larson recalled feeling a new sense of urgency to straighten out his career, as reported by nascar.com during Media Day at the Phoenix Convention Center on Nov. 4.
"I remember walking out of that room thinking, like, 'Wow, they just won the championship. I'm racing for the best team going into the (2021) season,' " Larson said.
Driving under a social microscope, Larson has made Hendrick Motorsports better. His win at Charlotte Motor Speedway in May was owner Rick Hendrick's 269th career Cup victory, breaking the record held by Richard Petty.
Talk about getting in good with the boss.
With Larson and Elliott going up against two Joe Gibbs Racing drivers, Martin Truex Jr. and Denny Hamlin, for the Cup Series championship race on Nov. 7, Hendrick aims to clinch back-to-back titles. Before last season, Hendrick's last championship came in 2013.
Larson believes he's on private chat when he utters racist comment
For Larson, the path to public forgiveness has been a journey in itself.
During an April 2020 iRacing event broadcast, Larson, then 27 years old, competed in a virtual race stream with more than 60 other drivers. In the heat of competition, Larson uttered the racial "N" word. Larson's driver ID was confirmed via the broadcast on nascar.com, according to sports.yahoo.com.
Larson apparently thought he was on a private channel when he uttered the controversial phrase. His employer, Chip Ganassi Racing, immediately suspended Larson. The team later fired him. When the "Black Lives Matter" movement was so prevalent in American society, sponsors quickly distanced themselves from Larson.
In the statement the following day, Chip Ganassi Racing said: "We are extremely disappointed by what Kyle said last night during an iRacing event. The words that he chose to use are offensive and unacceptable. As of this moment, we are suspending Kyle without pay while we work through this situation with all appropriate parties."
Larson will need to win the Cup Series title to help people forget the past remark
Hours later, NASCAR officials issued their suspension and ordered Larson to enter sensitivity training, effectively ending his season. He was soon to enter free agency.
In October 2020, after being reinstated by NASCAR officials, Larson signed with Hendrick Motorsports. Not everyone applauded the decision, but it has paid dividends.
Larson dominated the Cup Series Jeff Gordon-in-1995 style. He earned a series-high nine wins, not including the all-star event victory, and earned 19 top-five finishes, and 25 top-10s. He led 2,474 laps.
Does winning make sponsors forget?
Maybe in time.
But first, he needs to win.