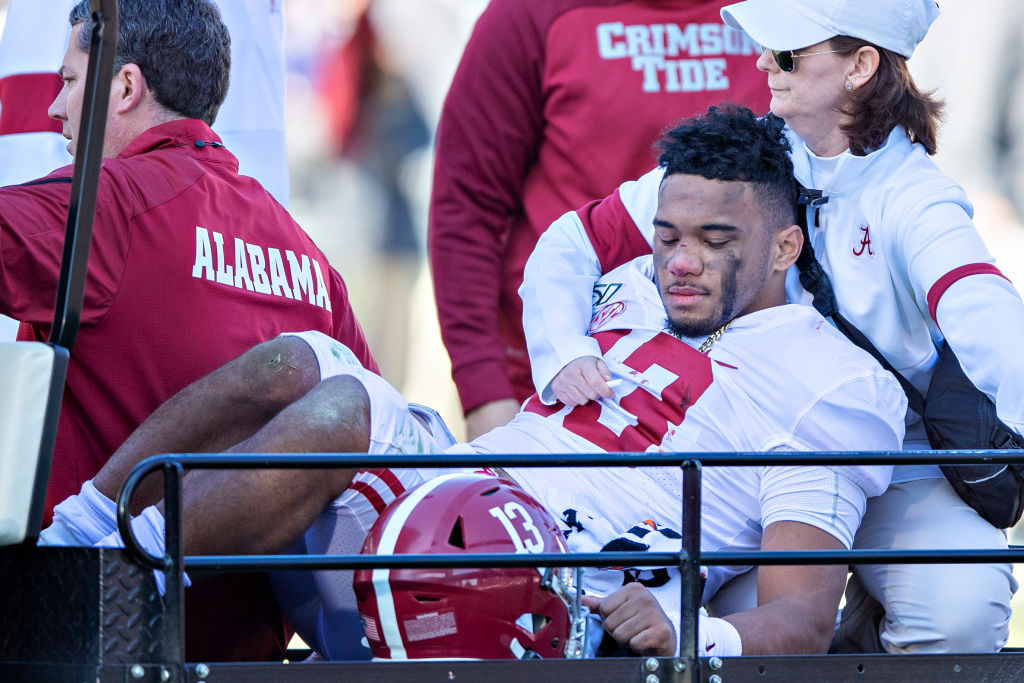 Will Tua Tagovailoa's Still Go No. 1 in the NFL Draft After Devastating Injury?
Tua Tagovailoa suffered a season-ending hip injury on Saturday afternoon. Will he still be the first overall pick in the 2020 NFL Draft?
The Alabama Crimson Tide were leading the Mississippi State Bulldogs by a score of 35-7. Head Coach Nick Saban decided to leave Tua Tagovailoa in the game for one last drive, in his words, to give Tagovailoa some practice in the two-minute drill. On that drive, Tagovailoa was tackled on 3rd-and-4 after scrambling out of the pocket and was badly injured on the play. He was screaming in pain and needed to be carted off of the field.
Tua Tagovailoa has since been diagnosed with a dislocated hip that will bring an end to his season and likely his career at Alabama. Early speculation suggests that the injury could be similar to the one that ended Bo Jackson's career, which could conceivably keep Tagovailoa out through the beginning of the 2020 NFL season.
Tagovailoa's issues with durability
There were already concerns about Tua Tagovailoa's durability before this injury occurred. In 2018, Tagovailoa broke his finger during the offseason and had to deal with injuries during the regular season to his quad, knee, and ankle. He had a tight-rope procedure done on his ankle, which allowed him to play in the College Football Playoffs that season.
In 2019, Tagovailoa injured his other ankle with a high-ankle sprain, once again requiring the tight-rope surgery to repair it. He was able to return two weeks later to take on the LSU Tigers after missing one game and having some time to recover over Alabama's bye week.
And now, his season has come to an end due to this hip injury. Most of these injuries appear to be freak occurrences that aren't Tua Tagovialoa's fault, or an indicator that he is doing anything wrong in training. But regardless of the causes, the 21-year-old has compiled quite a long list of injuries in his short career.
Alabama's star is no longer the favorite to be the top pick in the draft
Durability is a major factor for teams making a pick high in the first round. The future of the franchise depends on these picks. If a player is unable to remain healthy and stay on the field, they won't be able to use their talents to turn the franchise around.
With this in mind, it is no surprise to see that Tua Tagovailoa is no longer the favorite to be the No. 1 overall pick. Tagovailoa's talent is beyond reproach; in just 32 collegiate appearances and 24 starts, Tagovailoa has amassed 7,442 passing yards, 87 touchdowns, and only 11 interceptions. But with his injury history, teams might decide to go with a 'safer' choice.
LSU's Joe Burrow is the new favorite to be the first overall pick in the NFL Draft at -300 (bet $300 to win $100). Ohio State's Chase Young (+100, bet $100 to win $100), and Oregon's Justin Herbert (+200) could also be in the mix. Tagovailoa is now going off at +500 to be the first overall pick in 2020.
Another reminder that college athletes must be paid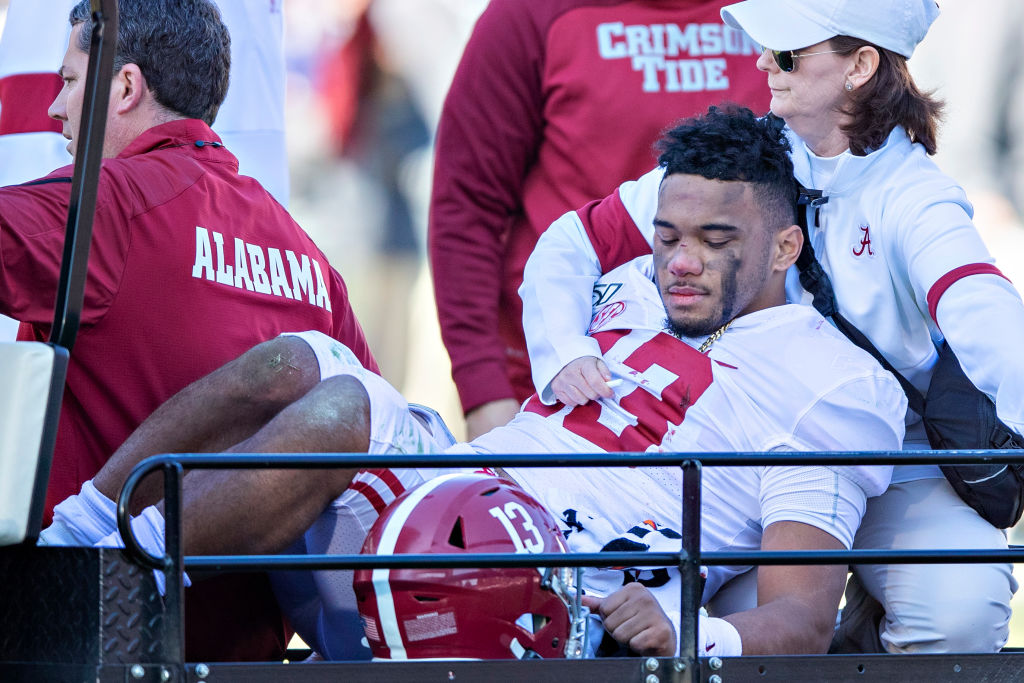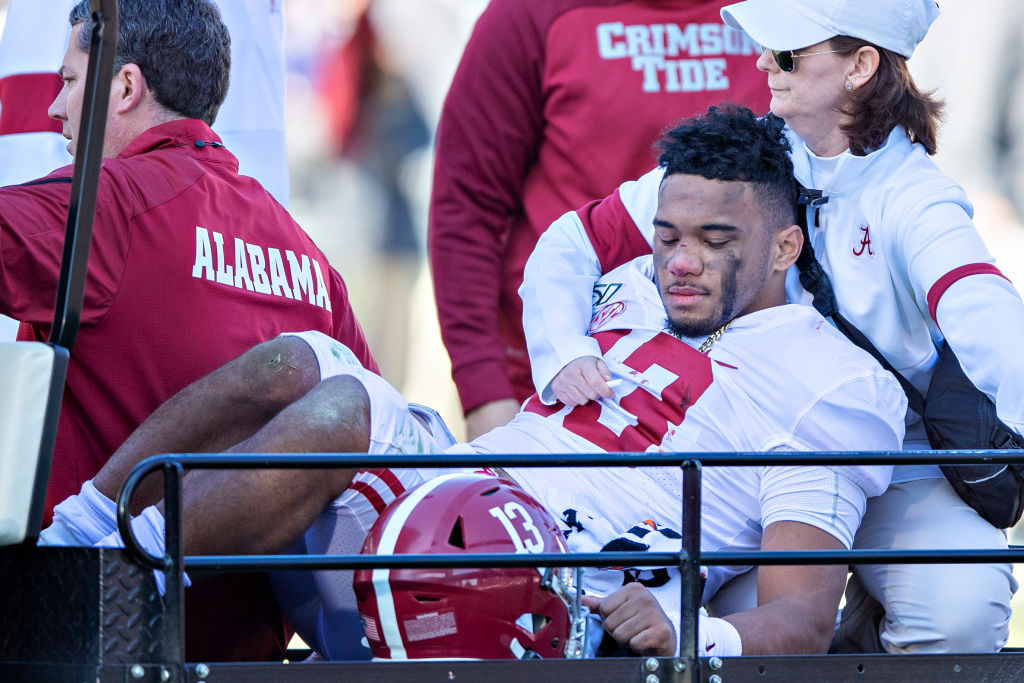 College football is a multi-million dollar business. Nick Saban, who had the decision to send Tua Tagovailoa back in for the drive he got injured on, is making $7.5 million this season. Tagovailoa, who just potentially lost millions of dollars in NFL draft stock, is making $0.
Tagovailoa would have been in the running to be the No. 1 overall pick in last year's NFL draft, but he wasn't eligible to enter it; league rules stipulate that a player must spend at least three years in college before entering the draft. Three unpaid years in a brutal contact sport that, as today reminds us, can end seasons and careers on any given play.
Hopefully, Tua Tagovailoa will recover and go on to have a long, healthy, and prosperous career in the NFL. But with all of the money he brought in to the University of Alabama and to the NCAA, he should have had a prosperous career while he was in college, too.