William Byron Working on Finishing More NASCAR Events in 2022
William Byron experienced what many NASCAR Cup Series drivers fear with the Next Gen cars: Handling problems.
Racing on an open track during the early stages of a Next Gen car testing session at Charlotte Motor Speedway on Dec. 17, Byron lost control and spun out. He wasn't caught up in traffic. He wasn't tapped from behind.
But suddenly, Byron failed to control his No. 24 Chevrolet, and it crashed into a retaining wall, sustaining rear-end damage.
After being cleared by medical personnel at the infield care center, Byron returned to finish running additional tests.
His competitive pride remained dented.
William Byron endures rash of DNFs at the end of the 2021 NASCAR Cup Series campaign
As the No. 3 driver of the four-team Hendrick Motorsports powerhouse, Byron qualified for the 2021 Cup Series playoffs, but a rash of late-season DNFs sidetracked his chances to seriously challenge his final four teammates and the past two series champions, Kyle Larson and Chase Elliott.
Byron endured three DNFs over a four-event stretch, lowlighted by the Round of 16 opener crash. Ranked No. 15 of 16 playoff drivers, the 2018 Cup rookie of the year entered the postseason on a skid. After earning the pole for the Indianapolis Motor Speedway Road Course, he placed 33rd. Two weeks later, during the regular-season finale Daytona International Speedway, he started second but finished 37th.
In the playoff opener at Darlington Raceway, Byron ended up scraping the machine of his teammate, Alex Bowman, the Lap 14. He returned from the incident to ride near the top 10, but his Gen 6 model struck the Turn 1 wall after the left-front tire's valve stem was knocked loose. Byron's effort fell short after completing only 200 of 357 laps.
This offseason, Byron is seeking help to improve his finishing skills.
Byron finishes his best 2021 outing with a victory at Homestead-Miami Speedway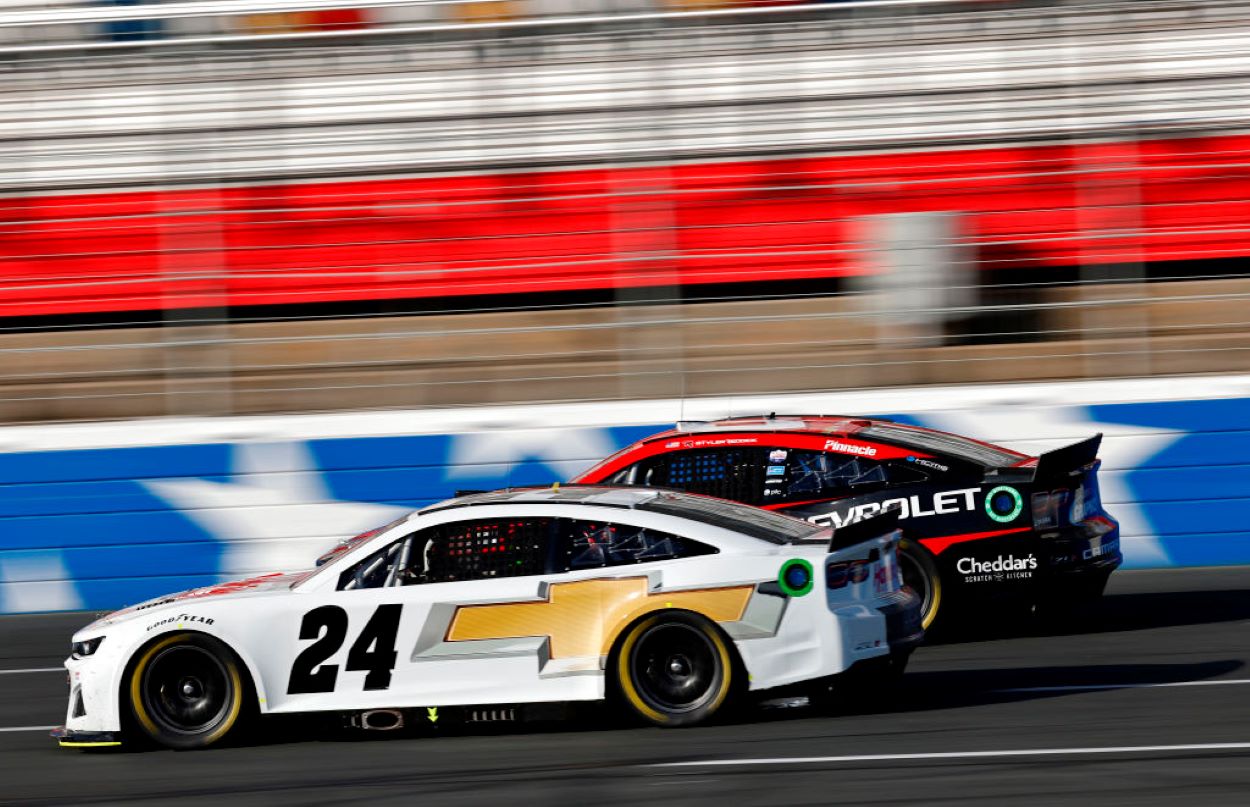 The season's end may have been a source of frustration for Byron, but overall he enjoyed a breakout campaign. At least he proved he belonged in Hendrick's garage, posting one win, 12 top-five finishes, and 20 top 10s.
Under the guidance of crew chief Rudy Fugle, Byron placed 10th in the drivers' standings. It didn't take long for him to qualify for the '21 postseason.
In perhaps his race of the year, Byron started 31st and powered his way to the front of the Dixie Vodka 400 at Homestead-Miami Speedway. Over the closing laps, he fought off Tyler Reddick, Martin Truex Jr., and Larson, defending his lead position.
The victory sparked an 11-event streak of consecutive top 10s. The near three-month run proves the potential for the team entering 2022. The season helped provide a different perspective on Byron's career.
As Dec. 17's Next Gen test spin out indicated, Byron needs to hold on till the end.
Byron seeks to fulfill expectations in Next Gen car next season
Expectations for Byron will be higher next season.
Qualifying for the playoffs is now the floor. Byron is looking to build a higher ceiling.
"I think for our team, we at least expected to make it (into the playoffs) for a while now," Byron told nascar.com. "We don't feel like we're just sneaking into the playoffs or anything. … I think the next step is just how do we perform in the playoffs and how do we get to the next level of our progression as a program.''
That starts with refining the team's setup of the Next Gen car and avoiding another rash of DNFs.