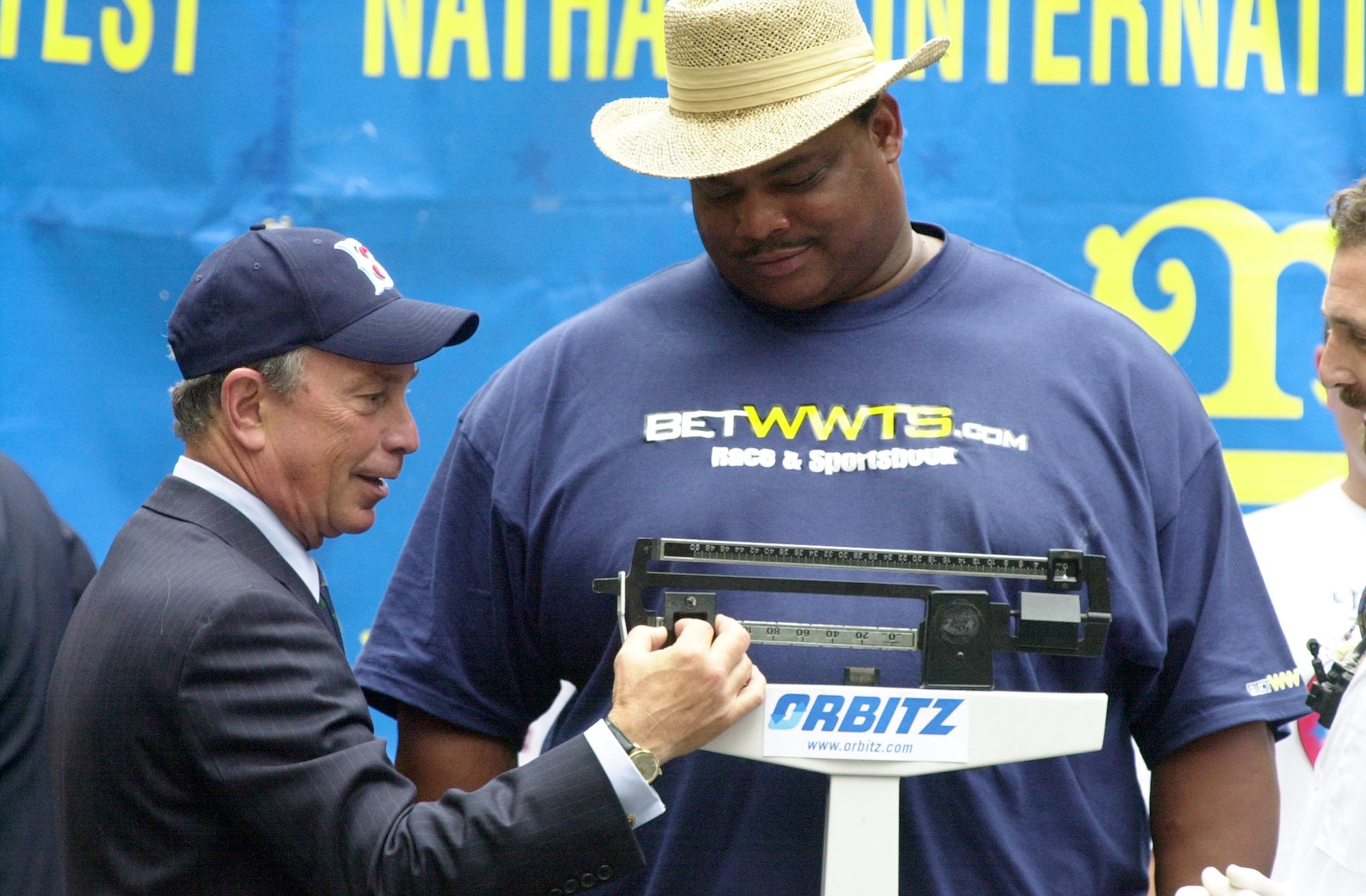 William 'The Refrigerator' Perry Once Tried His Hand at Competitive Eating
William 'The Refrigerator' Perry was a big man, but he didn't have much of an appetite for competitive eating when he entered the Nathan's Hot Dog Eating Contest.
While every NFL fan loves an exciting quarterback or a big-hitting linebacker, big linemen have a knack for becoming cult heroes. One of the biggest—no pun intended—was William 'the Refrigerator' Perry, who suited up for the Chicago Bears in the 1980s and 90s. His sporting pursuits, however, weren't limited to the gridiron.
After he retired from professional football, Perry tried his hand at competitive eating and even appeared in the Nathan's Hotdog Eating Contest. Despite his prodigious size, the Fridge ended up struggling on the Fourth of July.
William Perry's famous football career
With a nickname like 'the Refrigerator,' it's easy to assume that William Perry was just a big guy. In his prime, however, he was shockingly athletic for his size.
As documented in Tom Friend's ESPN feature about Perry, the lineman weighed nearly 300 pounds in high school; despite that weight, he could also do flips into the pool, throw down 360 slam dunks, and outrun most of the football team. That blend of size and athleticism made him a prized recruit, and Perry landed at Clemson University. He spent four years with the Tigers, winning the 1981 National Title and making the All-American first-team in 1983.
In 1985, the Chicago Bears selected Perry with the 22nd pick of the NFL draft. While Buddy Ryan wasn't keen on the pick, the Fridge eventually found a home on both sides of the ball; in addition to his work on the defensive line, Mike Ditka famously used the big man as an auxiliary fullback.
Perry won Super Bowl XX with the Bears and proved to be incredibly popular, but never developed into a star. He spent a total of 10 seasons in the pros, ending his career with the Philadelphia Eagles; in addition to his three offensive touchdowns, the Fridge retired with 524 total tackles 29.5 sacks.
The Fridge became a larger-than-life figure in Chicago
With a nickname like 'the Refrigerator,' William Perry had to be a big man. His personality, however, loomed even larger than his physical figure.
From the moment he landed in Chicago, Perry became a fan favorite. While everyone loves a good "fat guy touchdown," the Fridge did more than just carry the ball into the endzone. He stole the show in the Bears' "Super Bowl Shuffle," hit the ring at Wrestlemania, and appeared on various TV shows; he starred in commercials, and make public appearances, signing autographs for hoards of football fans.
"William Perry, now 48, was once America's mascot," Friend explained in his 2011 story, "a pear-shaped, gap-toothed football player who could sing, dance, sack quarterbacks, score touchdowns and muss Mike Ditka's hair."
William 'the Refrigerator' Perry even tried his hand at competitive eating
With a playing weight of 335 pounds, William Perry was able to put down some serious quantities of food. Based on that reality, he should have been a natural competitive eater.
In 2003, the Fridge put that theory to the test. As recorded by the Plainview Daily Herald, Perry qualified for the Nathan's Hot Dog Eating Contest by winning a regional qualifier; he didn't exactly post impressive stats, however, eating 12 hotdogs in 12 minutes.
While everyone leaned into the spectacle—Major League Eating ran a story about Perry, featuring a Nathan's spokesman comparing his eating endeavors to Bo Jackson and Deion Sanders' dual-sport stardom—but the Fridge didn't do much on the big day. That Fourth of July, he ate four hot dogs before giving up after five minutes; for comparison, Takeru Kobayashi claimed the mustard yellow belt by eating 44.5 dogs.
Stats courtesy of Sports-Reference and Pro-Football-Reference