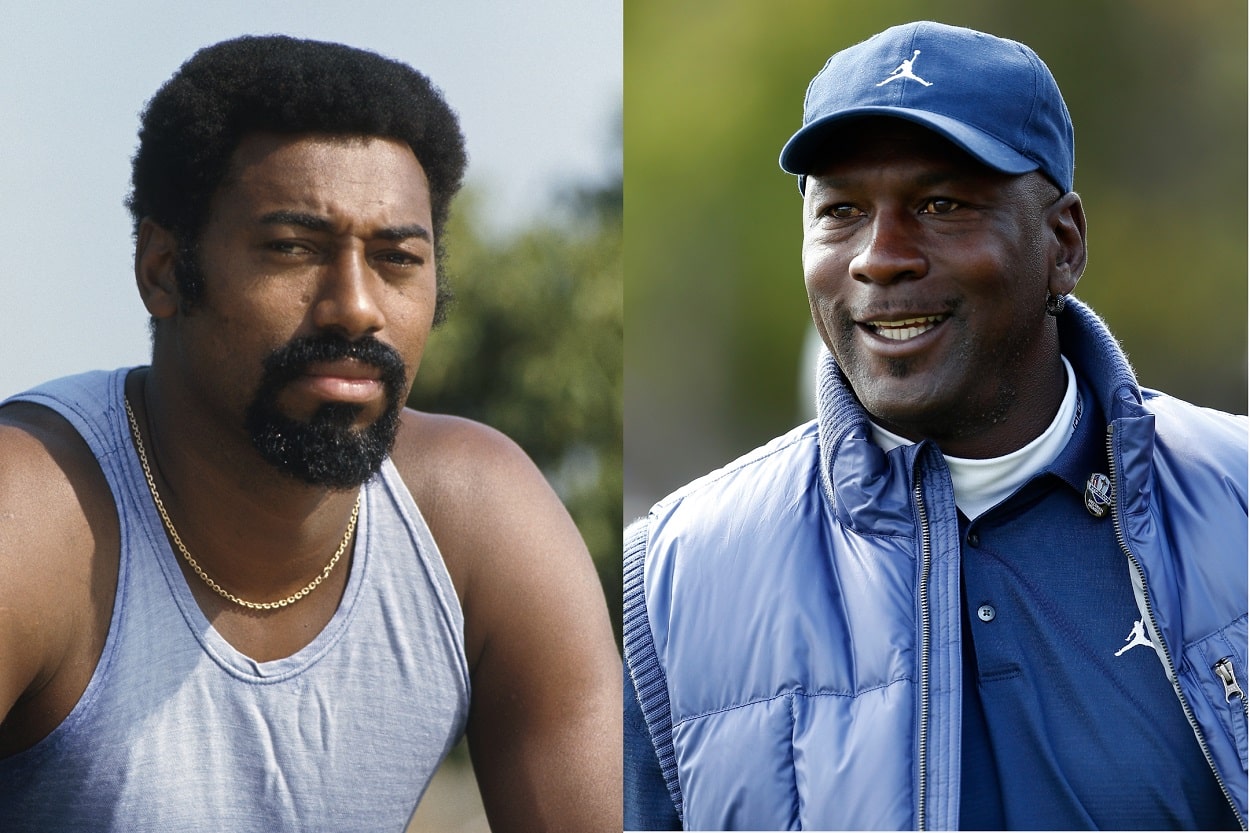 Wilt Chamberlain Claimed Michael Jordan Had It Easier in the NBA Than He Did
Wilt Chamberlain said Michael Jordan had it easier than he did during his days in the NBA.
Michael Jordan is involved in essentially every NBA GOAT discussion these days. And LeBron James is typically his adversary in these conversations. I've said it before, and I'll say it again: I find the NBA GOAT debate to be a pointless exercise. But many people seem to enjoy them, and I will say that this type of chatter is an entertaining enough way to pass the time, even if there's no correct answer.
Before LeBron came along, however, Jordan's nemesis in the debate was typically Wilt Chamberlain. Like LeBron, this comparison makes no sense as Wilt, a 7'1″ center, was a completely different type of player than was His Airness.
But as the two have the highest scoring averages in NBA history — Jordan at 30.12 and Chamberlain at 30.07, it's easy to see why this debate took place. And it's not that it doesn't anymore, but MJ vs. LeBron is so hot right now.
We all know how Jordan feels about himself. Just watch The Last Dance for that. But how did Chamberlain, who died in October 1999, feel about being compared to the six-time NBA champ?
Wilt Chamberlain said Michael Jordan had it easier than he did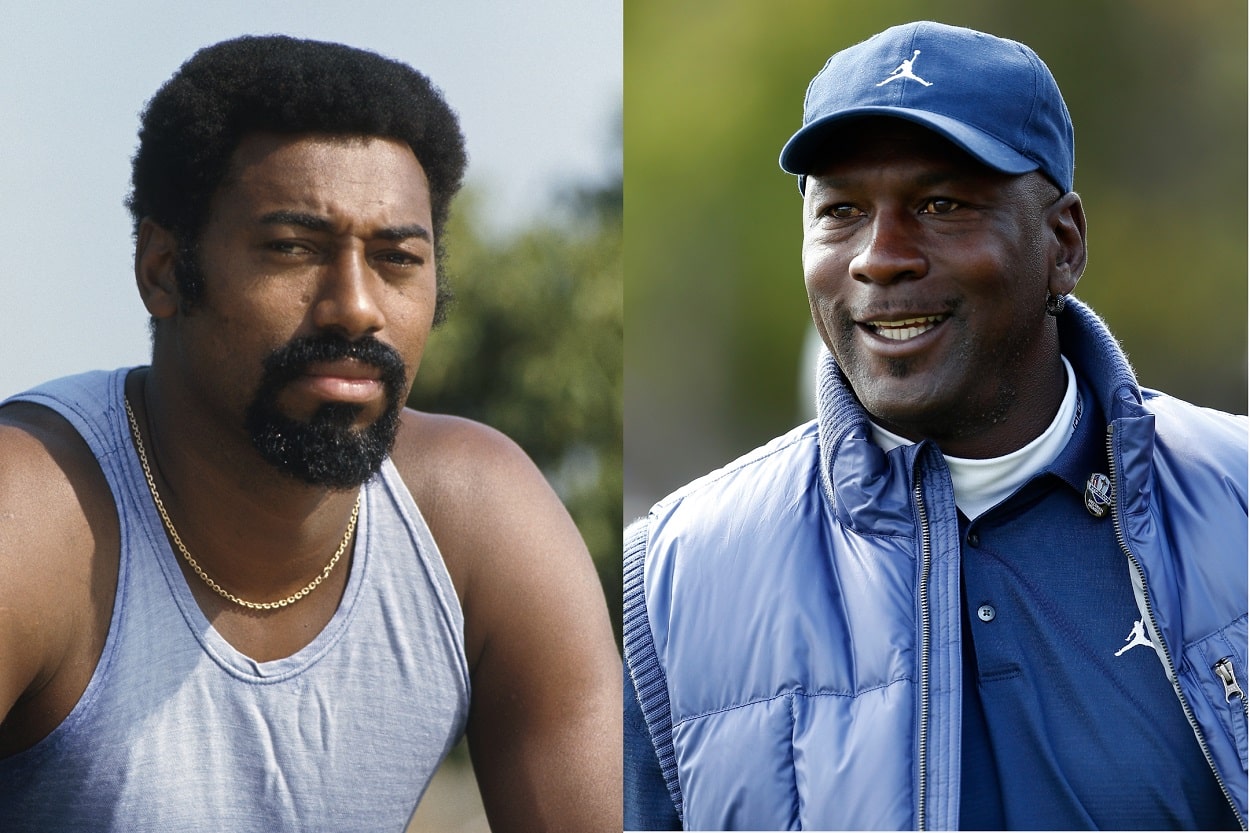 lf you scour the internet, you'll find plenty of instances in which Chamberlain discusses the comparison between himself and Michael Jordan. And, trust me, it would take quite a while to get through all the fun quotes. But the consensus is this: Chamberlain undoubtedly respected Jordan.
But Wilt made no secret that he thought he was better.
And I think my favorite quote from Chamberlain on why Jordan couldn't be the NBA goat was this one.
"The difference between you and me is that they had to change the rules for me so I couldn't dominate. They changed the rules so that you could."

Wilt Chamberlain on Michael Jordan
Chamberlain certainly has a case as it pertains to his own career. In 1961-62, Wilt averaged an NBA record 50.4 points per game. The following year, he averaged 44.8 points per night, still the second-highest average of all time. The two-time champ owns the top four spots on the list and five of the top six (Jordan sits at No. 5).
Wilt was clearly a dominating force in the league, so dominant that the NBA widened the lane from 12 to 16 feet in 1964 as he was simply unstoppable down low. He averaged a measly 34.7 points in 1964-65. Yes, that's a joke for those who take the internet too seriously.
As for how the NBA changed the rules to make things easier for Jordan, that's not entirely accurate. In 1987, after Jordan averaged a career-high 37.1 points per game (that's the No. 5 spot), the league instituted the "illegal offense" rule.
That rule banned teams from positioning three or more players who clearly had no intention of being involved in a play beyond the three-point line. Here's how the Washington Post described it in 1987: "There has been a growing propensity among coaches to move three men above the top of the key, thus clearing the way for two-man games or individual forays like those of Chicago's Michael Jordan."
And there were, of course, the "Jordan Rules" set by the Detroit Pistons, which were essentially designed to beat the hell out of him. Okay, maybe that's a bit harsh, but am I really that off base there?
Sure, MJ got a lot of calls back in the day and didn't have a lot of fouls called on him, but it's not as if he never had it tough. And, believe me, I'm not a Jordan apologist, so this isn't me sticking up for him in any way. Just sticking to facts, folks.
The truth is that both Chamberlain and Jordan dealt with obstacles in their day, and both obviously overcame them to become all-time greats. So while we should all just leave it at that, something tells me some of you won't (he says as he stirs the metaphorical pot).
Stats courtesy of Basketball Reference, Contract info courtesy of Spotrac
Like Sportscasting on Facebook. Follow us on Twitter @sportscasting19 and subscribe to our YouTube channel.