Win or Lose, the Bengals Need to Roll out the Cash for Zac Taylor This Offseason
When the Cincinnati Bengals first hired Zac Taylor to be their head coach, expectations weren't exactly high. Sure, he was an up-and-coming bright offensive mind from the Sean McVay coaching tree. However, it was his first actual head coaching gig, and the Bengals seemingly needed a lot more than a few crafty play calls to turn their franchise around.
Taylor won a whopping six games during his first two seasons as head coach in Cincinnati. No one was thinking about the possibility of Taylor turning the franchise around into a playoff team by year three. The phrase "Super Bowl" wasn't even being mentioned in Cincinnati.
If anything, the odds books were predicting Taylor to be fired sooner rather than later.
Bengals HC Zac Taylor silenced a lot of doubters in year 3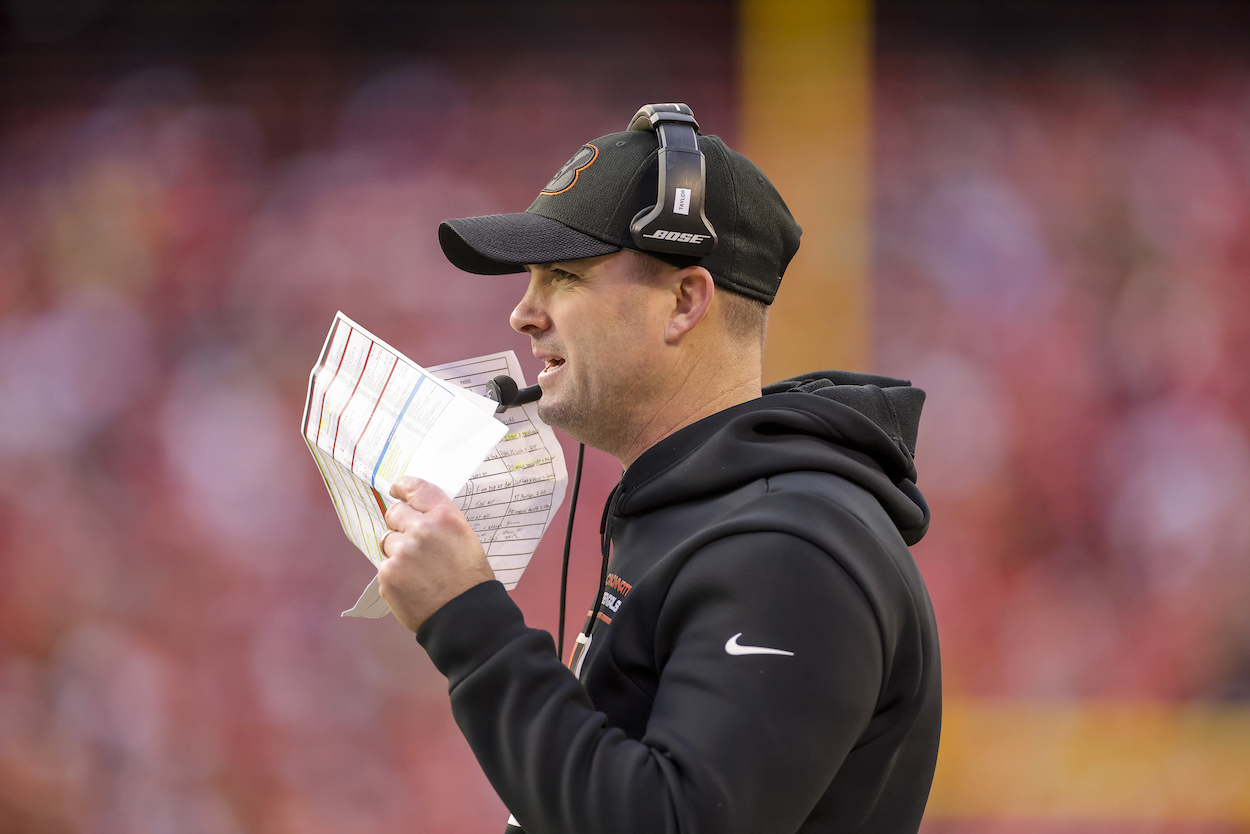 As everyone is well aware of by now, Taylor's third year coaching the Bengals ended up being an exceptional one. He won 10 games during the regular season, following that up with three straight playoff wins.
The Bengals are exactly one win away from hoisting this year's Lombardi Trophy. They've come a long way from their 2-14 and 4-11-1 records in 2019 and 2020.
Of course, it's impossible to talk about Cincinnati's quick turnaround without mentioning its franchise quarterback, Joe Burrow. The 2020 No. 1 overall pick being healthy this past season is a huge reason the Bengals are where they are today. Without him, none of this is remotely possible.
However, that doesn't mean Taylor's role isn't valuable. He's the one in charge of making sure players and coordinators are ready to go on game day, and he's the one responsible for the playbook that Burrow has had so much success operating out of this season. It's a two-part equation where both variables (Taylor, Burrow) are vital.
Zac Taylor is the lowest-paid HC in the NFL
The somewhat comical part of Taylor's rapid rise to success is that he's the lowest-paid head coach in the NFL.
He's on a $3.75 million salary — a stark contrast to the $10-plus million guys like Bill Belichick and Pete Carroll are being paid. Even a below-average head coach in Matt Rhule is currently being paid $8.5 million per season. Taylor is exceptionally underpaid compared to his head coaching colleagues.
However, the good news for Taylor is he's eligible for a contract extension this offseason. He's coming off an outstanding 2021 campaign — the Bengals are certainly going to offer him a lucrative extension. The only question is, how much money are they willing to hand out?
The Bengals need to hand out some serious cash
The Bengals aren't exactly known for being a spend-happy franchise. However, this is an example where ownership can't afford to be stingy.
Cincinnati finally has a head coach capable of winning multiple playoff games. If it doesn't pay him accordingly, another HC-needy franchise will undoubtedly swoop in and do so.
One can reasonably argue Taylor hasn't done enough to warrant a massive contract extension. After all, he's 16-32-1 in the regular season. However, the Bengals shouldn't get picky. Taylor guided them to the Super Bowl during his first full season with Burrow under center. Don't let him leave town.
All stats courtesy of Pro Football Reference.
RELATED: If Tom Brady Stays Retired, Rob Gronkowski Wants to Play With Bengals QB Joe Burrow