Wisconsin Basketball: Everything You Need to Know About Badgers Superstar Johnny Davis
Johnny Davis is the reason the Wisconsin Badgers went from a projected bottom-dweller in the Big Ten preseason poll to winning a share of the conference championship.
Davis had a somewhat promising freshman season in Madison but quickly became one of the best players in college basketball this year, a leap not many saw coming. He's turned himself into a projected lottery pick in the 2022 NBA Draft.
Here's everything you need to know about Johnny Davis heading into the Big Ten and NCAA Tournaments.
Johnny Davis is a homegrown Wisconsin Badger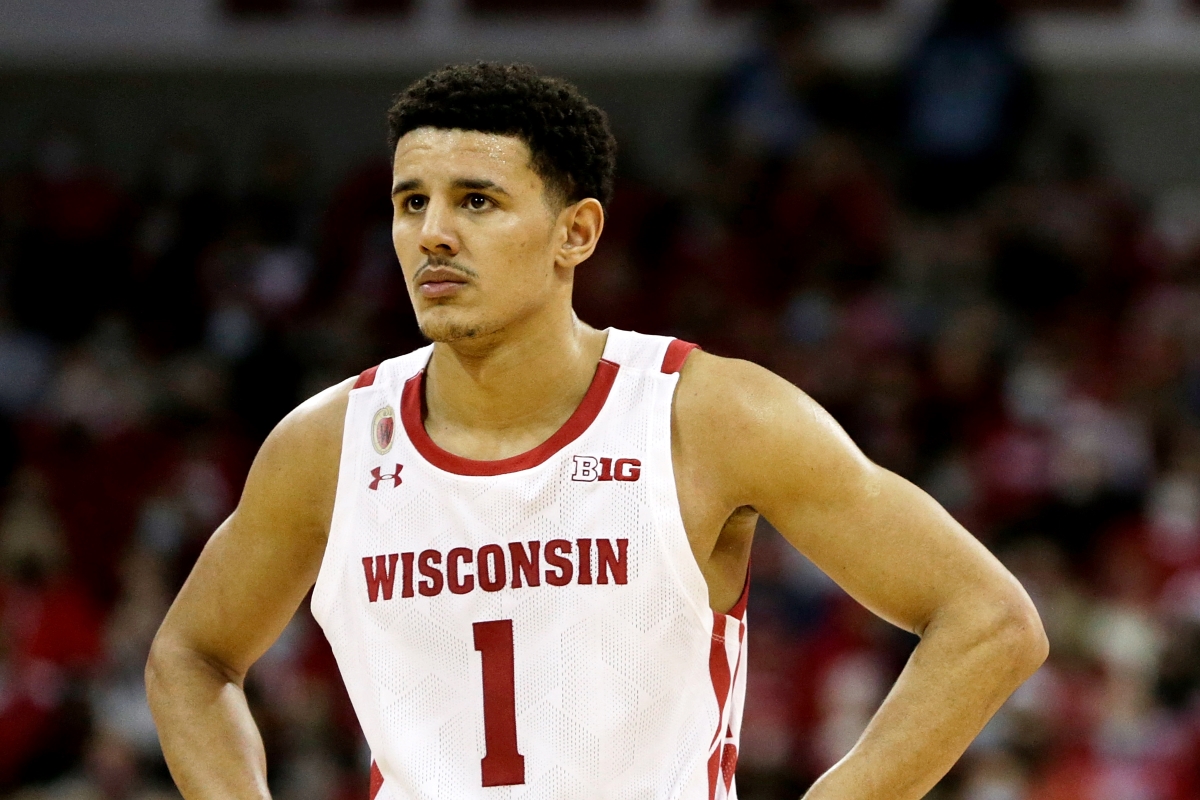 In the mold of Sam Dekker and Brian Butch, Davis grew up in Wisconsin, dreamt of playing for the Badgers, and has become a star in Madison.
Davis is a 6-foot-5, 195-pound sophomore guard from La Crosse, where he attended La Crosse Central High School. He was the state's Mr. Basketball in 2020, a four-star recruit, and a McDonald's All-American.
He finished his career as La Crosse Central's all-time leading scorer with 2,158 points per his UWBadgers.com bio. His team reached the WIAA Division 2 State Tournament during his sophomore, junior, and senior seasons and won the championship in 2017.
He was also a First-Team All-State quarterback who threw for more than 6,500 yards and 56 touchdowns and ran for more than 2,000 yards and another 34 scores.
His twin brother, Jordan, also plays for the Badgers.
Davis was a huge recruit for Wisconsin to land. And he's blossomed into perhaps the school's best player of all time in just two years.
The sophomore is the best college basketball player no one knows
Despite reaching back-to-back Final Fours in 2014 and 2015 — and the title game against Duke in 2015 — Wisconsin isn't known as a basketball school.
If Davis were the Badgers' quarterback, he'd be a household name. Instead, even as one of the country's best players, he flies under the radar.
Davis played in 31 games as the team's sixth man during his freshman season. He averaged 7.0 points and 4.1 rebounds on 44.1% shooting and 38.9% from three. Not bad for a Big Ten freshman, but there were no signs of superstardom that year.
Fast forward to 2021-22, and Johnny has become one of the best players in all of college basketball.
He's scoring 20.0 points per game — good for 19th in the country — on 44.6% shooting and is hitting better than 78% of his 6.2 free-throw attempts per night. He's also averaging 8.1 rebounds for good measure.
Just a few of Davis's recognitions this season:
Big Ten Player of the Year
Sporting News First-Team All-American
Wooden Award finalist
Jerry West Award finalist
No. 1 on Sports Illustrated's Top-50 Men's Players of the College Basketball Season list
No. 2 on the list of National Player of the Year candidates per Andy Katz of NCAA.com
He also lands at No. 7 in ESPN's latest NBA mock draft.
Hence, the best player in the country no one seems to notice.
Davis would finally hit the national radar if Wisconsin makes a tournament run
The Badgers were 24-6 overall on the year and 15-5 in the Big Ten, earning a share of the conference title with Illinois.
Wisconsin was picked to finish ninth in SI.com's preseason conference preview. Davis wasn't listed on the preseason All-Conference team.
But their sophomore guard has been the sport's biggest surprise and carried the Badgers along with him.
"The only reason the Badgers are in contention for the Big Ten title is because of Johnny Davis," Katz said via NCAA.com in February.
Bucky earned a double-bye in the Big Ten Tournament and will face seventh-seeded Michigan State in the quarterfinals. The winner plays either No. 4 Rutgers or No. 5 Iowa in the semifinals.
(Illinois lost by two to ninth-seeded Indiana, which leaves Wisconsin as the highest seed remaining).
Davis injured his ankle in the regular-season finale after being hit in the face and taken down by Nebraska's Trey McGowens, who was subsequently ejected for the play.
But the Badgers superstar is expected to play against Michigan State, and they'll need him.
If and when Wisconsin makes a run late into March, it will be because of Johnny Davis.
All statistics courtesy of ESPN.com.
RELATED: UNC Legend Tyler Hansbrough Savagely Trolls Mike Krzyzewski's Cameron Farewell Celebration After Tar Heels' Upset Win