Wisconsin's Quintez Cephus Is the NFL's Next Antonio Brown and Won't Cost a Team First-Round Money
Quintez Cephus, most likely, isn't going to cash in with first or second-round money when the NFL draft begins next week. But the team that drafts Cephus, or even signs him as an undrafted free agent, is getting one of the draft's more talented and under shadowed receivers.
Cephus was an essential part of Wisconsin's offense in recent years and, as a projected late-round pick, could be positioned for a similar rise to greatness as former sixth-round pick Antonio Brown.
Here's what makes Quintez Cephus one of the NFL draft's more intriguing prospects, and why your team should be interested in taking a chance on him.
Quintez Cephus was an explosive receiver at Wisconsin
After only catching four passes as a freshman in 2016, Cephus developed into one of Wisconsin's most critical passing weapons. Cephus averaged 16.7 yards per catch and caught six touchdowns in 2017, a year that ended in the Badgers' Orange Bowl victory over Miami.
An alleged off-field incident kept Cephus off the field in 2018. When Cephus returned to the Badgers last summer, he quickly showed the time off wasn't going to stop him from thriving at the Power 5 level.
Cephus caught six passes for 130 yards and two touchdowns in his second game back, a victory over Central Michigan, and gave the Badgers a needed boost in the passing game last season.
Quintez Cephus caught fire in the season's final month. The 6-foot-1, 202-pound receiver had consecutive 100-yard receiving games against Minnesota (114 yards and a touchdown on five catches) and Ohio State (122 yards on seven catches) to end Big Ten play.
Cephus ended his college career with seven catches, 59 yards, and a touchdown in the Rose Bowl against Justin Herbert and Oregon.
Cephus is a projected late-round pick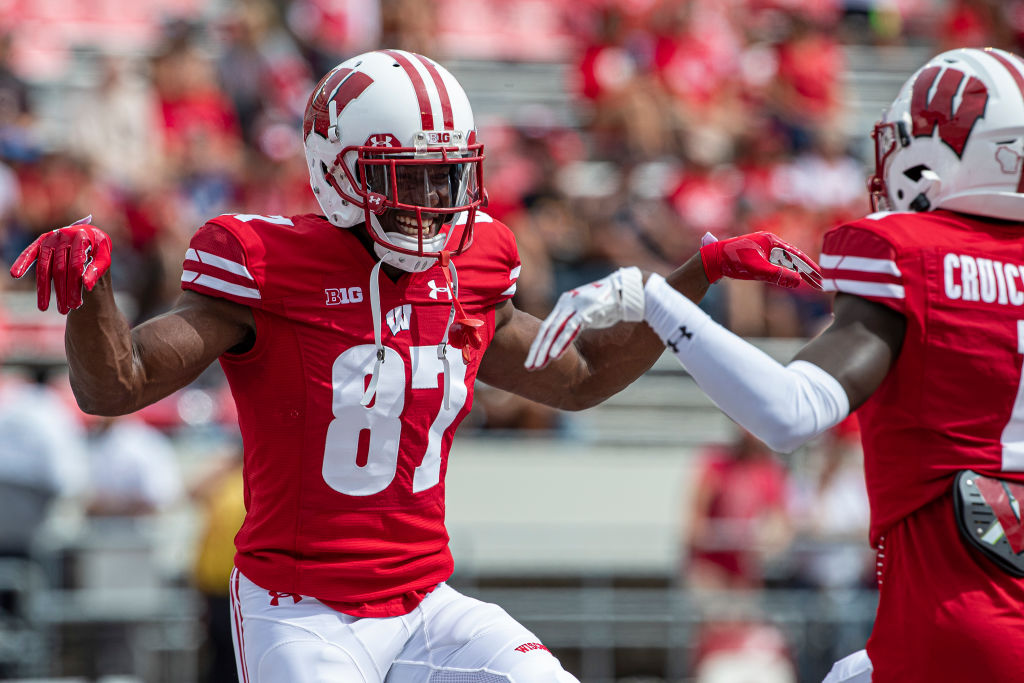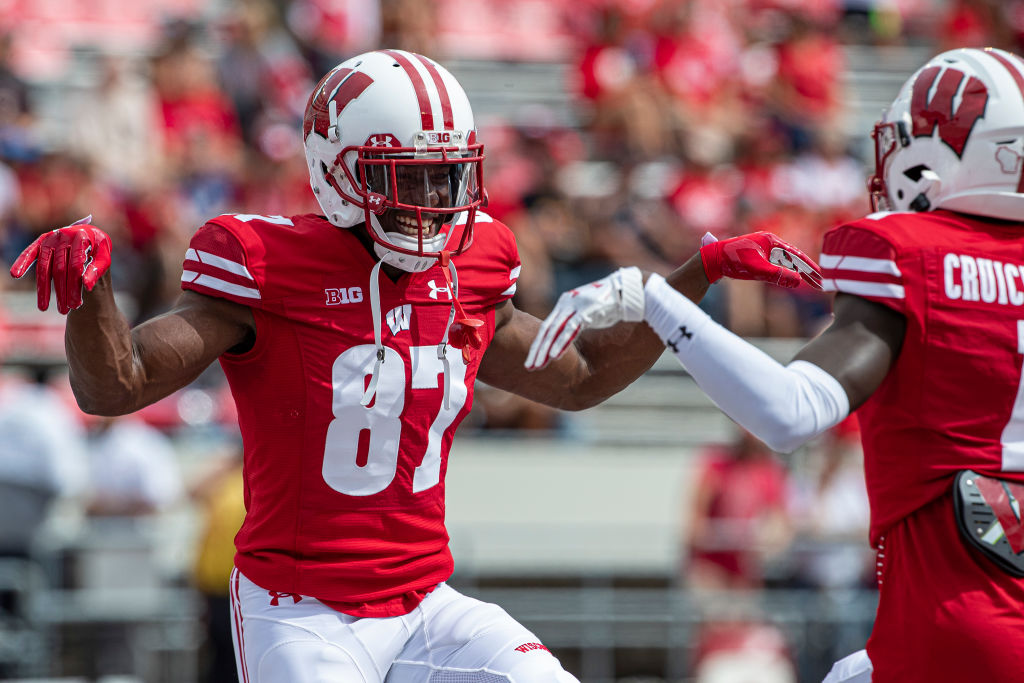 Quintez Cephus has received criticism for his footwork and run blocking. An alleged sexual assault incident may also drop Cephus on teams' draft boards. It is worth noting that a jury found Cephus not guilty on two counts of sexual assault in August 2019.
Cephus' skillset and length, though, make him a candidate for an Antonio Brown-style rise. Brown was only a sixth-round pick of the Steelers in 2010, partly for off-field issues, but transitioned into one of the NFL's top receivers by the end of his rookie contract.
The Athletic's Dane Brugler projected the Atlanta Falcons will draft Cephus with the 228th overall pick. Bleacher Report's Matt Miller had Cephus going to the Green Bay Packers with the No. 209 pick, right before the end of the sixth round.
NFL Media's Lance Zierlein projected Quintez Cephus will be a reliable backup receiver who can eventually become a starter. Zierlein compared Cephus to Zach Pascal, a former undrafted receiver from Old Dominion University who totaled 607 yards and five touchdowns for the Colts last year.
"Size and body positioning create workable windows in tight quarters and his ball skills build trust with the quarterback. He's a build-up runner who lacks suddenness to uncover and may need to be motioned, bunched, and lined in the slot to help with early separation. Teams know he can catch it but will need to see him get open. Cephus is a possession receiver with the profile of a capable WR3/4.
Quintez Cephus might be headed to the Green Bay Packers
The coronavirus shutdown threw a wrench into Quintez Cephus' draft plans. The Green Bay Packers are the only team that has reportedly spoken at length with him, according to Walter Football.
Cephus met with the Packers at the NFL Combine. Although Wisconsin held its pro day on March 11, it is not yet known which teams, if any, spoke with Cephus that day.
Cephus is perfectly fine playing for the Green Bay Packers. The receiver told the Wisconsin State Journal he would "love" to play in Green Bay. Cephus said he grew up studying Packers quarterback Aaron Rodgers — a fact that might make the future Hall of Famer feel just a bit old — and he has spent recent years studying Green Bay wideout Davante Adams.
Adams has made three consecutive Pro Bowl appearances and has caught 40 touchdowns in the last four years. With Aaron Rodgers getting older, the Packers could instantly benefit from adding someone with Cephus' talents to its roster.