Wise Power 400 Notebook: Kevin Harvick, Ross Chastain Early Track Victims in NASCAR's New Practice Format
Fox Sports analyst and former NASCAR crew chief Chad Knaus warned that Auto Club Speedway will be "rough."
In short order, Knaus was proven correct.
Kevin Harvick, Ross Chastain fail to control NASCAR's Next Gen cars
The Cup drivers quickly discovered the wind-blown track was especially along Turns 3 and 4 during practice laps on Feb. 26.
Ross Chastain spun out and struck the retaining wall, causing significant damage to his No. 1 Chevrolet.
Kevin Harvick wrecked his No. 4 Ford about two minutes into the practice session on Feb. 26.
When Daniel Suarez finished a few laps, he entered his pit stall and motioned up-and-down with his hand. Translation: The track has not aged well.
Last resurfaced in 1997; the track likely will play havoc with tire management during the Wise Power 400 on Feb. 27.
"We're making some adjustments, and we made a few more … we'll go out and qualify and hope for the best," Suarez told FS1, ending with a prolonged sarcastic laugh. Suarez ended up qualifying 15th (172.753 mph).
Rookie Austin Cindric, coming off the Daytona 500 win, earned the pole position with a fast lap of 174.647. It's his first career pole.
Knaus provided a fair warning on NASCAR Race Hub. Track officials attempted to smooth portions of the surface, but it's still bumpy.
"Everyone understands the track is rough," he said. "They've ground over 500 feet of the back straightaway trying to smooth it out."
NASCAR introduces new qualifying/practice format for oval tracks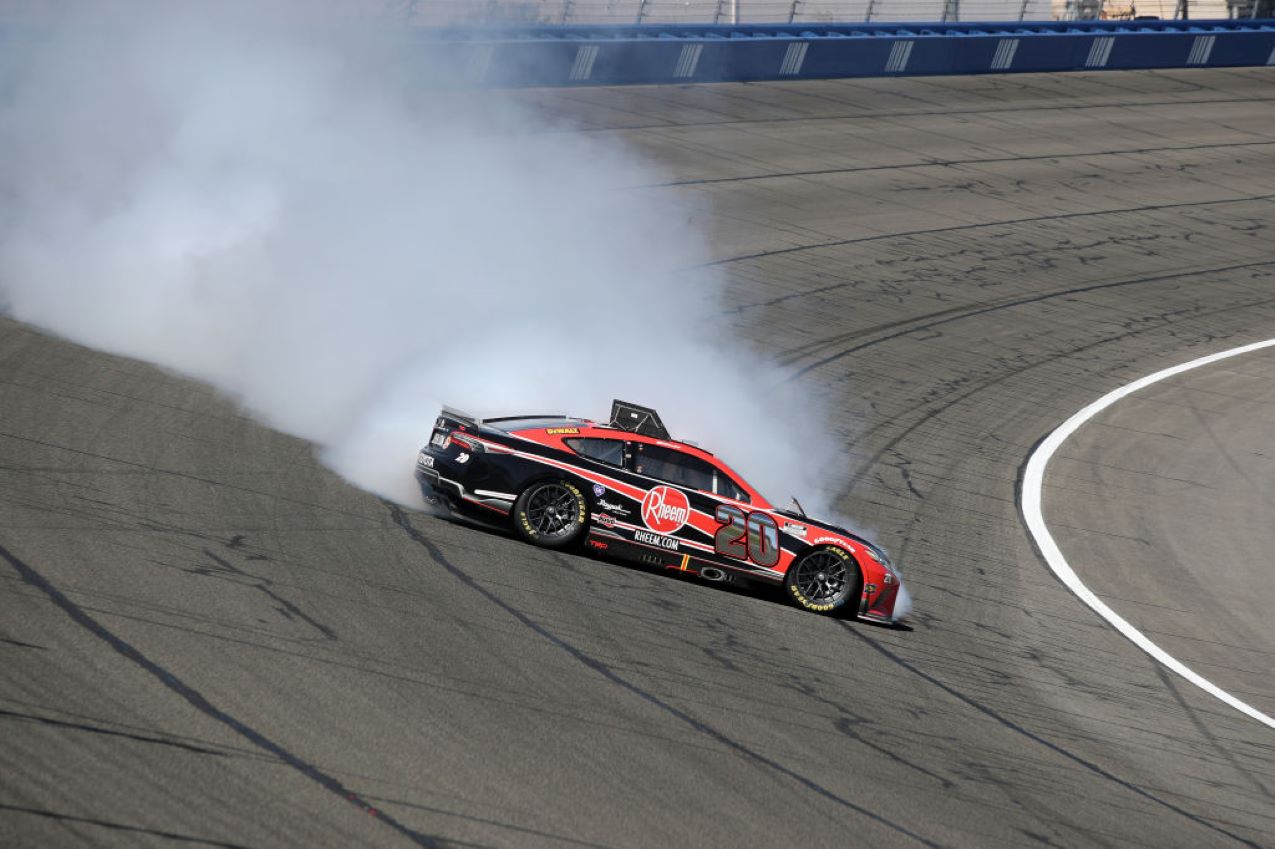 With coronavirus (COVID-19) restrictions beginning wane, NASCAR officials re-opened garages on Saturdays. Teams can practice again.
The premier series introduced a new qualifying/practice format at Auto Club Speedway.
For most oval tracks this season, Cup teams will be divided into two groups, based on finishing orders from the previous event, for two 15-minute practice sessions. Drivers then will participate in single-lap qualifying. The top five drivers from each group will vie for the pole position.
Entering the Wise Power 400, seven active Cup drivers have won at least one race at Auto Club Speedway:
Kyle Busch, 4 wins
Kevin Harvick, 1
Kyle Larson, 1
Brad Keselowski, 1
Martin Truex Jr., 1
Kurt Busch, 1
Alex Bowman, 1
Harvick, Stewart-Haas Racing not sweating supply-chain issues – for now
Kevin Harvick said his team is not fretting possible supply-chain problems during NASCAR's three-event West Coast swing – for now.
Starting with the Wise Power 400 at Auto Club Speedway on Feb. 27, the tour will move on to Phoenix and Las Vegas before returning East and to most of the teams' home garages. A few weeks ago, NASCAR officials expressed concern over the number of race-ready cars teams had entering the second race of the season. Few anticipated hitting the minimum mark of five.
Considering the number of spinouts during the two-group practice session on Feb. 26, it's certain there will be plenty of action along Turns 3 and 4. During the season-opening Daytona 500, only 15 of 40 cars finished on the lead lap.
For now, Harvick said Stewart-Haas Racing was in good shape, despite being about 2,500 miles from its home base.
"Not having torn-up racecars is as important as anything in coming home from the West Coast swing," Harvick said, reported by motorsport.com. 
Harvick's team may have been in good shape when it departed Kannapolis, North Carolina, but it received a jolt when Harvick crashed the No. 4 Toyota during practice and will start 32nd.
Like Sportscasting on Facebook. Follow us on Twitter @sportscasting19.