With the Addition of Tacko Fall, the Cleveland Cavaliers Could Roll Out a Starting 5 of Players 6-Foot-10 or Taller That Actually Makes Positional Sense
Early caveat: The Cleveland Cavaliers signed Tacko Fall to a one-year, non-guaranteed deal. The team could release him before the regular season starts. That being said, the idea of Fall in Cleveland's already-loaded frontcourt is a fun one. It could also — theoretically — allow the Cavaliers to roll out a starting five completely made up of players 6-foot-10 or taller that would actually make positional sense.
The chance of this happening is slim at best. But the Cavs aren't going to be competing for a playoff spot in 2021-22, so when the team is a dozen games back of the 10 seed with five games left in the regular season, why not experiment with absurdity?
The Cleveland Cavaliers signed Tacko Fall into an already deep frontcourt
The 7-6 former Celtic joins a front line that now also includes Lauri Markkanen after the Fin was acquired in a deal with the Chicago Bulls. Cleveland drafted USC big man Evan Mobley with the third overall pick in the 2021 draft. The Cavs added Jarrett Allen as part of the James Harden trade that landed the former Rockets' superstar in Brooklyn. The franchise then re-signed Allen to a five-year, $100 million deal.
As of now, technically, Cleveland could keep center Isaiah Hartenstein around, although the organization has yet to extend him a qualifying offer. Mifondu Kabengele is in the same situation as Fall with a non-guaranteed contract.
That makes three 7-footers — Markkanen, Mobley, and Allen — who are guaranteed to get significant minutes under head coach JB Bickerstaff. If the franchise decides to hang onto Fall, Hartenstein, and Kabengele, or even two of the three, that means two more players 6-10 or taller.
The Cavs could start five near 7-footers but actually run a (somewhat) legitimate offense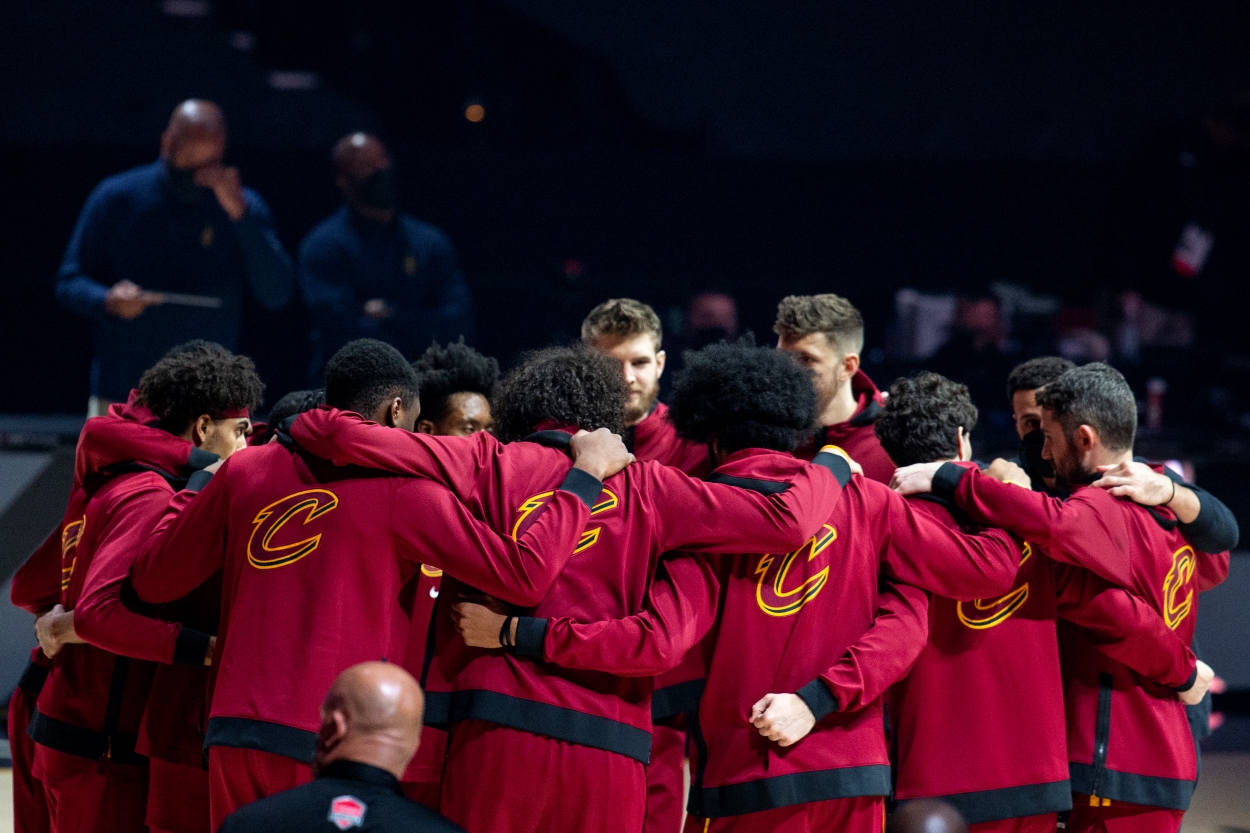 Sure, this may be stretching things a bit. Fall, Hartenstein, and Kabengele could all be gone by the time the season begins. But if they're not, here's what a starting five made up entirely of big men could look like as the Cavs take the court at Rocket Mortgage FieldHouse:
PG: Lauri Markkanen
SG: Evan Mobley
SF: Mifondu Kabengele
PF: Jarrett Allen
C: Tacko Fall
Markkanen is the prototypical stretch big. He's a knockdown standstill shooter but also has some ability to create off the dribble. Mobley is projected as the ideal center for today's NBA — a perimeter-oriented 7-footer who can protect the rim. He may not be there yet, but Mobley is a versatile offensive talent with star potential.
Kabengele is a physical specimen at 6-10 and 256 pounds. In college at Florida State, the big man worked mostly out of the post. But he showed flashes of shot creation and hit 36.9% of his threes. Allen is a rim-running big who can block shots with the best of them, but he has the athleticism to get out and run in transition when needed. Fall's 7-6 size goes without saying.
Technically, Kevin Love is still on the Cleveland roster and would fit perfectly with this rotation. Forwards Cedi Osman and Dylan Windler, both listed at 6-7, are available if the Cavs want to go "small."
The Cleveland Cavaliers won't have much to play for this year, so what's the harm in a little tomfoolery?
Collin Sexton and Darius Garland are the team's starting guards, barring a trade. Markkanen should slot into the starting lineup alongside Allen and Isaac Okoro. As it stands right now, though, the team's best options outside of those five are Osman, Damyean Dotson, and Ricky Rubio. Not an inspiring squad.
The franchise is likely on its way to a tank job as well with another high lottery pick in mind. If Cleveland needs to lose a few games toward the end of the year to secure the No. 1 pick, what better way to do it than play five giants at the same time?
All statistics courtesy of Basketball-Reference and salary information courtesy of Spotrac.