With Antonio Brown, the Buccaneers Learned a Tough Truth the Hard Way
The Tampa Bay Buccaneers can't say they weren't warned.
The Antonio Brown Era ended for Tampa Bay on Sunday in about the most Antonio Brown way possible.
In what ultimately was a stirring Tom Brady-led comeback to beat the New York Jets 28-24 on a touchdown with 15 seconds left, the Buccaneers, Jets and the football-watching world were left stunned by Brown's farewell from the team – and perhaps what might have been left of his NFL career – in the third quarter.
With seemingly no warning, Brown shed his jersey on the Buccaneers sideline during a timeout in play, stripping down to just his uniform pants, threw his jersey and undershirts into the crowd, performed something of a farewell bow to the crowd as he walked into the far-side endzone, then disappeared into the tunnel of MetLife Stadium, never to return.
At the minimum, he will never return to the Buccaneers, as head coach Bruce Arians announced in a terse post-game statement.
"He is no longer a Buc," Arians said. That's the end of the story."
Sorry, coach. That is hardly the end of the story. It's just an ending we all saw coming.
Arians' hypocrisy with Brown finally came back to bite him and his team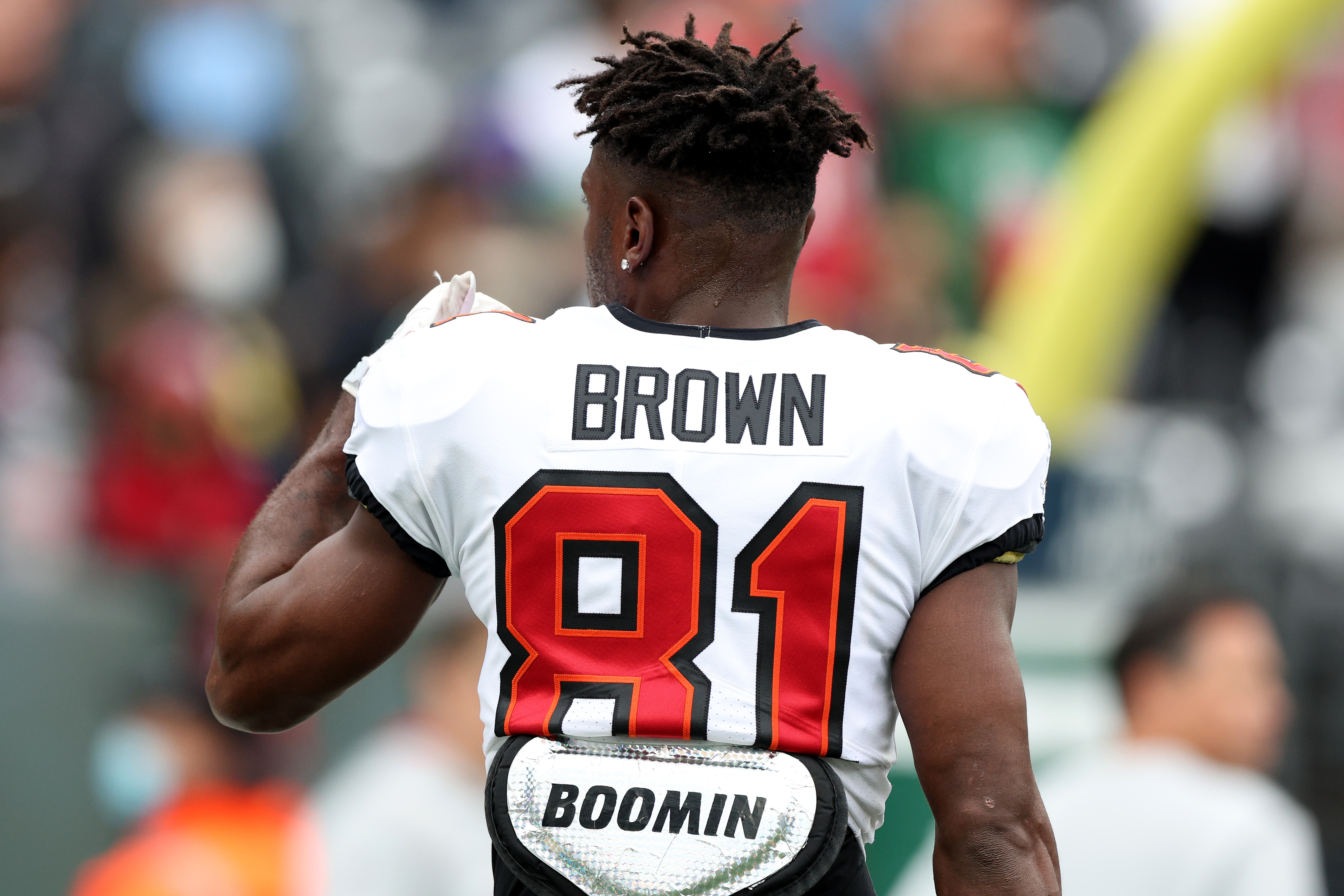 When the Buccaneers signed Brown last season, even with the talented but troubled wide receiver still serving a league-imposed suspension for his off-the-field behavior, Arians made a bold, declarative statement: Brown would be subject to a zero-tolerance policy with the Buccaneers. Any more transgressions and he would be gone from an NFL team once more.
So, it certainly seemed Brown had worn out his welcome when he was suspended three games at the beginning of last month by the league for violating the NFL's Covid-19 policies by misrepresenting his vaccination status with a phony vaccination card.
But while Brown languished under suspension, the Buccaneers were hit with devastating injuries to their top wide receivers. Chris Godwin tore his ACL and was lost for the season. Mike Evans injured his hamstring in the same Dec. 19 game and was feared lost for several weeks.
How convenient, then, that Brown's suspension ended the next day. Suddenly, Arians decided to let bygones be bygones, and was particularly churlish when the hypocrisy of his moving goalposts was thrown back at him.
"I could give a s*** what [people] think," he said during his weekly Zoom session with the media on Dec. 20. "The only thing I care about is this football team and what's best for us."
Clearly, Arians didn't think hard enough. He forgot who he was dealing with.
Brown was poised for a big payday when suddenly it all went sideways
It was no secret that quarterback Tom Brady lobbied hard to get Brown on the team last season. Briefly teammates with the Patriots in 2019, Brady had gone so far as to welcome Brown into his home to help him get acclimated to being his New England teammate. But Brown managed to self-destruct his time with the Patriots in a matter of weeks with new allegations of off-field conduct that ultimately led to a league suspension.
But with the Buccaneers last season, Brown stayed out of trouble and contributed to their Super Bowl title. In eight games last season, he had 45 catches for 483 yards and four touchdowns. He then had two touchdowns in the postseason. Before his vaccine-card suspension, Brown had 29 catches for 414 yards and four touchdowns in five games this season.
And last week, in his first game off suspension and with Godwin and Evans out, Brown caught 10 of 15 targets for 101 yards in a victory over the Carolina Panthers that clinched the AFC South for Tampa Bay.
And going into Sunday's game against the Jets, Brown appeared poised for a big payday.
Because of incentives written into his contract, Brown was set to earn bonuses of $333,333 each for three individual milestones: eight more receptions, 55 more yards and a one touchdown.
At the end of the first half, which proved a much greater struggle against the 4-11 Jets than anticipated, Brown had three catches for 26 yards. His goals, with a second half plus Week 18 to go, seemed his to take.
Then, without any warning, in the third quarter, Brown started removing his jersey on the Buccaneers sideline. Arians told Fox's Jay Glazer after the game that he had been trying to get Brown to go back into the game, but Brown refused. When Arians tried a second time and Brown refused, Arians told him to leave.
Evans appeared to be the only teammate aware of what was happening and tried to top Brown from doing whatever it was he was trying to do, to no avail. Soon, Brown had shed his jersey and shoulder pads and walked off the field, stopping only to engage the crowd while moving across the endzone away from where the Jets had the ball, then disappearing into the tunnel.
The Buccaneers must now pick up the pieces with the playoffs coming up
The Buccaneers seemed just as stunned as the rest of the football world watching this bizarre tableau unfold on their screens. Although they have their division clinched and remain in the hunt for the NFC's top seed, the Buccaneers are now down two of their top three receivers and must deal with the fallout of having been burned by Brown, despite having seen what he had done to the Steelers, Raiders and Patriots in the past three years.
Arians, with his usual unnecessarily defiant tone, bluntly said after the game that Brown was off the team and immediately pivoted to talking about the comeback that resulted in the victory
Brady who said after the game he wasn't aware of what was happening in real time, was at least a little more open about the situation.
"That's obviously a difficult situation," Brady said. "We all love him and care about him deeply. I think everyone should be compassionate and empathetic toward some very difficult things."
Stats courtesy of Pro Football Reference