With Dennis Allen Out, Which NFL Coach Will Get Fired Next?
The Oakland Raiders fired coach Dennis Allen this week after a 38-14 loss to Miami at London's Wembley Stadium. Allen (pictured above, right) was in his third year as Raiders head coach and won just eight of his 36 games at the helm. While Oakland tries to pick up the pieces and move forward, we at the Cheat Sheet are already thinking ahead and trying to figure out who the next NFL coach to lose his job might be.
Here are three likely candidates for the next NFL head coach to go out of work, listed in alphabetical order. Will all of them remain employed through at least the end of the season?
Gus Bradley
Jaguars head coach Gus Bradley has the worst winning percentage of any active NFL head coach at .211. He's only won four of nineteen games with Jacksonville so far. The former Seattle defensive coordinator is trying to remake the Jaguars in the image of the defending Super Bowl champion Seahawks, and we would assume he'll be given a bit of time to do so, especially with the team just recently embarking on the Blake Bortles era. However, Bradley would be well advised to pick up a win or two in October (especially during a stretch of games against Tennessee, Cleveland, and Miami) if he wants to remain gainfully employed into the winter.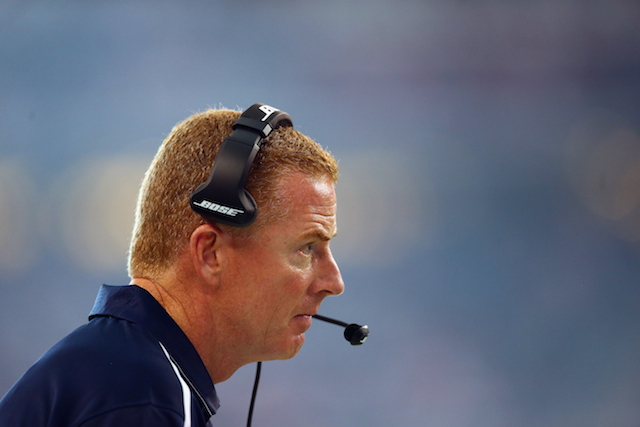 Jason Garrett
Cowboys coach Jason Garrett has been nothing if not consistent: his three full seasons as Dallas head coach have each resulted in identical 8-8 records. However, consistent mediocrity isn't a good way to keep your job in the National Football League, where the expectations are playoff appearances and championships — two things Garrett isn't at all familiar with in his head coaching career. In fact, Garrett entered the 2014 season as the most likely coach to get fired first, according to Bovada's odds. get The good news is Dallas is currently tied for first place in the NFC East at 3-1 with Philadelphia, and a winning record may just be enough to keep his job intact for another year. But, if Garrett fails to break the Cowboys' playoff drought in 2014, owner Jerry Jones will likely be looking for the 48-year-old's successor sooner rather than later.
Rex Ryan
After taking the New York Jets to the conference championship game in each of his first two seasons as head coach (2009 and 2010), Rex Ryan's seat has gotten significantly hotter in recent years. Ryan hasn't been back to the playoffs since, and is just 23-29 in that time. New York has a quarterback controversy on its hands thanks to Geno Smith's poor play so far in 2014, and the 1-3 Jets need to turn things around soon if Ryan wants to keep his gig. On the bright side for the Jets, even though the club is in last place in the AFC East at 1-3, they're only a game out of first. The Patriots, Dolphins, and Bills are all 2-2, and if New England is as vulnerable as it appears to be, that could bode well for Ryan's chances.