With Martinsville's Round of 8 Elimination Race Approaching, NASCAR Cup Series' Team Penske Getting Shut Out of the Championship 4
One NASCAR Cup Series race remains for Round of 8 drivers to qualify for the Championship 4. Team Penske's three drivers have a chance, but they may be forced to fight mano a mano for one of the final spots.
Team Penske vs. Team Penske vs. Team Penske.
Teammates Ryan Blaney, Brad Keselowski, and Joey Logano left a wind-blown Kansas Speedway outside of the cutoff line, but still, see a groove. Each racer's championship invitation could come down to outracing a garage-mate at the end of Martinsville Speedway's 0.526-mile short track on Oct. 31.
Bring it on.
NASCAR Cup Series' Team Penske awaits Championship 4 qualifier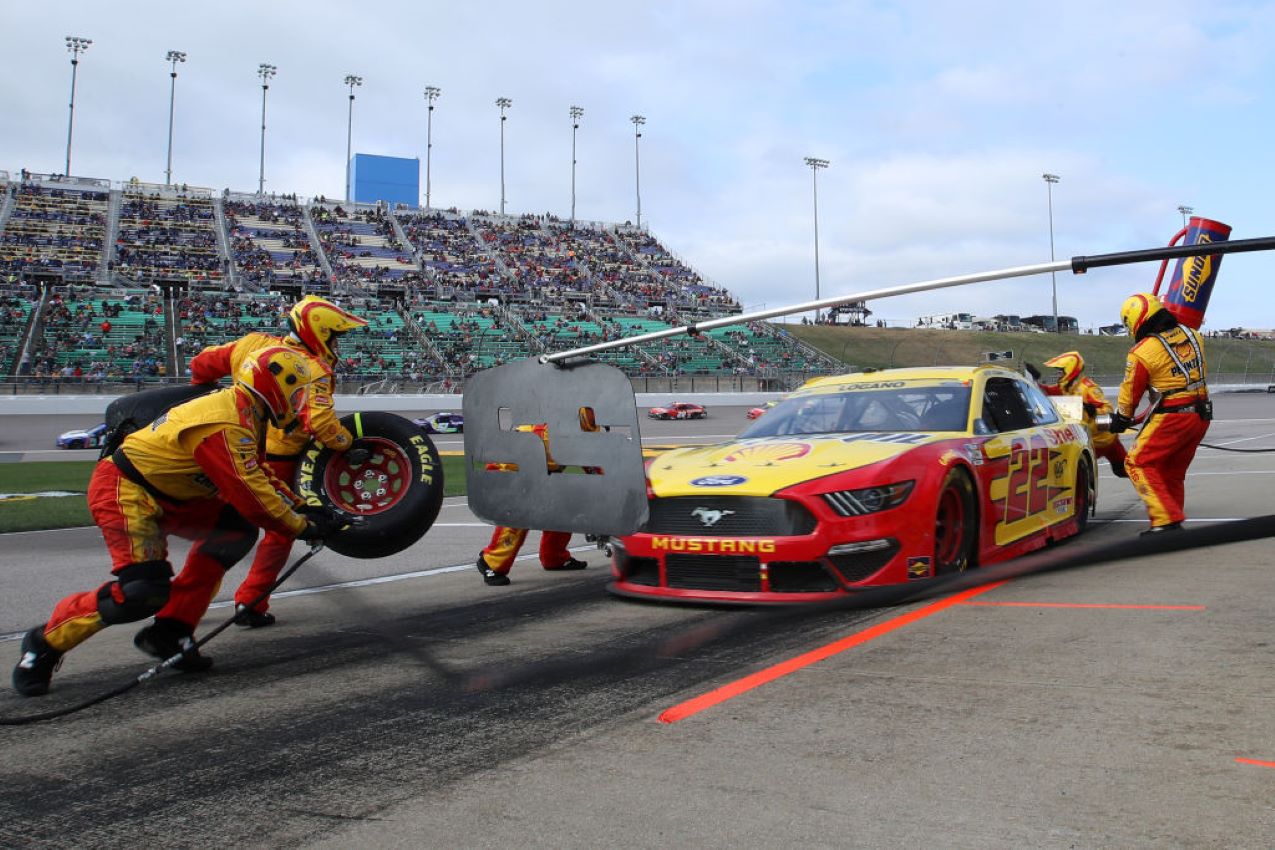 Founded by Roger Penske, the motorsports organization has been a fixture on NASCAR's national series since 1972. It fields three Cup Series cars and one on the Xfinity Series. The franchise also runs a full-time IndyCar program.
A win and one of the trio is in, but chances are the group will have to fight for points. The drivers' collective performance at Kansas didn't help.
Following a late accident during the Hollywood Casino 400 on Oct. 24, Blaney fell from second place in postseason points to fifth, one behind fourth-seeded Kyle Busch.
Keselowski, who is leaving the team after this season, started strong but faded to a 17th place finish. He stays six points under the cutoff but will need a clean ride.
Logano is 26 points underwater and likely will need to take the checkered flag on Halloween to advance out of the Round of 8.
Entering Martinsville, Kyle Larson, who has captured the past two races, is the lone driver to qualify for the final four.
Round of 8 elimination race will be highlighted by fight for final four
The Championship 4 will decide the Cup Series' 2021 victor at Phoenix Raceway on Nov. 7. If nine-time winner Larson wins again at Martinsville, the other three final four drivers will be decided by points.
Joe Gibbs Racing's Martin Truex Jr. is minus three points under the cut line, but he'll likely come out swinging.
"It's like four of us are fighting for one spot," Keselowski told motorsport.com. "We are all just fighting hard.
"Winning would obviously lock our way in, but as you saw this week, as crazy as these races get, I am not sure that isn't what you have to do."
Hendrick Motorsports Chase Elliott, who is 34 points ahead of the cutoff, and Joe Gibbs Racings' Denny Hamlin (32 points) appear safe but should not take their chances for granted.
Just ask Blaney, who entered Kansas with a 17-point cushion.
Blaney looking to rise in Phoenix after being blown away in Kansas
Blaney's troubles started early but did not end there. A Stage 1 flat tire forced him to pit under green-flag conditions. His Stage 2 rally put him in the top 10 until Austin Dillion caused his machine to hit the wall hard on Lap 224, ending his ride.
"It's very unfortunate," he said.
Team Penske is not accustomed to looking in from the outside. The franchise has compiled 133 NASCAR premier series victories.
To think Team Penske may be out of the Championship 4 in Phoenix?
"That sucks," Blaney said.
RELATED: Team Penske Set to Lose Another Key Contributor Not Named Brad Keselowski After 2021 NASCAR Season