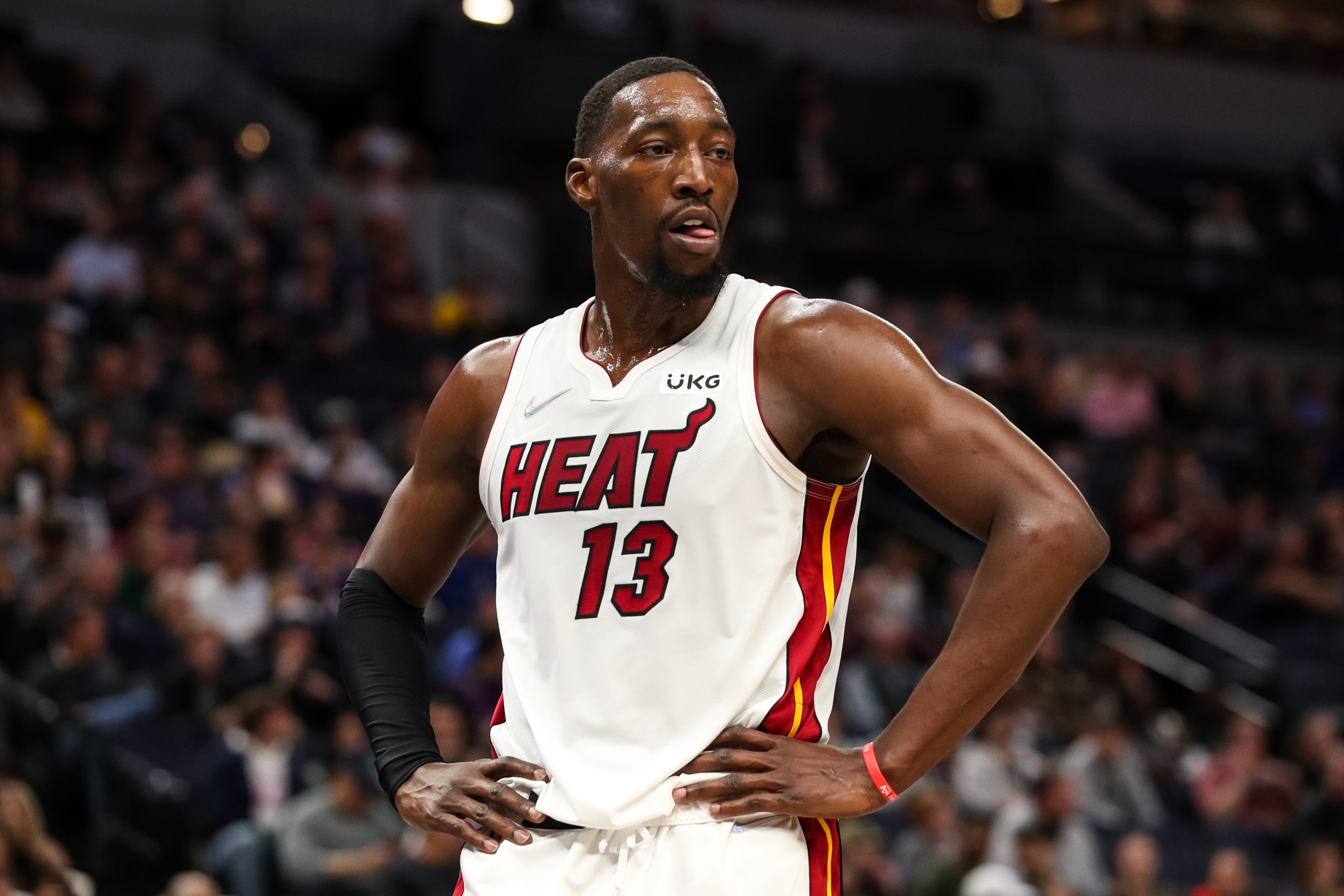 With Star Center Bam Adebayo Back, the Surging Miami Heat Should Soon Dominate in the East
Miami Heat rising star Bam Adebayo, who has been out the past six weeks with a torn ligament in his thumb, could return to game action as soon as Monday night.
A word of warning to those dented and damaged jalopies wheezing smoke and leaking oil while somehow continuing to set the pace for the Eastern Conference: Approaching objects in the rear-view mirror are bigger and badder than they might appear.
While the Chicago Bulls and Brooklyn Nets keep suffering losses — both in terms of personnel and on the court — a Miami Heat squad poised to see the return of dynamic center Bam Adebayo could be leading the way in the East by this time next week. And if this tough-minded and physically tough Heat team — one that kept its season afloat with its vaunted player develop system — ever takes the lead, don't expect them to surrender it any time soon, considering all the obstacles they have already overcome this season.
Oh sure, the Heat saw their four-game winning streak come to an end on Saturday when Philadelphia 76ers superstar Joel Embiid dominated in the season half. However, those days are likely about to end with the return of Adebayo, one of the NBA's most complete defensive players.
Despite a ravaged roster, the Heat stayed afloat with Tyler Herro and a deep bench
The beasts of the East might have thought they wouldn't have to worry about the Miami Heat once star center Bam Adebayo went down with a torn ligament in his thumb on Nov. 29. Miami lost three of its first four games without Adebayo in the paint, seemingly reinforcing that thinking.
About that same time, star forward Jimmy Butler was in and out of the lineup with various injuries, and the roster was repeatedly hit hard by the rampant spread of the COVID-19 virus.
Miami coach Erik Spoelstra had to have known that stretch of the season would be one that ultimately would determine the Heat's fate. As it turns out, those fears were put to rest when rising star Tyler Herro showed why he should win the NBA's Sixth Man of the Year and Most Improved Player awards, and Spoelstra again displayed his Coach of the Year credentials.
When Miami's player development program produced, the Heat still thrived
With few other options available, Miami turned to its vaunted player development corps of mostly undrafted and unproven players. That's never mattered in Miami, where assistant coaches Malik Allen and Chris Quinn, development coach Anthony Carter, and others have mined talent from several below-the-radar prospects.
Seemingly out of nowhere, guys named Max Strus, Omer Yurtseven, Gabe Vincent, and Caleb Martin — a foursome that sounds like it plays out of the Liberty City, Fla. YMCA — meshed well with veteran leader Kyle Lowry and rising star Tyler Herro. Not only did they keep the Heat afloat, but the Heat boat-raced their way to contention in the East. Once 14-11, Miami went 13-4 over the next four weeks by notching signature victories over Milwaukee, Chicago, Philadelphia, Washington, Phoenix.
Said Philadelphia 76ers coach Doc Rivers of Miami's abilities to turn unheralded and undrafted players into NBA contributors: "I don't know where they keep finding these guys. It pisses me off," per the Ft. Lauderdale Sun-Sentinel.
Bam is back, and the Miami Heat could take off to the top of the Eastern Conference
According to ESPN, Bam Adebayo, a two-time All-Defensive team pick, will make his return to the Heat's starting lineup on Monday. His presence in the middle, combined with the sticky wing defense that Butler and Lowry play on the perimeter, should make Miami even more of a force.
One highly overlooked aspect of Adebayo's game is his ability to facilitate the offense with passing from the high post. He averaged 5.1 and 5.4 assists a game the past two seasons, and his dribble hand-off game will help struggling shooters Duncan Robinson (3-of-20 in the past three games and 35.7% from three in January) and Lowry (34.3% overall and 33.3% from three in January).
Chicago has looked lost of late while losing Zach LaVine and Derrick Jones Jr. to knee injuries and suffering its first three-game skid of the season. Meanwhile, Kevin Durant suffered a knee injury that could keep him out for six weeks and Kyrie Irving can still play only half the games because he won't get vaccinated.
Like a month ago, when the Heat were slogging along at 14-11 and facing a critical juncture in their season, they are again at a point that could define where they end up in the East standings. If they take advantage of Adebayo's return and the upcoming stretch of home games, the Heat could blow by the wheezing Bulls and Nets and find themselves at the top of the heap in the Eastern Conference.
Statistics are courtesy of ESPN.com.