Washington Wizards Rising Star Rui Hachimura on his Return: 'I Just Missed This Feeling'
ORLANDO — Throughout a bilingual postgame news conference that lasted longer than his time on the court earlier in the night, Washington Wizards forward Rui Hachimura kept coming back to one phrase he said again and again: "I just missed this feeling."
Back in game action for the first time all season on Sunday after being away to deal with a personal matter, Hachimura got to experience all the feels in his return. He got to feel the exhilaration of dunking twice in an NBA game. He got to feel rustiness with his shot as three 3-point tries and three more point-blank looks were offline. Also, he experienced the frustration of getting pulled from the game just as he had broken a sweat because the Wizards had capped his minutes in his debt.
Even though he had just six points and three rebounds in his first game back, it was a positive first step back for Hachimura, a player who has always had to carry the expectations of his native Japan across his broad shoulders.
"It was great … I've been waiting for this moment," said Hachimura, the No. 9 overall pick of the 2019 NBA Draft. "I had to take a little time off, but I'm so happy to be back on the court and play with these guys. I just missed this feeling."
Rui returned, and just in time for a Washington Wizards franchise in need of continuity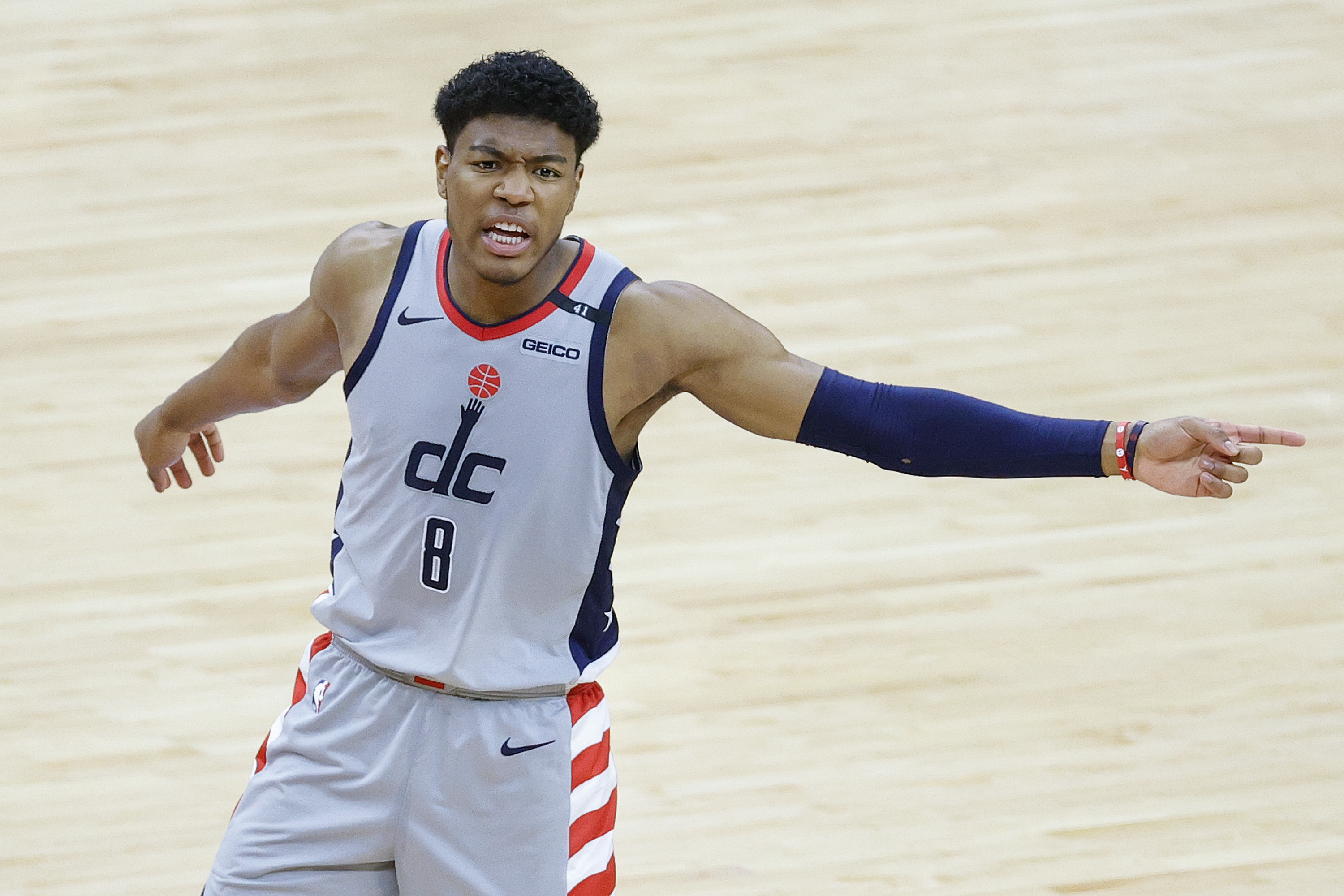 The Washington Wizards were one of the NBA's surprise teams early in the season by getting off to 10-3 start under the direction of rookie head coach Wes Unseld Jr. Not long after, the bottom fell out of Washington's defense, and it inexplicably went from 10-5 to 21-20 and fighting to stay afloat.
Star guard Bradley Beal was placed in the NBA's health and safety protocols in recent days. Then, according to Shams Charania of The Athletic, teammates Montrezl Harrell and Kentavious Caldwell-Pope got into a physical altercation at halftime of Washington's win over Oklahoma City on Tuesday.
Hachimura, as popular a player on the Washington roster, could be both a calming influence and a talent-injecting spark that the Wizards need.
Hachimura declined opportunities to discuss why he had been away for 'personal reasons'
After using plenty of hustle and muscle to average 13.5 points as a rookie and 13.8 points in his second season, Hachimura excited Wizards fans about his enormous potential when he posted 20- and 21-point efforts in his final two playoff games last season.
Hachimura was back on the floor in the Summer Olympics in Tokyo this past August, but he could not lead the home nation to a victory in three tries.
For years, various NBA players have said that an NBA season's pressure is nothing compared to the stress of returning home and playing for a national team. In that role, the NBA players are considered saviors who can lift their national team above normal expectations almost single-handedly.
Given multiple opportunities to explain why he missed the first 2 1/2 months of the NBA season for "personal reasons," Hachimura politely declined. He refused to point to the pressures he felt playing for Japan or an unspecified illness or injury as the reasons for his absence.
"I've been doing OK," he said. "It was personal stuff. I'd rather not talk about it. But it's been great with the team, with everybody understanding my situation."
Superstar guard Bradley Beal called Hachimura's return 'definitely heartwarming'
In his native Japanese language, Hachimura's given name of Rui translates into "fortress" or "base." It's a fitting name for a 6-foot-8, 230-pound player packed with power and explosiveness.
When he's fully released to play the 30-32 minutes a night he averaged as a rookie and promising second-year player, the 23-year-old Hachimura will give the Wizards another dynamic piece with which to throw at foes. However, the only potential problem is that two of Washington's most productive players — Kyle Kuzma and Harrell — are power forwards. Also, powerful center Thomas Bryant returned to game action on Wednesday following last year's knee surgery.
Unseld Jr., son of the Hall of Famer who starred for Washington several decades ago, is a strong proponent of position-less basketball. He has already talked about using Hachimura as a small-ball center in some lineups. Also, he sees no reason he can't play alongside Kuzma, who has recently ripped off the most productive stretch of his NBA career.
The most influential voice in the Washington locker room, Beal said he is all in on Hachimura commanding significant minutes in the regular rotation. Also, Beal is pulling for Hachimura after what he's been through in the past year, and he wants to see him succeed for various reasons.
"It was awesome," Beal said of Hachimura's first game back. "I saw him work out the other day, and seeing him get back in his flow and routine, it was amazing.
"It was definitely heartwarming — one, for him and two, for the team," Beal continued. "That gives us more versatility. With the way we play, we can play small, and we play big because we play a lot of position-less basketball. It doesn't matter where Rui is on the floor because when he gets a rebound, he can push. We play free and open, and he'll get his opportunities and be aggressive. It's just a matter now of us implementing him."
Hachimura likes the sound of that. And, again, he likes the feeling that he gets when he's back on the floor and showing off his massive potential as a player.
"Everyone has been so supportive, and I love these guys — the players, the coaches," Hachimura said. "I really missed this and missed this feeling. The last time I played in an actual game was in the Olympics, so it's been like six months, and for sure, I missed it. I was waiting for this moment, and it felt right to me."
All quotes in the story were obtained firsthand.
RELATED: The Washington Wizards Are Off to Their Best Start Since Their Current Head Coach's Father Ruled The Paint in DC 47 Years Ago