The Wizards Might Have Given Themselves a Crucial Lifeline Amid Massive Skid
Washington Wizards fans cannot exactly describe life as exhilarating at this moment. After racing out to a fast start as one of the NBA's hottest teams, Washington's season has ground to a halt. To make matters worse, superstar guard Bradley Beal continues to sound overly vague about his future.
However, some brutal honesty and self-examination could save the 2021-22 campaign. After multiple players hinted at offensive frustrations, the Wizards responded with a terrific effort against the Utah Jazz.
Wizards players are reportedly skeptical about the team's offense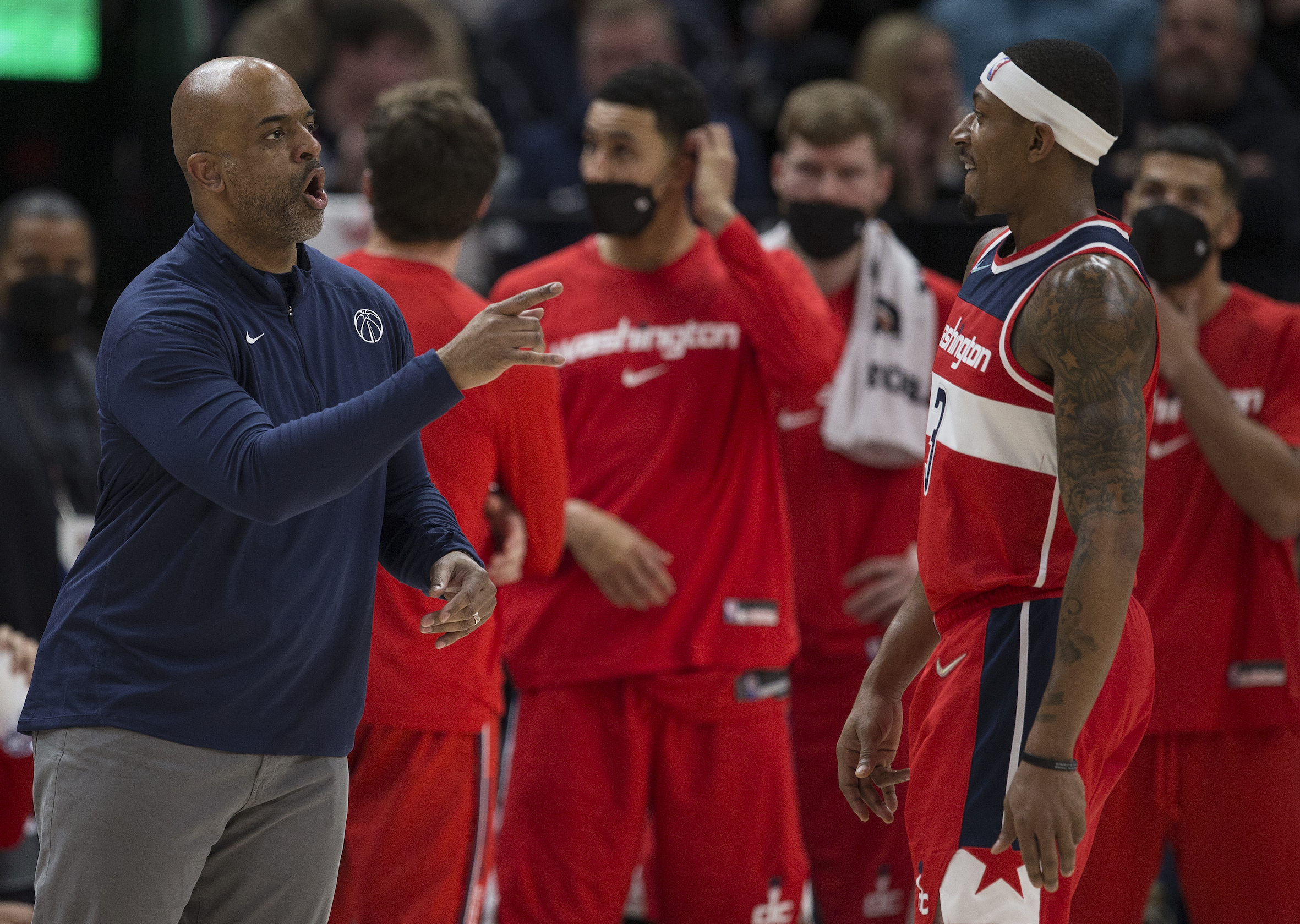 The Wizards were historically good to begin the season, posting the best start since head coach Wes Unseld Jr.'s father locked down the paint 47 years ago. But the good vibes quickly turned sour, and now Unseld is under fire.
Washington is just 6-12 in its last 18 games. The offense has typically looked stagnant and sloppy. Players such as Montrezl Harrell voiced their frustrations accordingly.
"At the end of the day, it's like the old saying, 'You've got to throw a squirrel a nut,'" Harrell said recently, via The Athletic. "We're not saying throw it to us and let us clear out and iso and go and do our thing. No. But at the same time, let us feel it, not just off rebounding and then giving it to a guard. No, let us get a touch early to get a shot. Let's give us something to let us feel like we're involved in the game as well."
Offseason free-agent signing Spencer Dinwiddie offered something similar, suggesting Washington's "equal-opportunity system" (outside of Beal) could constrain the flow of the game and limit the Wizards' offensive potential.
According to The Athletic, some Wizards players are unsure about the "direction and structure" of Unseld's offensive system, which is apparently impacting effort and focus on the other end. However, Unseld said he's willing to hear all criticisms and speak with players about their feelings.
"I love the feedback. I think that open dialogue helps," Unseld said, per The Athletic. "It's one thing for me to say it, because I'm seeing it from a certain lens. And I think it's also important to take their opinions into consideration because they're the ones going through it and living it. All I want is what's best for this group. So if it helps the group, then I'm all ears."
For some teams, openly criticizing a head coach could only add to internal turmoil. But the open dialogue in Washington could give the Wizards a lifeline.
The Wizards responded with one of their better games in recent weeks
No sooner did Unseld make those remarks than the Wizards had to play a tough Utah Jazz team in Salt Lake City. Would Washington show some heart in light of everything, or would Unseld's group fold?
The Wizards opted for more of the former.
After falling behind 33-27 in the first quarter, Washington outscored the Jazz 29-20 in the second period. The Wizards controlled the game from there, earning a 109-103 victory and snapping a four-game losing streak in the process.
Beal set the tone, scoring 37 points on 13-of-24 shooting while dishing out seven assists and grabbing five rebounds. But almost everyone got involved. Washington shared the ball, tallying 27 assists. Six different players scored in double figures.
A more free-flowing offensive approach appeared to give the Wizards some life on the defensive end. The Jazz coughed the ball up 15 times and shot under 32% from beyond the arc, well below their season average of 37.1%.
Unseld's team did far more than win a basketball game. The Wizards responded to adversity with a terrific performance against one of the NBA's best teams.
Washington's rallying cry?
Will Saturday's win over the Jazz be the turning point for the Wizards?
At 16-15, Washington finds itself as the No. 6 seed in the Eastern Conference. Considering the Wizards' recent struggles, it's probably a win for them to be just above the play-in picture.
Of course, Unseld and his guys need to get back on a winning track to maintain or improve their current standing. However, the open forum can allow for greater transparency between players and the head coach. That gives both parties an incentive to find solutions and work through tough stretches.
The Wizards could use a strong month-plus to alleviate further concerns about Beal's future — which even just a few weeks ago looked far more optimistic — and solidify their place as a playoff squad. With the players speaking their minds and Unseld carrying a receptive attitude, it's time to put up or shut up.
Stats courtesy of Basketball Reference.