How 5 Words From an MVP Set up an Unforgettable Win for Tyler Huntley and Possibly Saved the Baltimore Ravens' Season
It wasn't a pretty win, but they don't need to be pretty to count in the win-loss column. The Baltimore Ravens, without superstar quarterback Lamar Jackson, traveled to Soldier Field and beat the Chicago Bears, 16-13.
Getting the first start of his career, quarterback Tyler Huntley had the unbelievable fortune to not only play quarterback on a playoff-worthy team, but he actually led the Ravens down the field on a game-winning touchdown drive.
It was a moment Huntley will surely never forget. And to think it almost didn't happen.
Tyler Huntley found out he was starting for the Baltimore Ravens before the game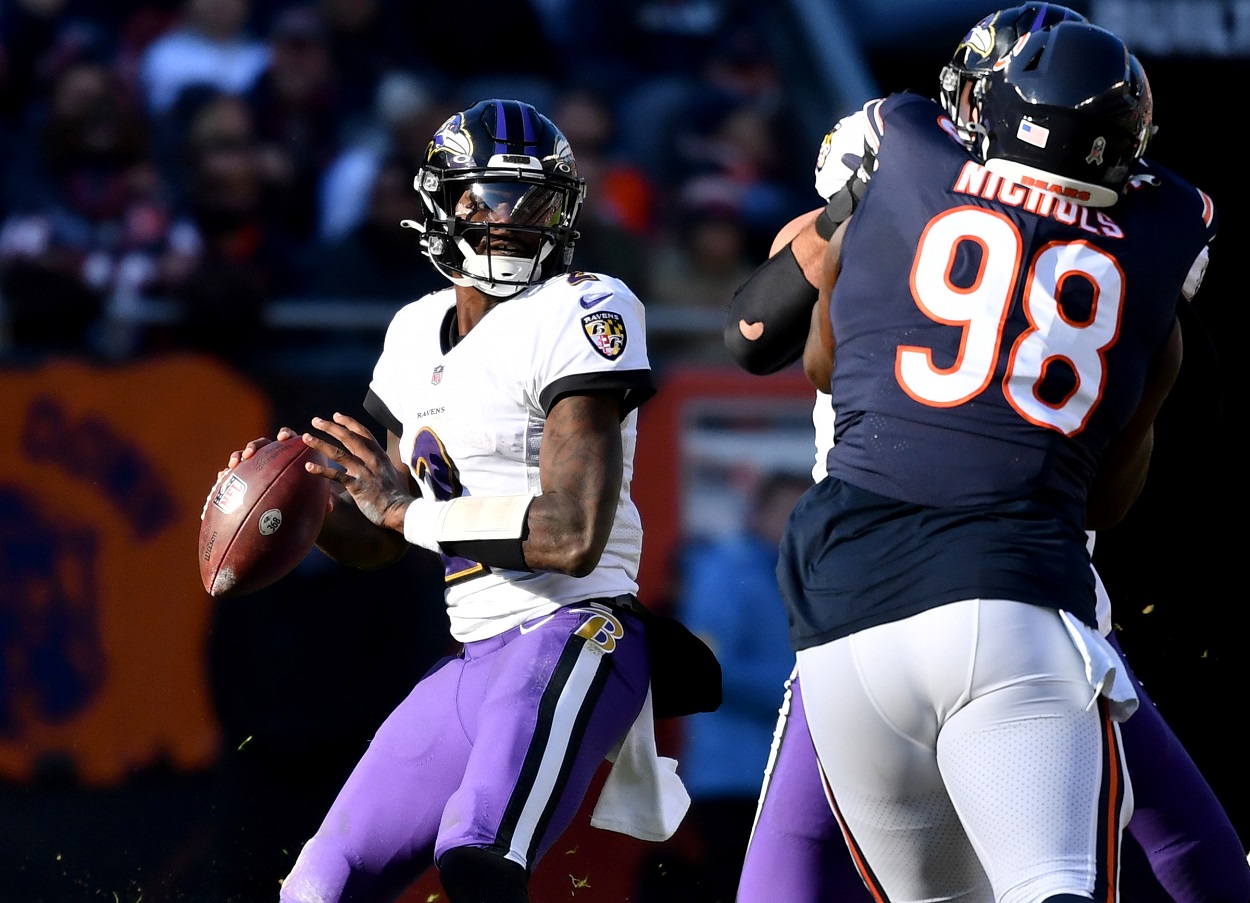 It's hard enough to be a starting quarterback in the NFL. Compound the fact that not only was Huntley getting his first-ever start, but he found out his fortune just before the game, and it makes Baltimore's win that much more incredible.
It was also improbable. The Ravens had a skeleton crew put together on offense, led by Huntley. They were down Jackson, 2019's NFL MVP, wide receiver Marquise "Hollywood" Brown, left tackle Ronnie Stanley, and running backs J.J. Dobbins and Gus Edwards.
Jackson had been suffering from a non-COVID-19 virus but did show up to Soldier Field, hoping he may be able to play. It was a 50-50 shot before the game, but according to Huntley, he received a text from Jackson as he was walking to the team bus.
That's how he found out he was about to start his first NFL game.
"It's crazy. I was walking towards the bus and Lamar texted me," he said, according to the team website. "'Go do your thing today. I'm going to be watching,'" Huntley said the text read. "And I was like, 'All right, let's go.'"
It wasn't perfect, but Huntley got the job done for the Ravens
The Bears have a solid defense and wanted to put pressure on the second-year undrafted quarterback out of Utah.
They sent pressure on Huntley early and often, and they did everything they could to keep him out of rhythm. Chicago sacked the Huntley six times, including 3.5 sacks from Robert Quinn. They also made the Ravens work for every single blade of grass they earned.
Baltimore's offense accumulated only 299 total yards of offense on 3.9 yards per play, and Huntley was 26-of-36 for 219 yards passing and one interception. He finished the game with a quarterback rating of 35.9.
Still, what ultimately mattered was that Huntley stepped up and made big plays when the team needed him to.
He wasn't Jackson, but he did flash some running ability with seven rushes for 40 yards, picking up 5.7 yards per pop.
He also came up clutch for Baltimore, with the team facing a 13-9 deficit with under two minutes to go in the game. Huntley led a five-play, 72-yard touchdown drive to give the Ravens the lead with 22 seconds left. He went 3-of-5 passing on that drive, including a 29-yard strike to Sammy Watkins to set up Devonta Freeman's three-yard touchdown score.
"I think if I was feeling the pressure, we probably wouldn't even have won this game," Huntley said of the game-winning drive. "You've just got to go with the flow about winning the game. We knew we had to go down there and score, so we practiced that every day in practice, two-minute drill, so that's all it came down to."
Huntley led the Ravens to a massive win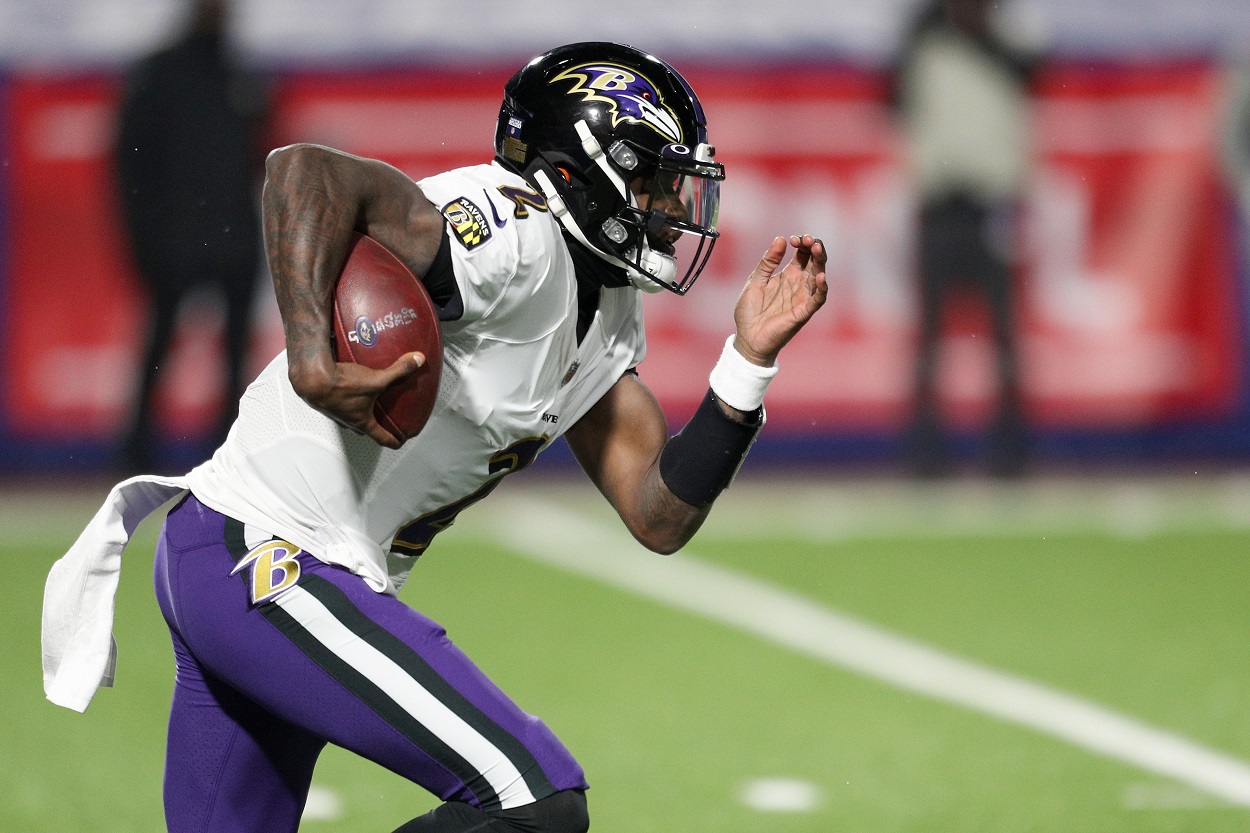 Coming into the game at 6-3 the Ravens needed to pick up a win. The probability of that happening took a massive hit with Jackson out, but that didn't phase the rest of the team or his backup. Baltimore walked away with a much-needed boost.
Remember, the Ravens were coming off a disappointing loss to a lowly Miami Dolphins squad. A two-game losing streak isn't impossible to overcome for a team like Baltimore, but it would have made things very uncomfortable.
There's also the rest of the season to consider. Now at 7-3, the Ravens are still in first place in the AFC North, but every win and loss matters once the calendar flips to November and December.
It's not like things are going to get any easier as well. The Ravens have two games against the Pittsburgh Steelers, and two games against the Cleveland Browns still left to play. They still have to go to Cincinnati to play an explosive Bengals team, and they've got games against playoff teams like the Green Bay Packers and Los Angeles Rams still left on the schedule.
This season is far from over. In fact, it's really just starting for Baltimore.
There are no guaranteed wins in the NFL, and the probability of things going south in a hurry would have skyrocketed had the Ravens left Chicago with a loss.
The importance of Huntley coming in for Jackson and leading the team to a win can't be understated.
It's a day he'll for sure remember forever. If the Ravens make a big push through the playoffs, it's also an important win that his teammates will look back on fondly as well.
"It's a coming-out party for him, and I can't be more excited about it," tight end Mark Andrews said.
Stats courtesy of ESPN and Pro Football Reference.