World Cup Cheat Sheet: How to Watch if You Don't Watch Soccer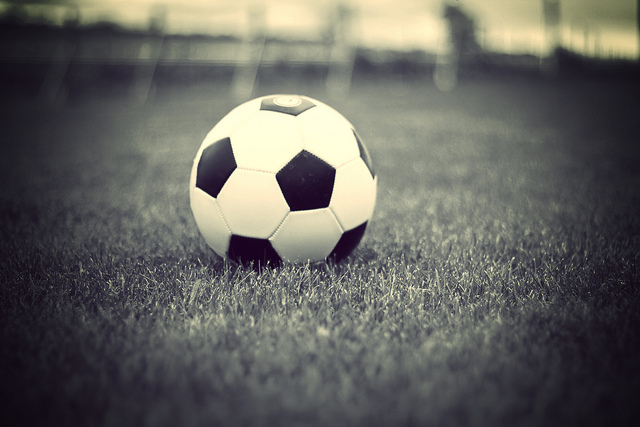 The World Cup is scheduled to kick off at 4 p.m. Eastern time, and if you're into sports but not necessarily a soccer fan, you're probably kind of terrified. After all, there's nothing worse than admitting that you don't know something, and if you're not into the sport, soccer is firmly off your radar until the World Cup, which comes around on the same schedule as the Olympics, but doesn't afford nearly the same amount of novice leeway into the event. Because, while no one really minds if you don't understand curling when you watch the Winter Games, everyone is going to care if you don't know soccer during the World Cup. At least, it can definitely feels that way.
So what do you need to know about World Cup soccer in order to not look like a rube? Well, in keeping the first things first, you can absolutely call it soccer. There's no reason to call it football if you don't normally call it football: It'll sound awkward, and you'll almost certainly forget to keep up appearances at some point. Better not to spend brain power on remembering to call soccer something you don't call soccer normally, especially when there's so much else to pay attention to. Like, say, what the different kind of formations are or which teams are expected to be good and which teams are not.
Remember, nothing about soccer is inherently more complicated than anything you find in American football or basketball — it's the lack of familiarity that presents the biggest hurdle. To put it in American football terms, you don't have to know the difference between a 4-3 and a 3-4 defense, you just have to know the difference between the quarterback, the wide receiver, and the defender. Easy, right? Exactly. So let's break down some broad strokes — which teams are expected to do well, which teams aren't, how to figure out what's going on on the field, so on and so forth.
The teams
If you're not particularly sold on nationalism, and want to root for one of the likely favorites, you can check out this list and pick whichever team draws your fancy, or go with Brazil. If you've got to know one thing about the teams going into this tournament, it's that Brazil is to soccer what New York City is to basketball or Lambeau Field is to football or what prep schools are to lacrosse: the ground zero for the sport, where the love of the game intermingles with the history of the game to create an aura that is not only fundamentally palpable but is simply other in ways that don't occur in other areas of the sport's known universe.
And Brazil is also important to know because they don't lose at home. Ever. They haven't lost an international match in their own country in over a decade. That is some massive home court advantage, and they'll have it for the entire tournament. As you might have guessed, they're also very, very good at soccer. You're going to want to know Neymar, if you go all in Brazil. This is Neymar.
If an underdog squad is more to your liking, you can check out these three teams, each of which put their own spin on the idea of a lost cause — or, thirdly, you could go through the Groups (since the first round of the World Cup is a round robin) and just pick one team from each squad or every other squad. Or you could just pick your home country or ancestral motherland, but like any other sport, it's more fun if you're rooting for more than one team in an elimination tournament.
Watching the games
Now, with our teams safely chosen (three is a good number, one random, Brazil, and the U.S. so you can shake your head wistfully about the absence of Landon Donovan, who's going to be an ESPN analyst), it's time to actually watch the games. They're split between ABC and the various ESPN networks, with free streaming offered online provided you're already paying for television. That's where you'll find them. But then, when you turn it on, the games look like a bunch of guys running up and down the field. Is there really more to it than "kick the ball, run after the ball, then kick the ball at the goal?"
Fundamentally, no. But in practice, of course. The easiest way to pick up on the strategy behind soccer is to focus less on the ball, and more on the positions of the players that you can see on the screen, called the formation in the parlance of the sport. Below we've posted one of the qualifier games for the World Cup, between the U.S. and Panama, as a quick primer for what the game is going to look like — watch the way the Panamanians and the American players move on a string, like a soccer playing amoeba, around the ball. Knowing the difference between a 4-2-1-1 and a 4-3-2-1 (those are a pair of formations) isn't nearly as valuable for the inexperienced viewer as recognizing that soccer is essentially played in a hybrid zone on both offense and defense.
And what about the scoring? Isn't the knock on soccer that it's long, and boring, because possessions so frequently end without any reasonable resolution, i.e. points on the board or turnovers? That's one way of looking at it, sure, but if we're trying to ingratiate ourselves into watching soccer, it's much more impressive when you consider the sheer skill involved in dribbling a soccer ball. Controlling things with your feet is hard work, and watching these guys haul up and down the pitch, with only one real break in the ninety-plus minutes of action, while keeping possession of something with only your feet while everyone else is trying to take it away is a much more fulfilling way of watching the games, instead of looking at the scoreboard. The big takeaway: Scoring in soccer is a culmination and a reward of many things breaking the right way, rather than an expected byproduct of the rules of the game.
Talking about the game
Lastly, we've got to make sure no one comes across looking like they don't know what they're talking about, even if they have no idea what they're talking about. So, here's a pair of key takeaways when you're talking about soccer to other people, especially if you're talking to the kind of people that call it football.
1. The positions are not all that important

Consider this the Jimmy Graham effect. Imagine the way that way Graham and his ilk (recently retired Tony Gonzalez, the almost always injured Rob Gronkowski) don't play the tight end the way the majority of their peers do. Now consider that soccer is a game that's filled up almost entirely with players that shift responsibilities according to their coaches' whims. Some teams have fullbacks, who have been nominally defensive players throughout large swaths of soccer history, play very aggressively. Some teams have one player as their designated strikers (the players who are closest to the other team's goal, and subsequently shoot the most), some teams have three. A player's position is not nearly as important as his function — if a guy is hanging back, he's playing more conservatively. If the team seems to have a large concentration of guys in in the front of the field, they're playing more aggressively. Apply this logic as needed.
2. Your team is always right

Remember, even though this is soccer, this is still sports, and you're still a fan. It doesn't matter if you've been a fan for five decades or five minutes, you know how being a fan is supposed to work. While you're stepping back from the action and taking in how your team is moving around the field and how aggressively they're playing, don't forget that you're expected to cheer for them when they do good things and express dismay when they do not. The difference between the two is self-evident, even in soccer, once you start watching. Good luck, and enjoy the games.