World Cup: Talking Points Roundup From Groups A, B, and H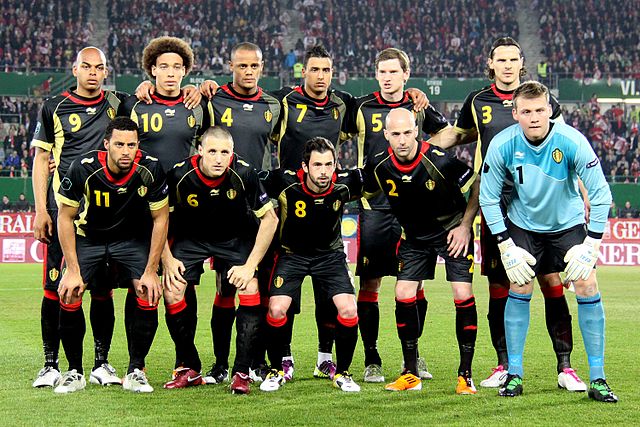 Belgian blushes were spared
When pre-World Cup talk started, Belgium was considered one of dark-horse favorites. The team is said to be in a "golden generation" and had the chance to start off on the right foot in its World Cup opener against Algeria. Defense is strong and experienced, while the attack is young and full of flair. At halftime, though, the feel of this Belgian team was that of a bust already. Down 1-0 thanks to an Algerian penalty, Belgium's manager made a change that instantly picked up the team.
Dries Mertens entered the fray, and he was creating chances, but the Algerians were holding their defensive shape well. Then Belgium put in Marouane Fellaini, and his height and ability to win headers saw him score within five minutes to tie the match at 1-1. Ten minutes later, Belgium broke away on a lightning-fast counter, and Mertens scored to put Belgium up 2-1. From there, the team did not look back, as Algeria was struggling to create decent chances and hold on to the ball. Anything less than a win would have looked bad for a Belgium squad that is predicted to make some noise by many.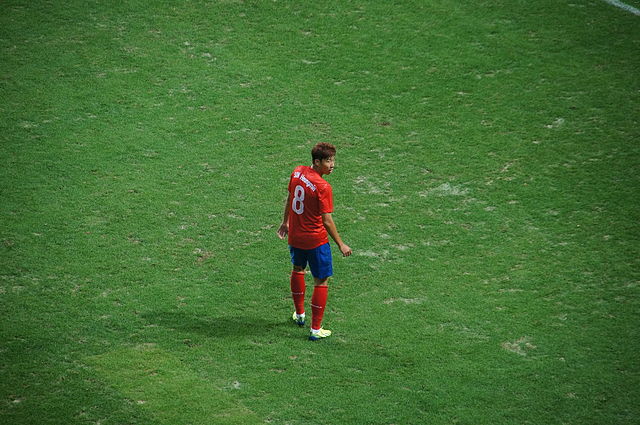 Goalkeeping blunder lights a fire under Russia
The other two teams in Group H are South Korea and Russia, and they squared off to open their World Cup campaigns. The first half was somewhat tame. Son Heung-Min (above) looked lively and could dribble to create space for his own shot, but his technique was bad, and he didn't get a single shot on the frame of the goal. As the game went on, Son faded and was eventually substituted late in the match.
Russia, on the other hand, got stronger as the match went on. Some of this had to do with the substitutions made by the Russian manager, Fabio Capello, and some of it had to do with the huge mistake by Russian keeper Igor Akinfeev. Lee Kuen-Ho took a shot from a ridiculous distance and it looked like routine stuff for Akinfeev, but he lost concentration and it went in over his head! What a howler! It was then that Russia went into immediate overdrive and attacked the South Korea goal.
Minutes later, an Alan Dzagoev shot is blocked by the Korean goalie, but the ball bounced around and landed at the feet of Alexander Kerzhakov. He made no mistake, tying the match at 1-1. There were some more chances created by both sides, but they ran out of time and had to settle for a point apiece. The big question is why Capello did not start Kerzhakov and Dzagoev. These two turned Russia from a conservative-playing team into a team that ran at South Korea for the final 15 minutes of the match. They should start unless they are in Capello's doghouse, which has a reputation of being full at times.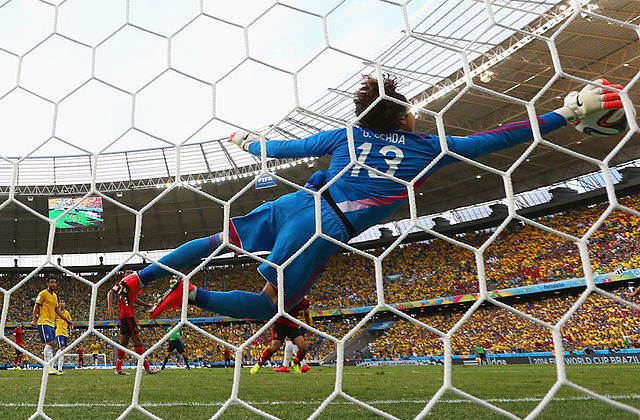 Guillermo Ochoa shines for Mexico
Mexico went into its match against Brazil knowing that it was the underdog. There were a few Mexican fans in the stadium, but the majority of the crowd was there to cheer loudly for the host country. Brazil was expected to win and put its stamp on the tournament after a somewhat controversial 3-1 win opener against Croatia. But Mexico went right at Brazil and did not stop. This has become a generational battle dating back to 2005, when Mexico beat Brazil for the U-17 World Cup. Mexico has also beaten Brazil for the 2012 Olympic gold medal. But those were smaller stages, and none of those tournaments were in Brazil.
Both teams attacked and played well. The main difference was Guillermo Ochoa, the Mexican goalkeeper, who is currently without a club team. He had the best match of his life, making six saves and giving Mexico a valuable point. His best save was denying Brazilian captain Thiago Silva's point-blank header with five minutes remaining. Most keepers would have foolishly tried to come out and get a fist on the ball or catch it when it was clearly unreachable. He stayed on his line, positioned himself well, and had a bit of luck in that Silva did not head it down but straight at him. In the end, the Mexicans walked away with their heads high, knowing that this generation of Brazilians has not yet beaten them in any tournament.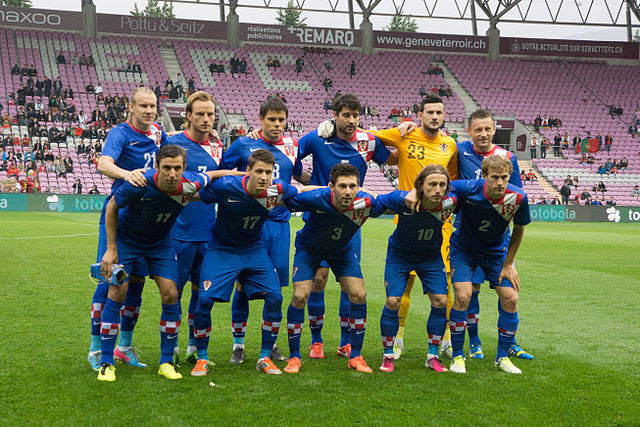 Showdown: Croatia vs. Mexico
Croatia beat Cameroon 4-0 without much trouble. Mario Mandzukic scored twice and showed how much he was missed when he was unavailable against Brazil due to suspension. This sets up a showdown that should be a fun encounter to watch. Mexico only needs a draw to advance to the knockout phase, while Croatia will fight for a chance to stay in the World Cup. Croatia looked scary with Mandzukic, Luka Modric, and Ivan Rakitic on the field at the same time. Croatia has scored five goals and allowed three. Mexico has scored only one goal but has allowed none, giving the team the best defense at the World Cup so far. This should be a fun one to watch.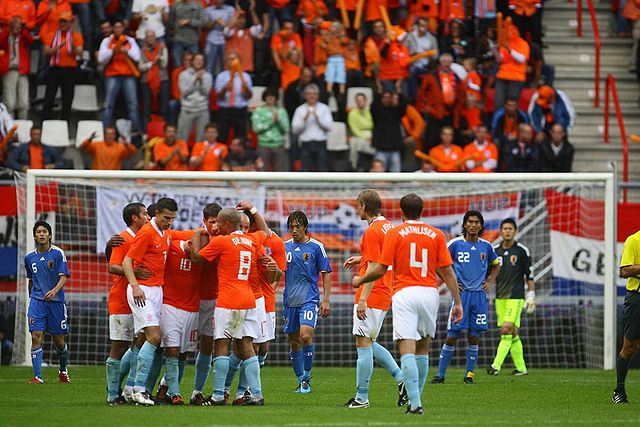 Dutch resolve breaks the Socceroos' hearts
The Netherlands were the talk of the tournament after beating reigning World Cup champions Spain 5-1. The next match pitted the Netherlands against Australia, which wins the award for best team nickname in "The Socceroos." Australia started off the brighter of the two, while the Dutch still looked like they couldn't believe they beat Spain. A bit of Arjen Robben magic put the Netherlands up 1-0 that went slightly against the run of play.
Not even two minutes later, the goal of the World Cup (so far) was scored. Australia's Tim Cahill, known more for his leaping ability than flair for dramatic goals, scored an audacious volley that took the entire stadium by storm. Getting shots like that on frame with enough pace and power to beat any goalie is one of the hardest things to do in soccer. The Dutch came out of halftime with more power and drive. Australia was given a penalty by the referee on a handball in the box.
There is controversy about that being the correct call, as the defender's arm was in a "natural position" as he was running when the ball was crossed — no one runs with their arms directly by their sides. Nonetheless, Mile Jedinak buried the penalty, and the Aussies had a shock 2-1 lead on the Dutch. It did not last long, as Robin van Persie scored less than five minutes later to tie the match again at 2-2. Second-half substitute Memphis Depay scored in the 68th minute to put the Netherlands up for good, and the Oranje saw out the match with a final score of 3-2.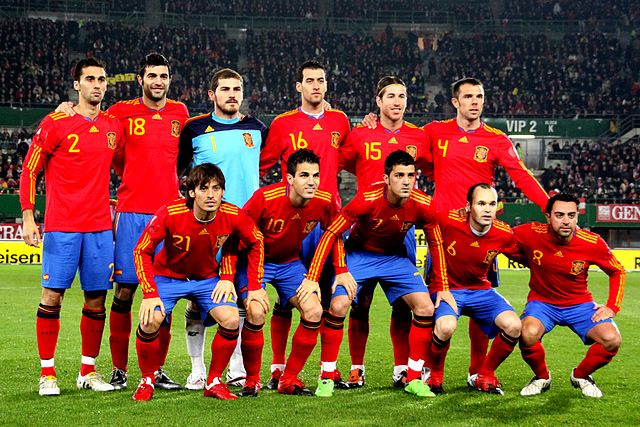 The trend of underwhelming defending champs
Chile beat Spain 2-0, eliminating the 2010 champs in the group stage of the 2014 World Cup. That's right: Chile was the better team on the day and finished its chances. This adds on to Spain's misery of being thumped by the Dutch a few days prior. This is just the latest in a trend seen in recent World Cup, in which the defending champions have been eliminated in the group stage in three of the past four World Cups.
France in 2002, Italy in 2010, and now Spain in 2014 — none put up much of a fight in the defense of its trophy. There are a few theories behind this. One is that the "fire" is gone, which seems incredulous, because these are top-level athletes playing the world's most popular sport. Representing your country at the World Cup is one of the highest honors a player can achieve. Another theory is that the players are four years older and can't go like they used to — now this has some pull to it. Long club seasons and the expectation of being a powerhouse again can sometimes be too much on a squad full of great players.
France won the World Cup in 1998 and then won Euro 2000. French players were in high demand and were main players for their various clubs week in and week out. You can imagine a lot of miles being put on the legs of those players in four years. The returning core of French players looked like they just did not have it in them to dig themselves out of the hole of their shock 1-0 opening loss to Senegal. France didn't score a goal in 2002 and went home hanging their heads.
Italy won the World Cup in 2006 with Marcelo Lippi at the helm. Italy then got a new manager and lost in the quarterfinals at Euro 2008 on penalties to eventual champions Spain. The manager is fired, and World Cup-winning Lippi returns. He tries to take the exact same team in 2010 that he did in 2006, barring retirement, and it did not work. Two ties and a loss meant aging Italy went home early.
A combination of these two stories is what led to Spain going home early. Vicente del Bosque took over the Spaniards after they won Euro 2008. He proceeded to win the 2010 World Cup with a similar squad. He then won Euro 2012 with this same core of players. This is an incredible feat that has never been done before in world soccer. The downfall, however, was swift. In 2013, Brazil gave the world a blueprint on how to beat this team with the high press. If a team can effectively pressure the defense and midfield, Spain will struggle to get into its slow passing game. The Netherlands and Chile applied this with great effect.
Also, del Bosque chose the same group of players yet again. This was a sign of del Bosque playing favorites and not paying attention to who was playing well leading up to the roster selection. Players like Fernando Llorente and Diego Lopez had much better seasons than Fernando Torres and Iker Casillas, yet Torres and Casillas went to Brazil. This looks like what Lippi did in 2010. After winning the 2010 World Cup, Spanish players were the new hot commodities in world football. They seemed to appear in every major league around Europe and logged a lot of minutes for their respective teams, and the Spanish season ended later than the majority of other European leagues. Also, the UEFA Champions League final, which is the last match of the European club season, featured two teams from Spain's top division.
It's not that the Spanish national team didn't want it badly enough or is filled with a bunch of divas – there are plenty of players from other countries who have played as many grueling games in the same four-year span. The players were simply victims of their own success and high standards. Hungry squads like Chile's were always going to give Spain its best shot. Winning three major trophies as a national team from Europe is an incredible feat that may never happen again. Spain from 2008 to 2012 is the best national side in the history of the game. But it was only a matter of time before the Spaniards fell.