World Series Great Reggie Jackson Is Enjoying the Parallels Between Derek Jeter and 'My Favorite Player' Jose Altuve
Article Highlights:
Baseball legend Reggie Jackson called Houston Astros second baseman Jose Altuve his "favorite player"
Jackson, who is now a special advisor to the Astros, compared Altuve to Yankees great Derek Jeter
Yankees fans won't be thrilled to hear the 14-time All-Star's comments
Life was bad enough for New York Yankees fans as they watched the Boston Red Sox and Houston Astros square off in the 2021 American League Championship Series.
Leave it to Reggie Jackson, the legendary home run hitter who led the Yankees to two World Series titles in the 1970s, to somehow make things even more painful this October.
Reggie Jackson sees clear parallels between Derek Jeter and Jose Altuve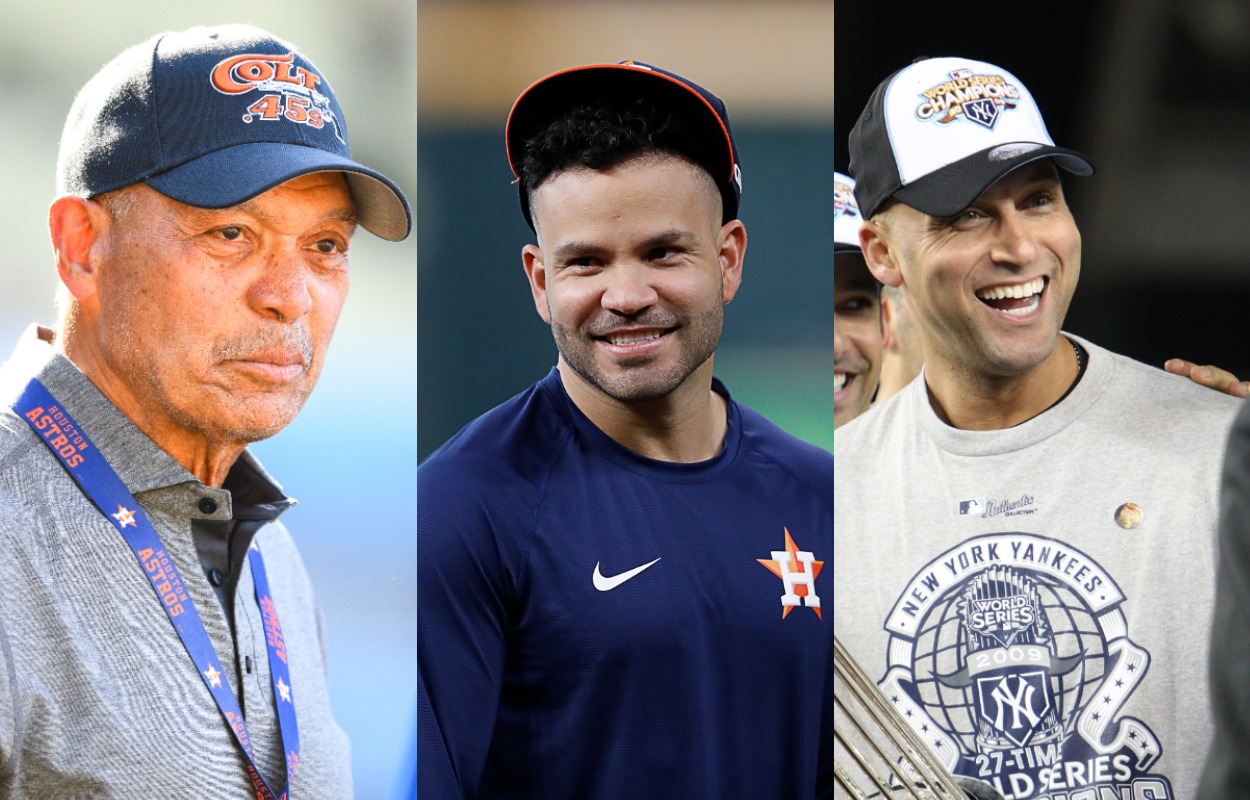 Although he's decades removed from mashing clutch home runs in pinstripes, Jackson has added incentive to see the Red Sox fall. Mr. October currently works as a special advisor to the Astros, an organization with five consecutive ALCS appearances to its name.
As he watches his new team try to reach the World Series yet again, Jackson is reminded of his former organization. In a recent interview with the New York Post, the National Baseball Hall of Fame slugger explained why watching Astros second baseman Jose Altuve reminds him of his time with New York Yankees legend Derek Jeter.
"I've had two situations where I was able to get paid and watch my favorite player. Derek. And now the same thing, the guy that I like to watch in a game mostly now in a game is Altuve. And I get paid."

Reggie Jackson
As of publication, Yankees fans had not torn down Jackson's plaque at Monument Park in Yankee Stadium. They also had not thrown his retired No. 44 into the Hudson River.
Altuve and Jeter each are modern postseason legends
Yankees fans won't want to hear it, but Jackson isn't exactly wrong in putting Altuve and Jeter in the same sentence. Aside from the Astros' cheating scandal, of course, but we can have that conversation shortly.
It's hard to ignore the Astros' sign-stealing, we know. But for the sake of argument, let's just glance at Altuve and Jeter's postseason statistics for a second.
In 72 career postseason games as of Oct. 21, 2021, Altuve hit .296 with 21 home runs and 47 RBIs. He earned a World Series ring in 2017 and captured ALCS MVP two years later after hitting .348 with two home runs — including a series-clinching walk-off in Game 6 — and three RBIs against the Yankees.
In 148 career postseason games from 1996-2012, Jeter hit .308 with 20 home runs and 61 RBIs. He won five World Series rings and earned World Series MVP honors after hitting .409 with two solo home runs in the 2000 Fall Classic.
Altuve only turns 32 in 2020 and is coming off yet another All-Star season. Something tells us we should only expect to see his postseason numbers climb in the coming season.
Yankees fans might never want to hear from Jackson again after his recent Astros praise
The sound you currently hear is Yankees fans either cursing at the screen or dialing WFAN to complain about Jackson's comments. Given how many technological items people possess, they may be doing both.
Although the Yankees-Red Sox rivalry remains intense, the Bronx Bombers and their fan base have had far more significant clashes with the Astros in recent years. Houston's sign-stealing scandal helped cost the Yankees a World Series appearance in 2017 and, depending on how many conspiracy theories you believe, may have also played a role in the Astros' 2019 ALCS victory.
In May 2021, Yankees fans made it clear just how much they appreciated Altuve with an NSFW chant. The seven-time All-Star should prepare for similar reactions every time he returns to the Bronx going forward.
Given his recent comments, Jackson may be in for a similar ovation when the Astros play at the Yankees in June 2022. Then again, if he convinces Astros shortstop Carlos Correa to sign with New York in the offseason, all may be forgiven.
Like Sportscasting on Facebook. Follow us on Twitter @sportscasting19.
RELATED: When and Why Did the Houston Astros, the 2005 National League Champions, Move to the American League?