7 Worst Injuries in Olympics History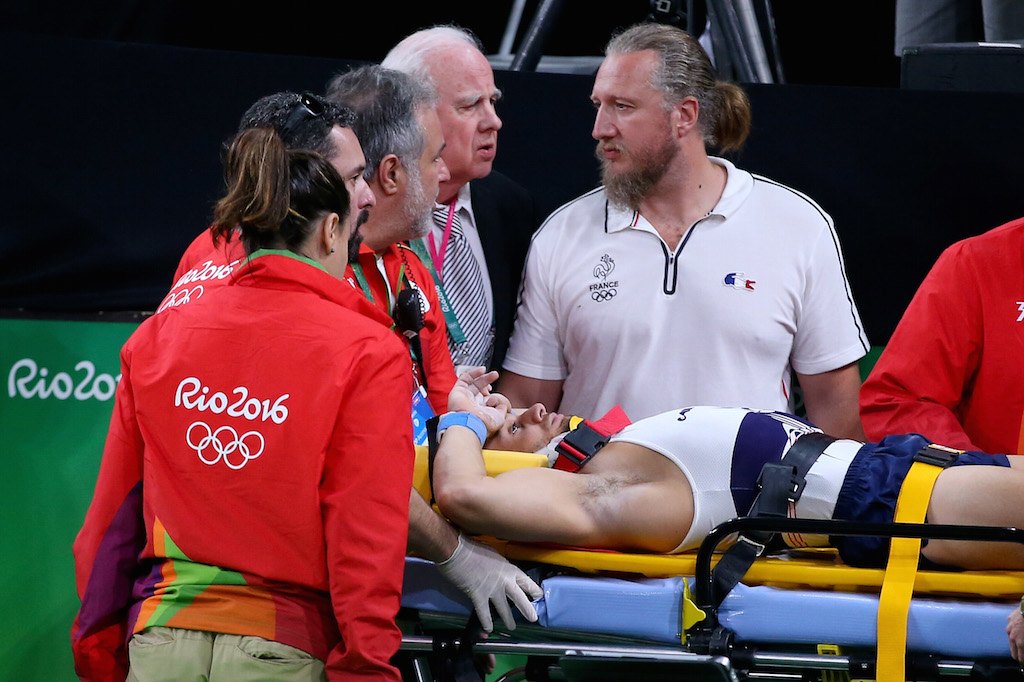 No Olympic Games are perfect. Some may turn out to be less chaotic than others, but in terms of the event itself, perfection is not really attainable. Coming into the 2016 Rio Games, with all the rumored problems, many of us expected the worst. Granted, it would take a catastrophe of epic proportions for these Olympics to be historically bad, but at this point, anything was possible.
That said, if we only view the Olympics through a "big picture" scope, we often tend to forget about all of the individual struggles that have taken place throughout the history of these Games. Unfortunately, many of these incidents involve something that you hope to never see at a sporting event of this magnitude: an injury.
As much as athletes hope to avoid painful experiences, especially Olympic injuries, sometimes, there's nothing anyone can do about it. These setbacks come with the territory. It's part of the price you pay for glory. When it comes to the Olympic Games, these seven individuals paid that price in a major way, experiencing some of the worst Olympic injuries we've ever seen.
Full disclosure: The following images and videos are pretty graphic.
1. Derek Redmond's hamstring injury
Games: 1992 Summer Olympics in Barcelona
In the 400-meter semifinals at the 1992 Barcelona Games, Great Britain's Derek Redmond appeared poised to earn himself a spot in the final. Unfortunately for him, the injury bug struck at the worst possible moment. Redmond heard a "pop" in his right hamstring and went down almost immediately.
Despite the realization that his Olympic dream was over, Redmond was determined to finish the race. He got to his feet and began to hobble down the track. It was in that moment that one of the most memorable scenes in Olympic history unfolded — Redmond's father joined him on the track, put his arms around his son, and helped him finish the race. Ultimately, this is what the Olympic Games are about — pride.
2. Greg Louganis bangs his head
Games: 1988 Summer Olympics in Seoul
Although American diver Greg Louganis went on to win the gold medal for men's springboard diving at the 1988 Summer Games in Seoul, his victory didn't come without its setbacks. If you can even call banging you head on the diving board a "setback."
That's right, on his ninth dive of the preliminary round of the three-meter springboard competition, Louganis slammed the back of his head on the board. Of course, given that he's a ridiculous competitor, Louganis got four temporary stitches — so he could complete his last two dives of the prelims — before going to the hospital to get five "real" stitches. The things we do for gold.
3. Sa Jae-hyouk's brutal elbow injury
Games: 2012 Summer Olympics in London
As far as graphic Olympics injuries go, this one is easily right near the top of the list. During the 2012 Summer Games in London, South Korean weightlifter Sa Jae-hyouk was attempting to lift 162kg (357 pounds) in the snatch when tragedy struck — in the form of a horribly dislocated elbow.
Please be forewarned, if you choose to watch the above video, you will be grossed out. Trust us, it's bad.
4 Adrienne Nyeste's nasty fall
Games: 2000 Summer Olympics in Sydney
At the 2000 Summer Olympics in Sydney, Hungarian gymnast Adrienne Nyeste took one of the nastiest falls we've ever seen. While performing a routine on the uneven bars, Nyeste lost control, flew through the air off the high bar, and slammed face-first into the mat. Although she laid on the ground motionless following the incident, Nyeste eventually rose to her feet, having avoided what could have been a catastrophic injury.
5. Kerri Strug overcomes her ankle injury
Games: 1996 Summer Olympics in Atlanta
Everyone knows about the heroic final vault of America's Kerri Strug at the 1996 Olympics in Atlanta. Despite tearing tendons in her ankle during her first attempt, Strug rose to her feet, blocked out the pain, and went on to stick her second attempt (while landing on one ankle), securing the gold medal for Team USA in the process.
Said U.S. Coach Bela Karolyi to the media: "In my 35 years of coaching I have never seen such a moment. People think these girls are fragile dolls. They're not. They're courageous."
6. Janos Baranyai's gruesome elbow injury
Games: 2008 Summer Olympics in Beijing
If you thought the previous weightlifting incident was bad, you haven't seen anything yet. At the 2008 Summer Olympics in Beijing, Hungary's Janos Baranyai, while attempting to lift 148 kilograms (326.3 pounds), dislocated his right elbow, popping it out of the socket and going through the sort of the pain that comes with having your forearm bent at an angle that shouldn't be humanly possible. Considering how brutal this incident is to watch (Warning: It's graphic.), we can only imagine how horrific it was to experience firsthand.
7. Samir Ait Said's terrible leg injury
Games: 2016 Summer Olympics in Rio
At these Rio Games, during the qualifying round of men's gymnastics, France's Samir Ait Said fractured his tibia on the landing of his vault attempt. The injury was so gruesome that NBA superstar — and member of Team USA — Paul George, who knows what it's like to experience a bad break, felt the need to reach out and is hoping to meet with the French Olympian. Talk about class in the face of tragedy.
Information courtesy of ESPN and Yahoo Sports.