Serena Williams and Other Tennis Players Who Had the Worst Meltdowns
Professional tennis players are incredibly talented. But sometimes, their gifts don't extend to controlling their tempers on the court. Over the years, fans have watched top tennis players throw temper tantrums, have meltdowns, and otherwise lose it on the court. Even Serena Williams has had one — or two — of the worst meltdowns in tennis history.
Below, get all the details on Serena's story, and discover the long history of temper tantrums and meltdowns among pro tennis players.
6. Serena Williams at the 2018 U.S. Open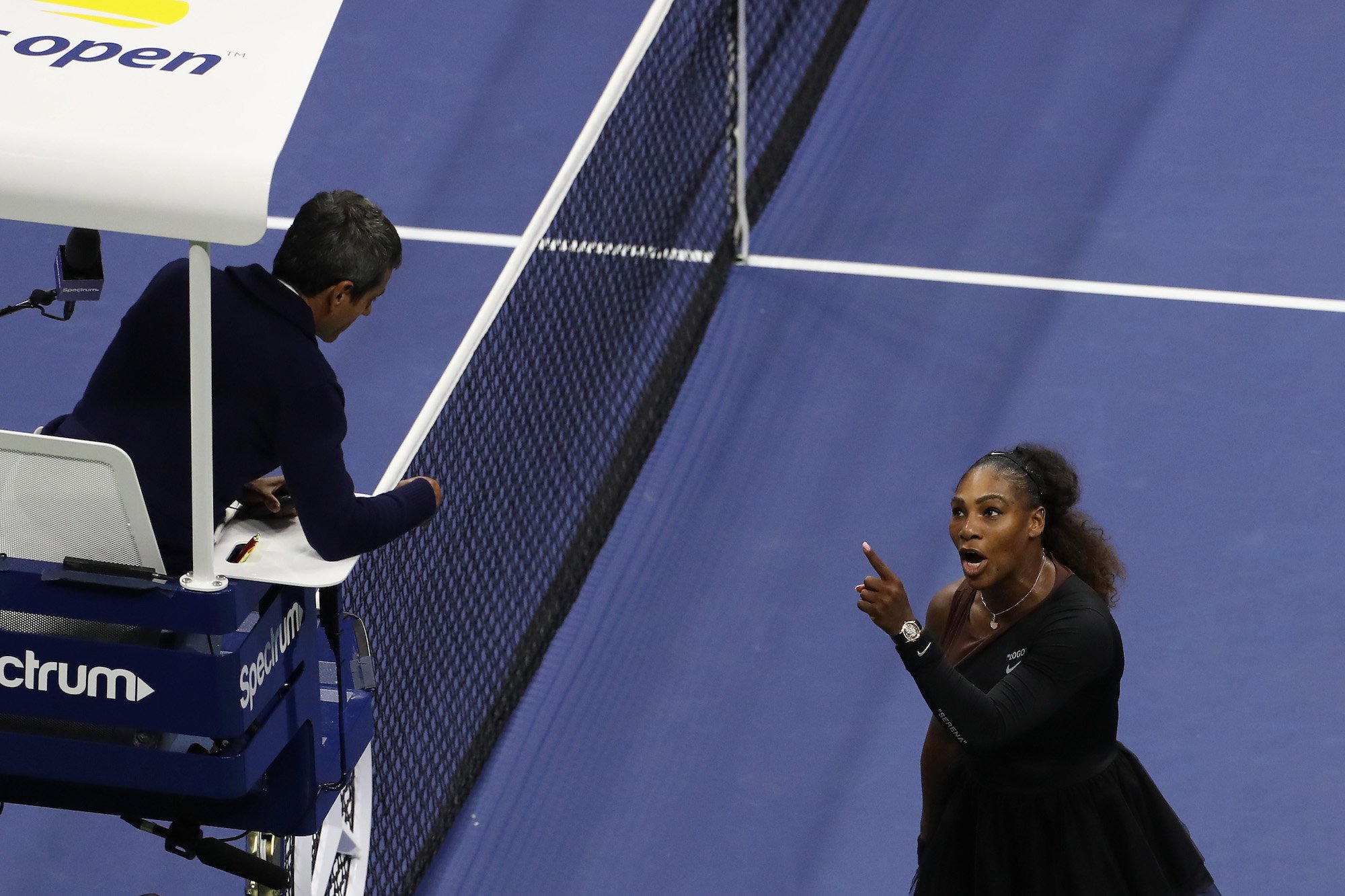 Serena Williams recently had what some people were calling the "mother of all meltdowns" on the court at the U.S. Open. In a series of outbursts during a game against Naomi Osaka, Williams accused an umpire of sexism (after he had accused her of cheating). Williams said, "I don't cheat to win. I'd rather lose." She demanded an apology and later called him a thief for stealing a point from her. And Williams wasn't the only one who got upset about her treatment during the game. Tennis legend Billie Jean King weighed in on Twitter, writing:
When a woman is emotional, she's 'hysterical' and she's penalized for it. When a man does the same, he's 'outspoken' & and there are no repercussions. Thank you, @serenawilliams, for calling out this double standard. More voices are needed to do the same."
5. John McEnroe at 1981 Wimbledon
ESPN reports that John McEnroe had the most famous meltdown in Wimbledon history in 1981. Reuters reports that McEnroe "uttered what has become the most immortal phrase in tennis, if not all sport, when he screamed 'You cannot be serious' at a Wimbledon umpire while disputing a line call." McEnroe had already been labeled a "superbrat" by the British tabloids for his outbursts during previous Wimbledon appearances. But this famous meltdown happened during a first-round match against Tom Gullikson.
"You cannot be serious," McEnroe screamed. "That ball was on the line. Chalk flew up, it was clearly in, how can you possibly call that out?" The object of his anger was umpire Edward James, whom he then told, "Everybody knows it's in in the whole stadium, and you call it out? You guys are the absolute pits of the world, you know that?" Later in the game, McEnroe called James "an incompetent fool" for penalizing him for smashing his racket.
4. Jimmy Connors at the 1991 U.S. Open
The Guardian puts Jimmy Connors' temper tantrum at the 1991 U.S. Open on its list of the worst tennis tantrums. During a fourth-round match against Aaron Krickstein, Connors responded to a bad call "in spectacular style," The Guardian notes. Running toward umpire David Littlefield, Connors yelled, "He called the ball good, you didn't see the God darn ball." Littlefield responded that "It was clearly out." And Connors yelled, "Clearly bull crap! Bull crap!" The Guardian recounts what happened next:
It soon became clear that Connors had perhaps gotten a little carried away with his own underdog story. "I'm out here playing my butt off at 39 years old and you're doing that! Get your ass out the chair! Get your ass out of the chair! You're a bum! You're a bum!" Remarkably, Connors wasn't sanctioned for the abuse, which included Littlefield being called an "abortion" among other things. The reason? The umpire chose not to report him.
3. Denis Shapovalov at the 2017 Davis Cup
USA Today puts Denis Shapovalov's outburst at the 2017 Davis Cup on its list of the worst meltdowns in tennis history — and one that seriously injured an umpire. As ESPN reports, "Shapovalov smashed a ball in anger during the third set of the deciding rubber against Kyle Edmund." The ball, which USA Today characterizes as traveling at 90 mph, hit umpire Arnaud Gabas, who suffered a fractured eye socket, had to undergo surgery, and was off the job for two months.
While Shapovalov didn't intend to hit Gabas, he received an immediate default and was fined $7,000 for the outburst. As Eurosport reported, "Shapovalov believes he 'blacked out' for around 10 minutes after the incident occurred and insists smashing balls in frustration is not typical of his on-court behavior."
2. Lleyton Hewitt at the 2001 U.S. Open
Lleyton Hewitt's outburst at the 2001 U.S. Open not only counts among the worst meltdowns in tennis history, but also makes Bleacher Report's list of the most ridiculous tantrums in the sport's history. During a game against James Blake, who had an African-American father, Hewitt took issue when "a black linesman twice foot-faulted Hewitt on crucial points in the third set," The Telegraph recounts. Hewitt stormed over to the umpire, Andrea Egli, and screamed that the linesman should be removed, making an argument that he later insisted was not racist:
Hewitt's most contentious comment was: "Look at him (the linesman) and tell me what the similarity is (beckoning towards Blake)," brutal words clearly picked up by the courtside microphones. "I want him off the court, I've only been foot-faulted at one end. Look at what he's done."
1. Serena Williams at the 2009 U.S. Open
Bleacher Reports puts Serena Williams' meltdown at the 2009 U.S. Open in first place on its list of the most ridiculous tantrums in tennis history. During a game against Kim Clijsters, a lineswoman called a foot fault on Williams' second serve. As NPR learned, "Serena Williams lost it. She went over to the lineswoman, shook her racquet at her, took a ball and verbally threatened her with it. A penalty point cost her the match, and she was fined $10,000."
Bleacher Report notes that Filip Bondy of the NY Daily News described the incident best when he noted, "Among other things, Williams threatened to jam a tennis ball down the throat of Shino Tsurubuchi, who understandably appeared horrified at the notion." Bondy added, "This represented, in a way, a final evolutionary step for the well-traveled tennis tantrum, as we have known it now for practically a century."
Read more: 6 Top Women's Tennis Players of All Time