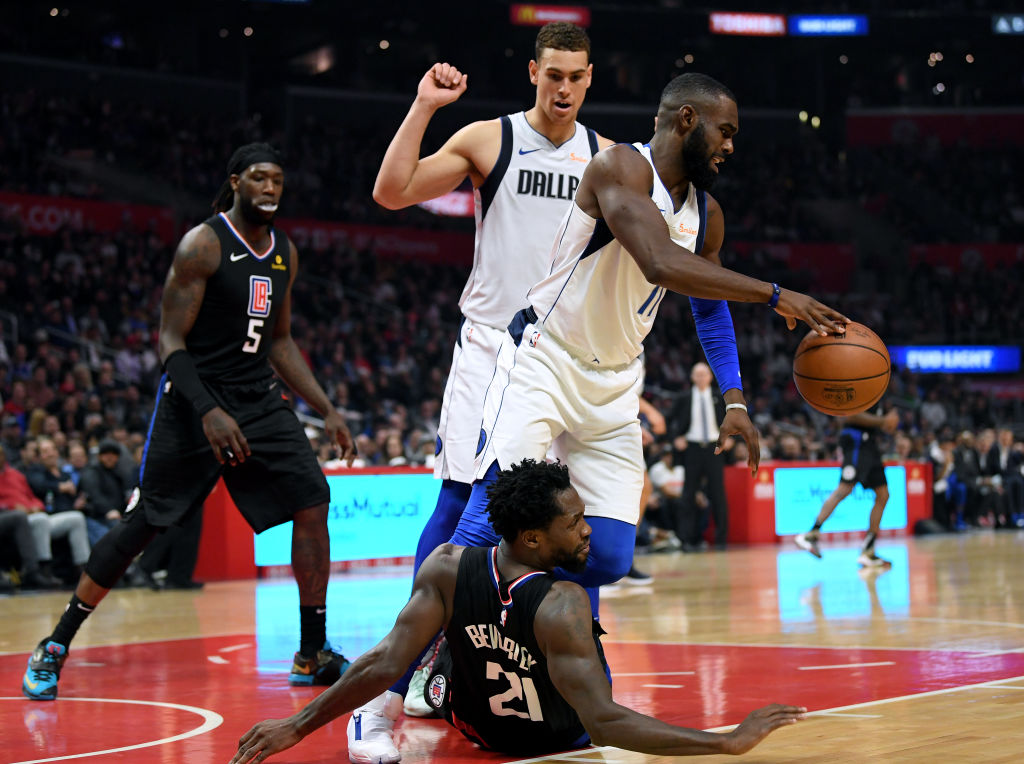 Who Has the Worst Contract in the NBA in the 2018-19 Season?
As the regular season hits the homestretch, let's take a look at the five worst NBA contracts for the 2018-19 season.
With the 2019 NBA trade deadline past us, some NBA players were moved as simple salary dumps for clubs. However, there are several bad contracts due to the cap inflation from a few seasons ago. Players who weren't max-level talents were making max-level money, and now a number of teams are hamstrung because of it. As the regular season hits the homestretch, let's take a look at the five worst NBA contracts for the 2018-19 season.
5. Nicholas Batum — Charlotte Hornets (5 years, $120 million)
Nicholas Batum has had one of the worst contracts in the league since signing his mammoth deal with the Charlotte Hornets. Signed prior to the start of the 2016-17 season, Batum averaged 15 points and six rebounds per game that first season (a $20.8 million cap hit), and has seen his play decline each season.
After a very poor 2017 season (11 PPG, 5 RPG, 5 APG), Batum has struggled mightily again in 2019. He is scoring just over nine points per game in 31 minutes of playing time. He will make $25.5 million and $27.1 million in his last two seasons, but unless he turns things around at the age of 30 this could be one of the worst NBA contracts of all time.
4. Tim Hardaway Jr. — Dallas Mavericks (4 years, $70.95 million)
Tim Hardaway Jr. benefited from the 2016 NBA cap spike and cashed in quickly with the Knicks as a free agent. He signed a four-year, $70.95 million deal and has shown flashes of good play, but isn't a top-flight talent in the league. Hardaway's price tag exceeds his production, which is why he has one of the worst NBA contracts in 2018-19.
He was recently moved to Dallas in a blockbuster deal as part of the Kristaps Porzingis trade and is averaging 18 points and three rebounds per game. After the trade, he saw his 15% trade kicker increase his salary by nearly $1.9 million for the rest of this season and 2019-20, and has a player option for the 2021 year.
3. Timofey Mozgov — Orlando Magic (4 years, $64 million)
When Timofey Mozgov signed his four-year contract with the Lakers, players knew the cap spike got a player paid who had no business making more than the veteran minimum. Mozgov played sparingly for Brooklyn last year and has not played a minute for the Magic this season. He will likely continue to be trade fodder until this contract ends after next season.
2. Ryan Anderson — Miami Heat (4 years, $80 million)
Another player who cashed in big during 2016's free agency was Ryan Anderson. A stretch four who made plays during the regular season for the Rockets last year, Anderson became obsolete in the playoffs against Golden State, and eventually lost all hope of being a part of the team's future.
He has played in 32 games this year (16 in Toronto, 15 in Phoenix, 1 in Miami) and is averaging just three points and three rebounds per game while making $20 million. Anderon's stats and salary add up to one of the worst NBA contracts right now. His contract expires at the end of next season, so don't be surprised to see him traded around draft time in a salary cap dump.
1. John Wall — Washington Wizards (4 years, $169 million)
This may be a surprise to fans of the All-Star, but given his injury history and chemistry issues surrounding the team, you can't help but wonder how Washington can expect to rebuild around John Wall.
He signed an extension this past offseason, and the 2018-19 campaign has been full of turmoil for the Wizards. Wall underwent surgery to deal with an Achilles injury, and there's no telling if he will return at full strength at any point next year.
The worst part about this contract is that Wall will make at least $40 million per season after the age of 30, with a player option for the 2022 season. LeBron James won't make over $40 million until he opts into the final year of his free-agent deal he signed with Los Angeles when he will be 36 years old. This startling fact, along with Wall's injury history, makes this No. 1 on the list of the worst NBA contracts for the 2018-19 season.