5 Worst Specialty Jerseys in Minor League Baseball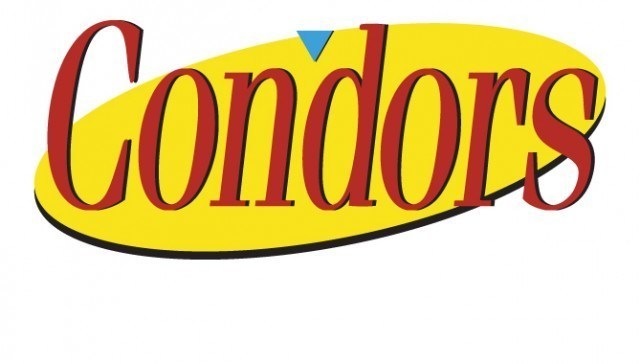 While it's noted that many Minor League Baseball teams aim for clever promotional nights with the goal of attracting large crowds, the guiding rule of these promotions should be less is more. Marketing geniuses of late have gone beyond bobbleheads and gnomes, landing on specialty jerseys as way of putting a smile on fans' faces while — in some cases — making the home team look like Bingo Long and the Traveling All Stars. 
Not far from the realm of America's Pastime, you have to hand it to the Bakersfield Condors of the ECHL when they saluted that show about nothing — Seinfeld — with a theme night in which players wore jerseys (sweaters, actually) honoring the characters from the iconic show. There, you have cool jersey night done right. On the other hand, some misfires make fans and Minor League Baseball front office personnel hope for a rain-out.
1. Mister Rogers sweater jerseys, Altoona Curve
For reasons that escape any sort of relevancy, on July 5, 2015, the players of the Altoona Curve wore jerseys that replicated the sweaters Fred Rogers wore on his iconic PBS kids show. It was a charitable event, where the money from jerseys auctioned off after the game went to local PBS station WPSU.
The funky-looking on-field look is bad enough, but it seems like a theme night should have some relevance to the local area. Altoona is 98 miles from Pittsburgh, the birthplace of Rogers' PBS show, so it seems an unlikely reason for the gimmick.
A better, and perhaps more fitting, theme night, would involve railroads given that the team's name "Curve" is an homage to Horseshoe Curve, a special section of railroad tracks used to take trains across the Allegheny River. Boring, yes. But definitely more accurate.
2. SpongeBob SquarePants Night, Norfolk Tides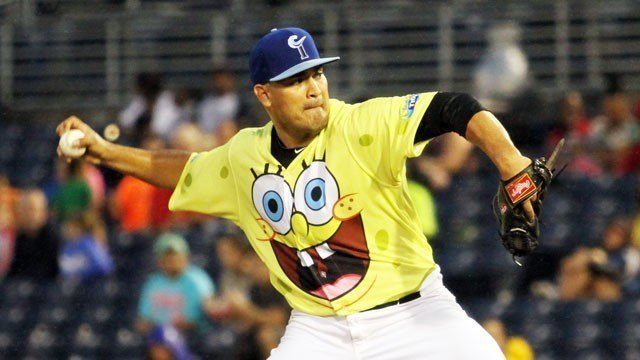 On August 7, 2015, the Norfolk Tides teamed up with cable TV network Nickelodeon to present an evening filled with SpongeBob fun. The players wore SpongeBob SquarePants jerseys while costumed characters from the show roamed the concourse. After the game, jerseys off the players' backs were auctioned off to benefit the United Way.
Of all the cartoon characters — current and past — SpongeBob may have the least to do with baseball than any others. You can imagine Underdog throwing out the first pitch, Homer Simpson signing during the seventh-inning stretch, or Spiderman climbing the wall to make a highlight reel catch. But SpongeBob? If there are any baseball or sports connections, they're not easy to spot.
3. Asparagus Night, Stockton Ports
On one hand, given the agricultural nature of the Stockton area and the fact that asparagus is one of the healthier vegetables one can consume, honoring this stalky green veggie makes sense. But to ask the team to wear jerseys with images of asparagus stalks on them, well, that could leave players open to some level of ridicule.
The team wore these green specialty unies this past May in a game against the Visalia Rawhide. This isn't the first time Stockton honored this green vegetable; some years back, it had an alternate logo with a dock worker carrying an asparagus stalk.
4. Home Improvement Night, Harrisburg Senators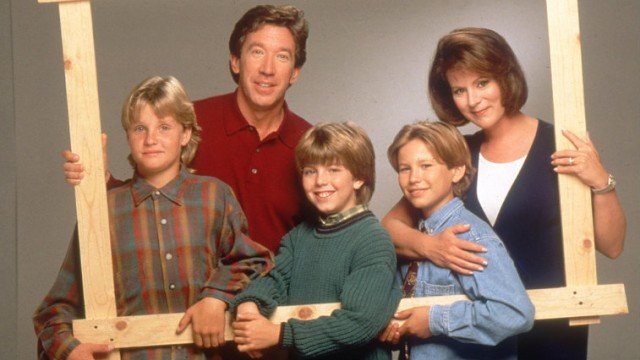 It's not too late to catch a flight to the Pennsylvania state capitol and take part in Home Improvement Night on July 8. In a game against the Akron RubberDucks, the Senators will be wearing flannel-ish looking jerseys to pay tribute to the TV show Home Improvement, which went off the air (in first run, that is) some 17 years ago.
An odd salute given the fact that the show added little to the pop culture world (then and now). Tim Allen must be booked, so Richard Karn, who played Tim Allen's assistant on the show, will be on hand to throw out the first hammer.
5. Stars Wars Nights, way too many teams
Perhaps the tie between one of film's more lucrative franchises and baseball is missing on a fan who has never seen a single Star Wars film — yes, that's me — but seemingly every team that laces up spikes has some sort of Star Wars jersey night.
The Rochester Red Wings recently wore fighter pilot jerseys to honor the films, while the Potomac Nationals wore Lando Calrissian jerseys last season.
Statistics courtesy of ESPN.com and Baseball-Reference.com.