Would Hendrick Motorsports' 'Other' Driver, Alex Bowman, Take Out a Joe Gibbs Racing Championship 4 Competitor to Aid NASCAR Cup Series Teammates?
The scenario could happen. Entering the Championship 4 at Phoenix Raceway on Nov. 7, most NASCAR Cup Series fans will remain focused on the powerhouse drivers from Hendrick Motorsports.
Of course, that starts with Kyle Larson, who captured a series-high nine races this season and continues with Chase Elliott, the defending champion who could become the first back-to-back titleholder since the playoff era started in 2014.
So, what happens if Alex Bowman, Hendrick's "other driver," returns home and has a chance to take out one of the final four competitors from Joe Gibbs Racing, Martin Truex Jr., or Denny Hamlin?
Stay tuned.
NASCAR Cup Series driver Alex Bowman says he drives with respect, draws Hamlin's ire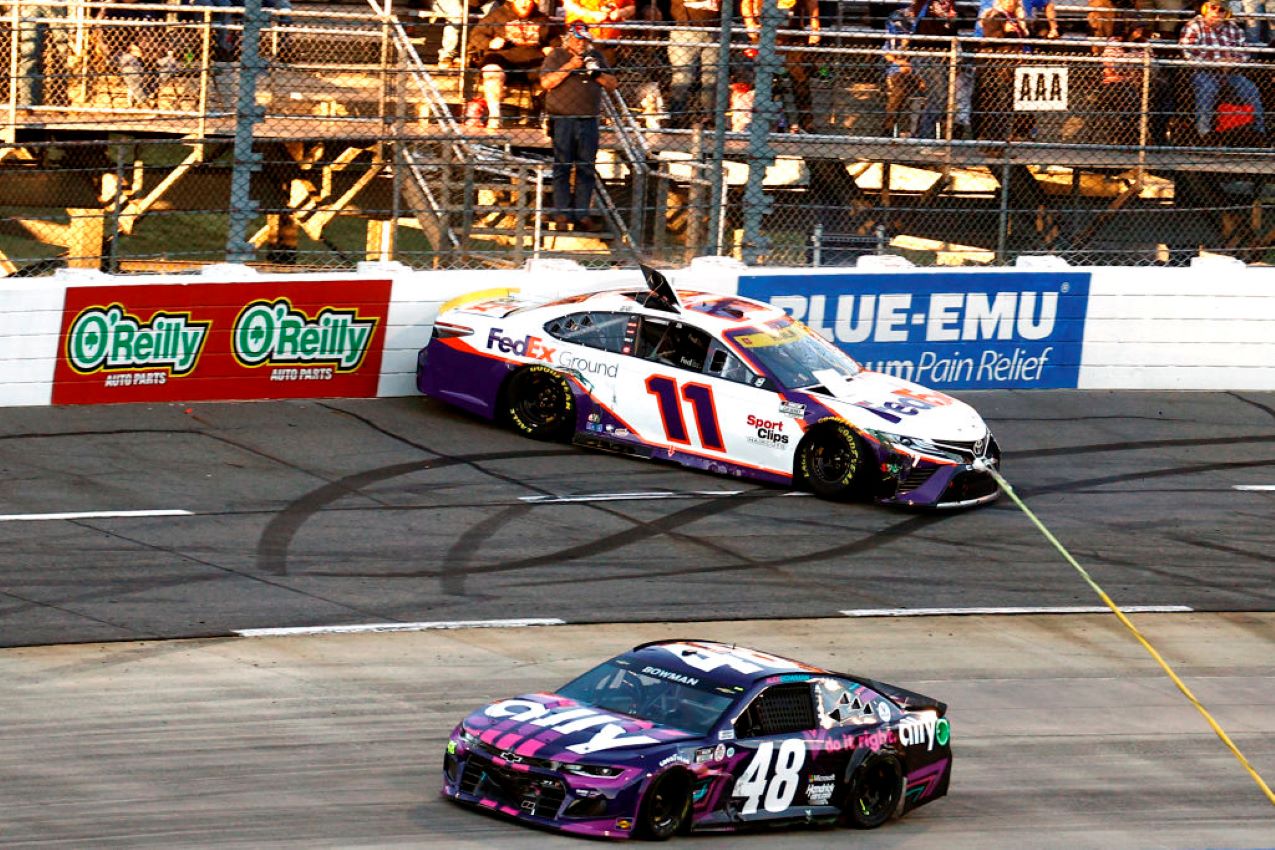 Following his Victory Lane appearance at Martinsville Speedway on Oct. 31, Bowman answered questions on how the non-playoff driver plans to race at the desert finale during a Team Chevy press conference.
"Respectfully," he said. "I feel like I try to race as respectful as I can."
Respectfully? As respectful as I can? Really? Hamlin must have thought upon hearing of the replies.
Bowman claimed the Xfinity 500 checkered flag after drawing Hamilin's ire for being taken out of contention late in the Round of 8 elimination race. Despite the late accident, Hamlin qualified for the Championship 4.
Could an undercurrent of resentment bring Hamlin in contact with Bowman again on Nov. 7? Hamlin has a Cup to race for, but the opportunity may prove too tempting.
On the other end of the garage, could Bowman, a native of Tuscan, Arizona, make himself a target for Hamlin to force his focus away from the title bid?
Bowman seeks to end the season with a hint of consistency
Sometimes, "mistakes happen," Bowman said, obviously referencing the late-race mix-up with Hamlin. But it also was part of racing, and one could sense a bit of sarcasm in Bowman's comments.
"Like I drove off in the corner and jacked the 11 (car of Hamlin's) up, carried him off in the corner, passed him, then pulled over and let him go the next straightaway to try to pass him clean," he said.
With one event remaining on the 2021 NASCAR schedule, Bowman is looking to carry his momentum from Martinsville to his home state. Playing off the publicity of his Xfinity 500 win, his associates took time to create a side business.
If nothing else after coming home, Bowman hopes to show a hint of consistency in a season highlighted by four wins but only 16 top-10 finishes. He may have doubled his career win total but he again missed out on the playoffs.
"The thing that I've always circled is to just try to be consistent, consistently run well," he said. "We've struggled to do that. It's really hard for me to be super excited right now. The beginning of the season, if you told me I was going to win four times, I'd be pretty excited.
"Wish we were going to Phoenix with a chance to win the championship."
Bowman plans to be 'respectful with what those four guys have going on'
Bowman may not be racing for a Championship 4 title on Nov. 7, but two of his teammates are in contention.
He said he wants to race for his second straight "trophy," but "at the same time, we ought to be respectful with what those four guys have going on.
"No matter who it is."
Even Hamlin?
RELATED: NASCAR Cup Series Driver Martin Truex Jr. Has 'No Idea' How He Got So Lucky Qualifying for Championship 4: 'I'm Gonna Buy a Lottery Ticket on the Way Home'