Would Bill Belichick Ever Follow in Tom Brady's Footsteps and Leave the Patriots?
Tom Brady and Bill Belichick are considered by many people to be the best player-coach combo in NFL history, and that may apply to all sports. The duo led the Patriots to six Super Bowl titles in a dynasty that lasted close to 20 years, but the partnership ended this year when Brady left Foxboro to sign with the Buccaneers as a free agent.
Despite losing his quarterback, Belichick decided to stay in New England and try to extend the Patriots' streak of 11 straight seasons winning the AFC East. Things aren't going well for the Patriots this season, though, and people are wondering if Belichick will follow Brady out of New England. Will he?
Tom Brady left a seemingly ideal situation
RELATED: Ex-Pro Bowler Is Convinced Bill Belichick Is Leaving the Patriots: 'It Sounds Like a Swan Song'
Brady seemed to have it made with the Patriots. He had rings on six of his fingers, a fan base for which he could seemingly do nothing wrong given how successful the team was with him, and one of the best coaches in NFL history guiding him.
But that didn't stop Brady from leaving and going south to Tampa Bay when he reached free agency in the offseason. There were people who thought Brady would be a Patriot for life, but that hasn't panned out.
Would Bill Belichick consider leaving New England?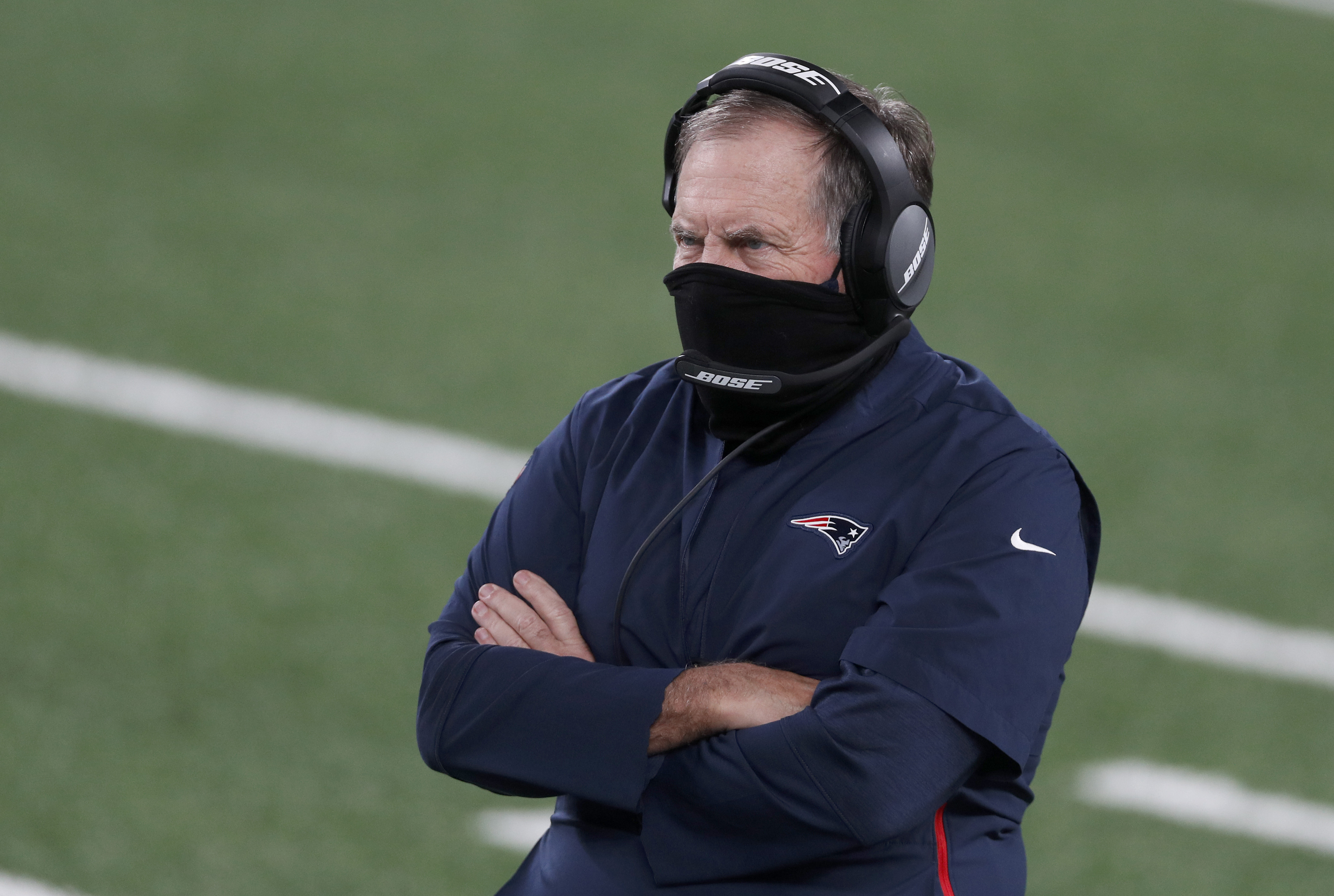 The question football fans across the country are wondering is could Belichick be the next one to leave the Patriots? Longtime radio and TV personality Colin Cowherd, who has made a career of providing hot takes, thinks Belichick could leave the Patriots as Brady did.
He cites the fact that although the Patriots probably aren't going to make the playoffs, their record is too good to put them into position to draft one of the top quarterbacks in 2021 without trading up. And the Patriots need help at quarterback, with a past-his-prime Cam Newton the starter this season and Jarrett Stidham, who likely isn't the long-term answer, the backup.
Could the Chargers be an option?
RELATED: Bill Belichick Just Fired a Massive Shot at the New York Jets
One possible destination for Bill Belichick that Cowherd hypothesizes is the Chargers. Unlike the Patriots, they have what appears to be their franchise quarterback for the foreseeable future with rookie Justin Herbert. They also have one of the league's best defensive players in Joey Bosa.
That might be an attractive roster for Belichick, and like Brady he would be able to leave the cold of New England for the warm-weather city of Los Angeles, and he would be in the second-biggest media market in the country, though if Belichick does leave the Patriots whatever team he goes to is bound to get plenty of media attention.
For the Chargers, it could be a good move because it would bring them positive publicity in a saturated sports market.
Bill Belichick has given no indication of leaving
Even though there's been talk and speculation about Belichick not finishing his career in New England, the coach has not given any indication that such a move might be under consideration.
He will be 69 years old during the offseason and he may not want to start over with a new team and ownership group with which he is unfamiliar, even if that franchise has a good young quarterback.
Belichick has been with the Patriots and owner Robert Kraft for two decades and knows how Kraft and the franchise work. At his age, he is unlikely to want to change jobs and have to learn a new way of doing things.
It's one thing for Brady, who is in his 40s, to do that but it's not necessarily a situation that someone who is almost 70 wants to go through when retirement is quickly approaching. Plus Belichick has nothing left to prove,