Wrestling Georges St-Pierre and Donald Cerrone Changed Justin Gaethje's Mind About MMA
The MMA world is small, and many fighters have met each other outside of the octagon. Sometimes these develop into great friendships; other times, it can spark incredible rivalries. The former was the case for Justin Gaethje. He was inspired to become an MMA fighter after a coincidental visit from Georges St-Pierre and Donald Cerrone.
A chance encounter in college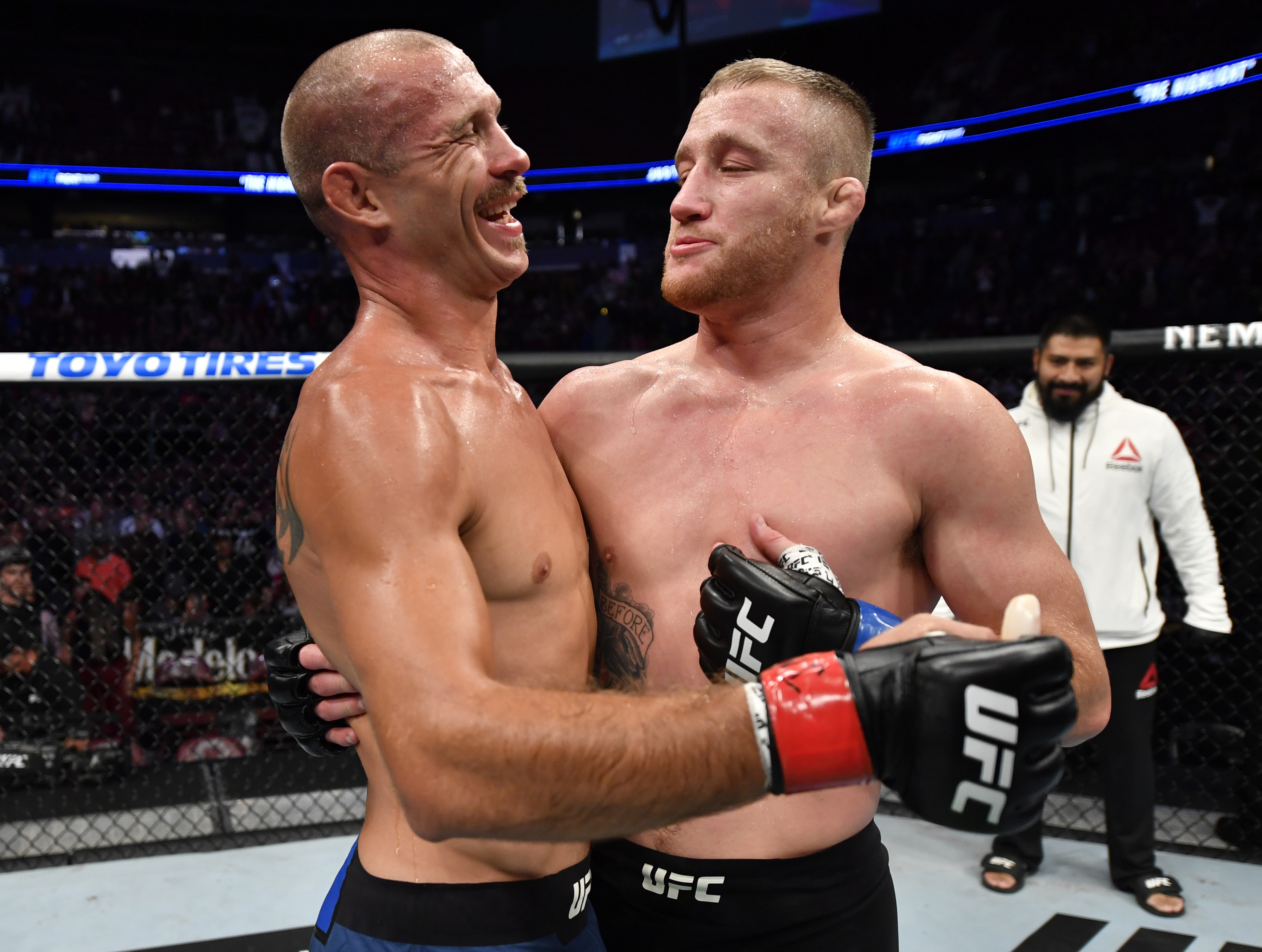 RELATED: Khabib Nurmagomedov's Dad and Longtime Trainer Suffers Tragic Death After Brutal COVID-19 Battle
Gaethje went to the University of Northern Colorado, and he wrestled there, too. One day, his wrestling coach invited a few of the UFC's biggest names to stop by, talk to the wrestling team, and of course, wrestle with them, according to Sherdog. Several UFC stars accepted the invitation, and some of the more notable names include GSP, Cerrone, and Cub Swanson. 
Gaethje was on the wrestling team, so this was a good opportunity for him to mingle with those UFC stars. "I just started talking to those guys, and they were no different than me," he said, according to Sherdog. Not only that, but when they started wrestling, Gaethje realized he could hold his own with some of the best. "When I'd get a takedown on one of those guys, it felt pretty good," he said, according to Sherdog.
After this chance encounter with UFC vets, Gaethje wanted to give MMA a shot. According to Sherdog, he said, "I figured why not [fight]? Why not give it a shot?" A few years later, he's made it into the UFC. And in a twist of fate, he even ended up fighting and beating Cerrone.
Justin Gaethje's UFC career so far
While he can brag that he wrestled with some UFC stars in college, Gaethje in fact barely uses his wrestling in his pro fights. Despite being an accomplished college wrestler, Gaethje rarely if ever goes to the ground with his opponents. The only times he seems to be on the ground is when he's trying to finish the fight or if he's been knocked out. 
That's because Gaethje primarily uses his wrestling as a defense against other wrestlers. He stops wrestlers from wrestling with him, and as a result, they're forced to fight him from a distance. This is where he likes to fight, and so far, it's been pretty successful. In the UFC, Gaethje has never gone to a decision, and that means that he either knocks out his opponents or he gets knocked out.
Georges St-Pierre has more advice for Justin Gaethje
RELATED: UFC Referee Herb Dean Revealed Khabib Nurmagomedov Trash Talks the Entire Time He's Fighting
While GSP is currently retired, he's still willing to give advice to fighters. In fact, Essentially Sports wrote that GSP may have found a potential weakness in Khabib Nurmagomedov's armor. Nurmagomedov is the current champ, and he's a great wrestler. However, GSP said that he tends to start fights off defensively. He elaborated, "He moves a lot and I think that's will be when Justin needs to take advantage of that."
Gaethje undoubtedly plans on using his wrestling defensively once again. But many fans and analysts question whether it's enough to stop Nurmagomedov's wrestling. Nurmagomedov, who's 28-0, has dominated almost every single one of his opponents. There's no guarantee that Gaethje can stop Nurmagomedov's attacks. However, if he can, then that's how he could win the fight.
That's why GSP thinks that Gaethje should attack Nurmagomedov early since that's when he's at his weakest. Regardless, despite seeing this potential weakness, GSP isn't betting on Gaethje. GSP said, "You can't bet against Khabib, for me, he is the best fighter right now on the planet."