7 Best Twitter Reactions to Angry Michael Phelps Face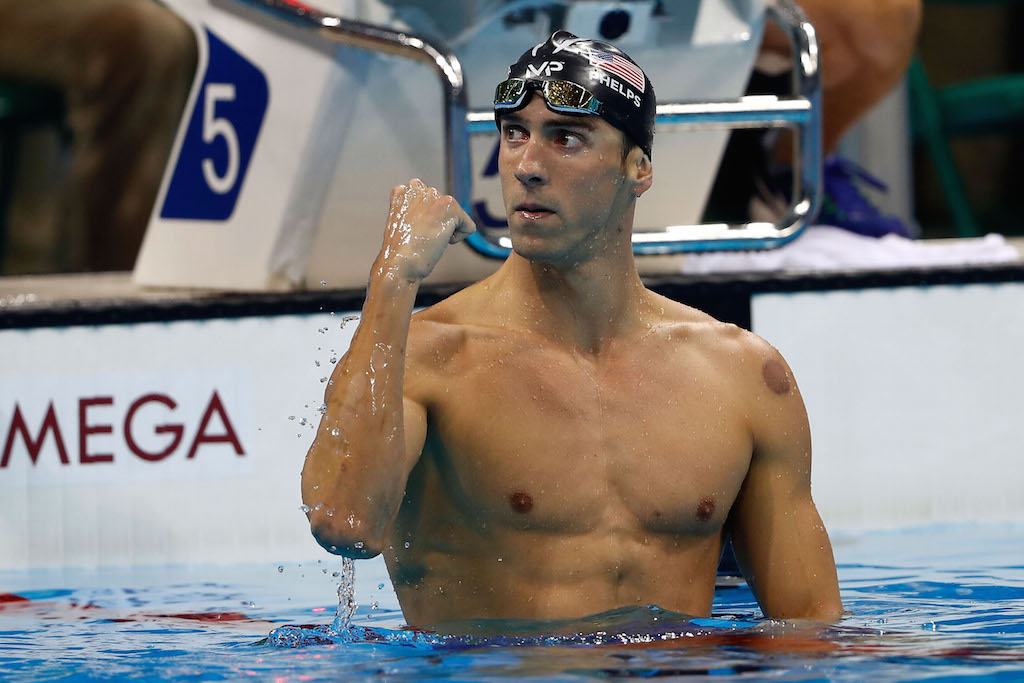 In the ready room prior to the start of their semi-final showdown in the 200-meter butterfly, South Africa's Chad le Clos thought it would be a good idea to taunt Michael Phelps. Considering that Le Clos had previously defeated the most decorated Olympian in history in this event at the 2012 London Games, it's hardly a surprise that he felt confident about his chances this time around. But there's a big difference between feeling confident and going out of your way to "poke the bear." Le Clos would learn this the hard way.
Before defeating his rival in the semis, and eventually taking back gold in the finals, Phelps responded to this blatant act of disrespect in the only way a competitive athlete in his position could: with the angriest face to hit the internet in a long time. We've seen individuals "shoot daggers" before, but nothing quite like this. Phelps' reaction to Le Clos' shadowboxing was that of a man possessed — and the world couldn't get enough of it.
There are moments when one image has enough firepower to stir the creative imagination of the general public. This was one of those times. The "Angry Michael Phelps" had officially become the greatest meme in Olympic history — and the folks on Twitter took full advantage of it.
Many individuals tried to use this image to flex their creative muscles. For us, however, these seven Twitter responses were the best use of this legendary meme. We have a feeling you'll like what you see.
1. "Like father, like son"
Like father, like son. #PhelpsFace pic.twitter.com/optbLOAgiH

— TODAY (@TODAYshow) August 9, 2016
The only Phelps getting more attention at these Rio Games than Michael is his baby son, Boomer. Well, just in case you were wondering, yes, the little guy is definitely a chip off the old block. Just look at that face. You don't want to see Boomer when he's angry.
2. College!
When you just paid for a cup at a kegger and the keg is dry. #PhelpsFace pic.twitter.com/obnaa4PYbr

— Now That's College (@NowThatsCollege) August 10, 2016
Given the fact that Phelps is remaining sober through the Rio Games (and quite possibly beyond), this situation doesn't apply to him right now. That being said, we've seen this happen before, and it's the worst. You're now out of money, they're now out of beer, and all hell is about to break loose. Just. Breathe.
3. Feelings on a different race…
When you see the presidential candidates for the 2016 election #PhelpsFace pic.twitter.com/0KL7wJFFcp

— Emily Thomas (@emitoms) August 9, 2016
This 2016 presidential race has us seeing Donald Trump's face everywhere and discussing which athletes support each candidate, however, based on this particular meme, clearly Phelps isn't feeling either one. At least he has 25 (and counting) Olympic medals to keep him safe at night. Who else can say that? No one.
4. Poor Eli
#Phelpsface is the new #Manningface pic.twitter.com/44b6kykZGv

— Vicki Veritas (@vickiveritas) August 9, 2016
Although Eli Manning should be pissed about his Madden 17 rating, this comparison should have him even more heated. Even when he's not participating in an athletic event, the guy can't seem to ever escape his "Eli face." So sad — and hilarious.
5. Isn't it ironic?
When you have 10,000 spoons and all you need is a knife #phelpsface pic.twitter.com/YmC0AIPE70

— Dave Powell (@davidpowell83) August 9, 2016
Alanis Morissette was right — this situation is a major problem. And if anyone knows where she's coming from, it's Michael Phelps. The dude's absurd diet has already been well-documented. Can you imagine what would happen if the greatest Olympian of all time was forced to eat without a knife? It'd be utter chaos. 
6. Embracing the Dark Side
New @starwars #rougeone poster be like …… @MichaelPhelps #phelpsface pic.twitter.com/1ZsuQo6jit

— BossLogic (@Bosslogic) August 10, 2016
We weren't surprised to see Star Wars merge with the NFL. To us, this just made sense. Yet, never once did we imagine the franchise muscling its way in to the Olympic Games. Then Phelps got angry, and everything changed. Powerful you have become Michael, the dark side we sense in you.
7. The one and only "Mount Stankmore"
Mount Stankmore. #PhelpsFace pic.twitter.com/CTZC3ttjVP

— Cycle (@bycycle) August 9, 2016
In sports, greatness in comes in all shapes and sizes. And we're not just referring to the acts of breaking records, scoring points, dunking on the opposition, and winning Olympic medals. No, greatness can also be found in the making of an epic "stank face." When Phelps got angry and made that face, he officially earned his place on Mount Stankmore. We always knew he had it in him.