Xavien Howard's Recent Contract Restructure Sets a Dangerous Precedent for the Rest of the NFL
Coming off a year in which he led the NFL with 10 interceptions and 20 passes defended, Xavien Howard hasn't been the happiest of campers. The two-time Pro Bowler publicly demanded a trade due to contractual reasons, despite already being one of the highest-paid cornerbacks in the NFL.
This put the Miami Dolphins in a tough position. They didn't want to trade Howard (Miami is trying to make the playoffs in 2021, and Howard is a key part of their defense), but they also didn't want to cave into Howard's contract demands.
Howard's previous salary of $15.25 million ranked sixth amongst NFL cornerbacks. It's not like Miami was paying him chump change.
The Miami Dolphins made history by restructuring Xavien Howard's contract
The Dolphins did briefly shop Howard on the trade market but ultimately decided to restructure his contract instead. Howard gets an extra $4.5 million in incentives added to his deal, bringing his 2021 max salary up to $16.29 million.
$16.29 million per season would still rank sixth in terms of average annual cornerback salaries for what it's worth.
On paper, this is a win for both the Dolphins and Howard. Miami keeps their number one cornerback around for the foreseeable future, and Howard gets a few extra million slid his way. No harm done.
Not so fast.
Miami giving into Howard's demands sets a dangerous precendent for the rest of the NFL
According to NFL Network's Mike Garafolo, this is the first time in NFL history in which a player with four years left on his deal received added money and guarantees. Players holding out of training camp or demanding a trade during the offseason as a way to leverage their team for extra cash isn't uncommon. However, doing it with four years left on your deal is.
Howard signed a five-year extension worth $75.25 million back in 2019. Many viewed this deal as an overpay on Miami's side of the ball due to the injuries and inconsistencies that plagued Howard during the early stages of his career. The Dolphins were betting on Howard and his ability to improve over time.
Howard exceeded expectations with his near Defensive Player of the Year 2020 season, hence his push for added money this offseason.
Other players around the NFL may begin to employ a similar tactic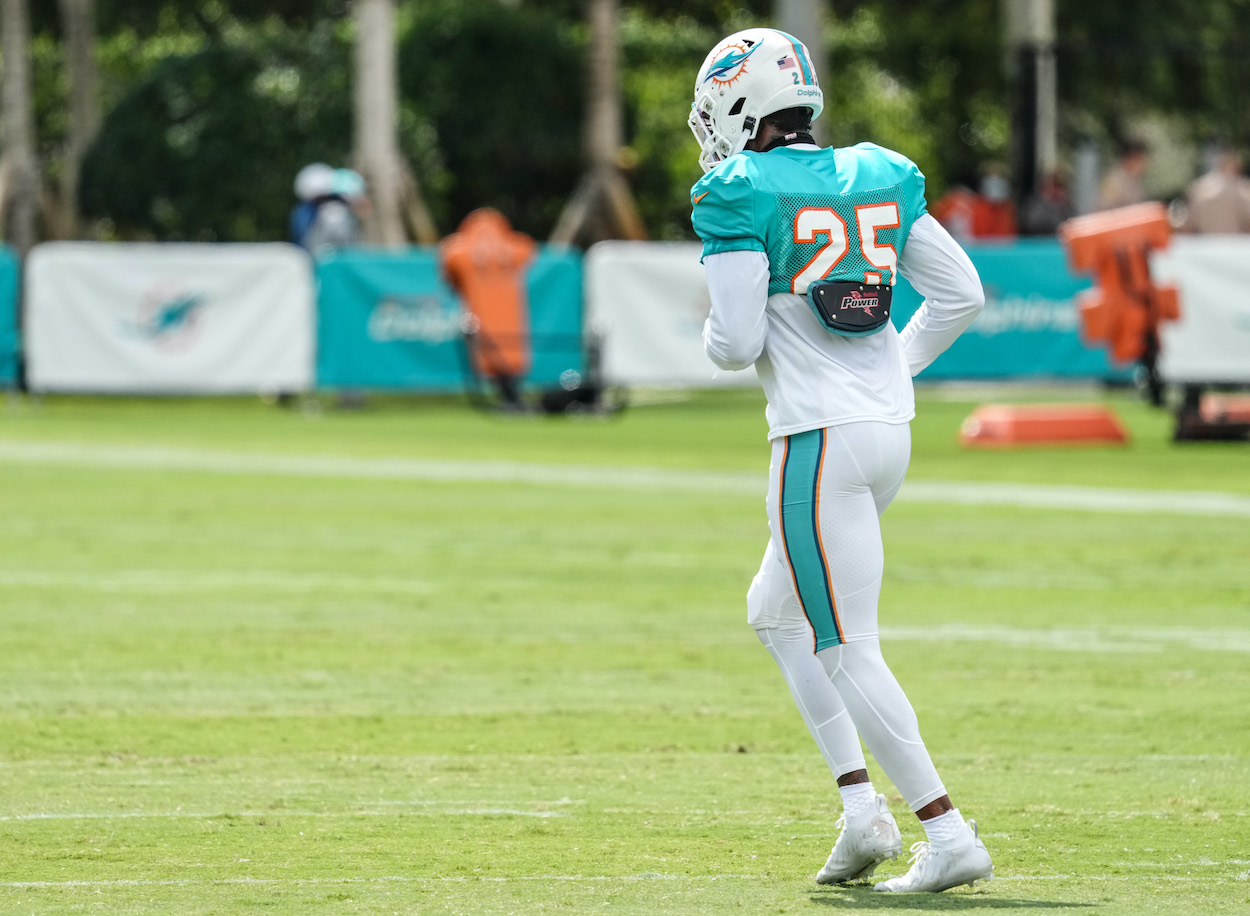 Howard deserves the extra money; he's one of the best (if not the best) cornerbacks in the league. However, how he handled the situation creates a tricky precedent for the rest of the NFL.
Having now seen that Howard was successful in his pursuit of more money this offseason, players around the league may begin to explore their own respective holdout methods. Numerous NFL stars have outperformed their current contracts — despite only being one or two years into them — who could force their team into handing out extra cash.
It defeats the purpose of paying players early, which is something NFL teams have heavily started to lean on in recent years. If players are going to hold out after year one or two of a contract extension, why extend them in the first place?
While this may sound like an ideal scenario for the athlete on paper, there are plenty of NFL players who have benefited from being paid "early." Quarterbacks Carson Wentz and Jared Goff are perfect examples. Two players who would not have made as much had their team not pushed for a premature extension.
Good for Howard, he got the extra money he was looking for this offseason, but it'll be interesting to see how many players around the league follow his example. There very well could be a flurry of holdouts and further contract restructuring this time next year.
All stats courtesy of Pro Football Reference.