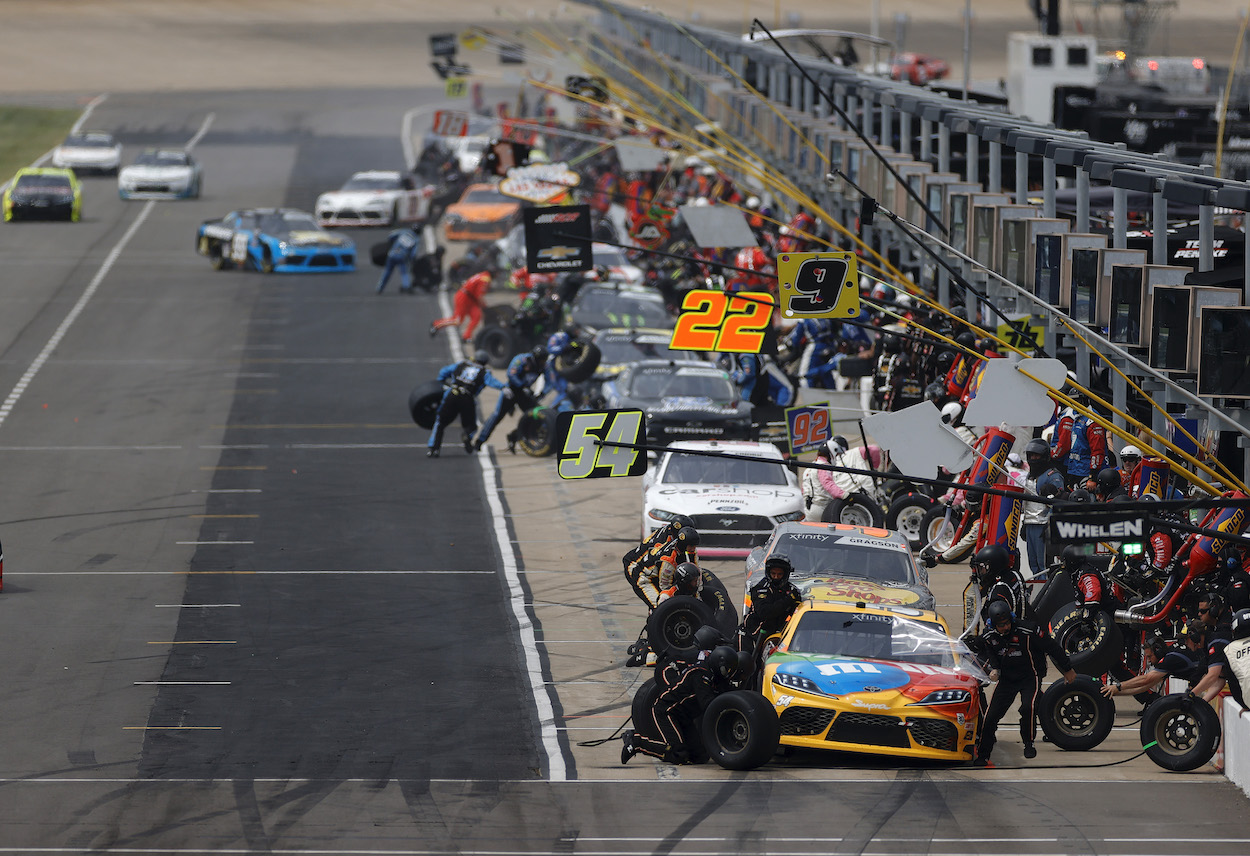 Xfinity Series Driver Bayley Currey Loses Brakes at Nashville, Shockingly Hits Three Crew Members, and Sends 1 to Hospital in Frightening Pit Road Accident
Bayley Currey lost his brakes during Saturday's Xfinity Series race at Nashville and frighteningly hit three of his pit crew members during a pit stop, sending one to the hospital.
Danger is an inherent part of NASCAR. Drivers make one slight mistake when traveling at speeds of almost 200 mph, and it can end in serious consequences, even death. While speeds on pit road are much slower, a mistake between a car and a pit crew member can also equal disastrous results. Saturday's Xfinity Series race at Nashville Superspeedway provided an example in a frightening pit road accident when Bayley Currey lost his brakes and hit three pit crew members, sending one to the hospital.
Kyle Busch victorious at Nashville for 100th Xfinity win
Race fans have looked forward to this weekend's lineup of NASCAR races at Nashville since it was announced as a part of the 2021 schedule. Not only was it the first time in a decade that the Xfinity Series visited Music City, but Saturday's race offered some additional buzz as the first NASCAR race broadcast of the season on NBC. 
The race action on the track lived up to the billing. Drivers had their choice of multiple lanes on the asphalt track, which resulted in numerous battles throughout the race. In the end, it was a familiar face making it to victory lane as Kyle Busch made history, winning the 100th Xfinity Series race of his career. 
Busch out-dueled Justin Allgaier in multiple restarts late in the race to hold on for the win, and maintain a perfect average in 2021 by winning his third Xfinity race in as many attempts, including last week's race at Texas.   
Bayley Currey loses brakes and hits three crew members in scary pit road accident
In the middle of stage 1, Bayley Currey started losing his brakes. As he approached his pit stall during one stop, three of his crew members darted out in front of the car, expecting to get to the other side of the car and start changing the tires. They never made it. Currey's No. 74 car hit all three men, sending each man rolling up on top of the car in a frightening pit road accident.
The force jarred the tires loose from the grasp of one member and bounded down pit road. The member who took the brunt of the impact was front tire changer Jeremy Geiter, who appeared to jump when the car arrived and bounced off the side, went airborne, and landed hard on the ground. 
NBC's Marty Snider later reported Geiter was transported to a local hospital. After the race, Currey expressed his concern for what happened on Twitter: 
"Not the day we wanted at @NashvilleSuperS. Started losing brakes in the middle of stage one and we were holding on from there. I feel awful about what happened on pit road. Praying everyone is ok, I just couldn't stop."
Previous pit road accidents have proven fatal
Unfortunately, pit road accidents are part of racing. Through the years, there have been many serious accidents, including several fatalities. The most recent happened in 1990 at Atlanta when Ricky Rudd locked up his brakes on pit road and spun out of control, his car hitting Mike Rich, a member of Bill Elliott's pit crew.
Rich was airlifted to a nearby hospital but died hours later. His death forced NASCAR to make changes, including the introduction of a pit road speed limit. NASCAR has since implemented additional protocols through the years as team members are now restricted on when they can go over the wall, they must secure equipment, and all members must wear helmets.  
Fortunately for Jeremy Geiter, those rules were in place on Saturday in Nashville or there might have been a very different outcome. 
Like Sportscasting on Facebook. Follow us on Twitter @sportscasting19.