Yankees Great Bobby Murcer Kept Broadcasting Games Even in His Final Weeks Fighting Cancer
Bobby Murcer produced most of the rare on-field highlights the Yankees had after the dynasty years.
Murcer's reckless playstyle and endearing personality not only made him a suitable successor to Mickey Mantle, but a beloved fan favorite in his years as a player and broadcaster.
Even in his final weeks and months fighting cancer in 2008, Murcer kept fighting to broadcast games and be with the team he loved so dearly.
Bobby Murcer is an underrated Yankees great
RELATED: Babe Ruth's Temper Cost Him the Yankees Captaincy After Only 5 Games on the Job
Bobby Murcer, fairly or unfairly, earned early comparisons to Mickey Mantle. Like Mantle, Murcer was an Oklahoma-born, power-hitting outfielder.
Murcer played with Mantle in 1965 and 1966 but didn't start for the Yankees until 1969, his first season back from military service.
What followed is one of the most underrated stretches in Yankees history. From 1969-74, his final season in New York, Murcer hit .285 with 139 home runs, 533 RBIs, a .357 on-base percentage, and 991 total hits.
Murcer earned four All-Star nods and three top-10 finishes in the AL MVP Award voting.
The Yankees traded Murcer to San Francisco before the 1975 season outfielder for Bobby Bonds, Barry Bonds' father. Murcer rejoined the Yankees midway through the 1979 campaign, where he became responsible for one of the greatest moments in team history.
Hours after the Yankees returned from catcher Thurman Munson's funeral, Murcer drove in all five runs of a 5-4 win over the rival Orioles. A drained and emotional Yankees team celebrated at home plate.
Munson remained with the Yankees until he retired in 1983. The veteran outfielder ended his MLB career with a .277 average, 252 home runs, 1,043 RBIs, a Gold Glove Award, and five All-Star nods.
Murcer wound up playing 13 of his 17 MLB seasons for the Yankees.
Murcer later joined the Yankees' broadcast booth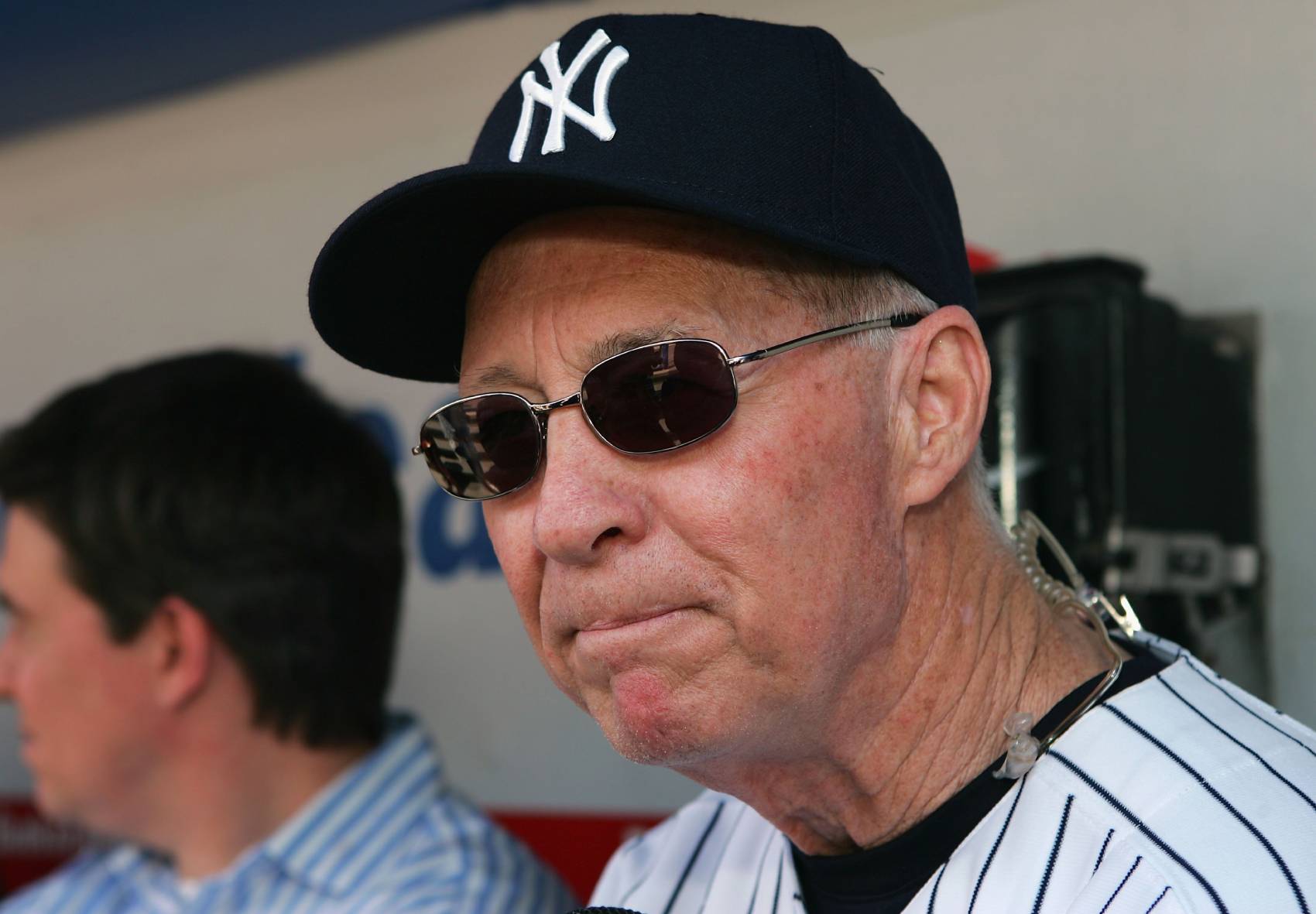 RELATED: Thurman Munson's Tragic Death Robbed the New York Yankees of Their Heart and Soul
Like other Yankees greats before him, Bobby Murcer joined the Yankees' broadcast booth in 1983, weeks after he retired.
Murcer was a mainstay on Yankees broadcasts for nearly 25 years. He won three Emmy Awards as a voice of the Yankees and spent his later years on the team-owned YES Network.
Murcer was nominated for the Ford C. Frick Award, which would have placed him in the National Baseball Hall of Fame as a broadcaster, in 2007. He lost to longtime Mariners announcer Dave Niehaus.
Murcer also wrote an autobiography, Yankee for Life, in 2008.
Bobby Murcer kept broadcasting games until he died of cancer
RELATED: Yankees Pitcher Cory Lidle Tragically Died After Defending Himself on the Radio
Bobby Murcer received horrible news on Christmas Eve 2006. Doctors diagnosed him with a brain tumor and he had surgery four days later.
Murcer returned to Yankee Stadium on Opening Day 2007 and received a standing ovation from the crowd. He began working as an announcer again a month later and called games throughout the season.
Murcer's health was clearly in decline, though. He intended to mostly call home games in 2008, but took a leave that June as he recovered from both cancer and shingles.
Murcer passed away on July 18, 2008, from complications related to brain cancer. He was 62 years old.
The baseball world widely mourned Murcer's death. Yankees manager Joe Girardi had spent the previous season calling games on the YES Network.
An emotional Girardi sobbed when he spoke with reporters about Murcer's passing.
"He was a great Yankee, but probably more important, he was a great friend to all of us. He always put others first. … Bobby was just the type of man that I believe got what life was about, and that was trying to make life better for people around him."
The Yankees have honored Murcer throughout the years by including his wife, Kay, at the annual Old Timer's Day celebrations. Kay Murcer usually joins the widows of ex-second baseman and manager Billy Martin, pitchers Catfish Hunter and Mel Stottlemyre, and catcher Thurman Munson.