Manager Aaron Boone Slams Reporter After Yet Another Yankees Loss: 'Get the Hell out of Here With That'
Three things in life are supposed to be guaranteed: death, taxes, and the New York Yankees making the MLB playoffs. However, there's a strong possibility that doesn't happen this year, and New York hasn't helped its chances at all in recent games. In fact, while Yankees fans are frustrated with their team's performance of late, so is manager Aaron Boone, who recently slammed a reporter after yet another loss.
The New York Yankees have struggled as of late
Technically, the Yankees are still a winning ball club, as they are 33-32 on the season. But New York has lost 13 of its last 18 games and is fourth in the AL East, 8 1/2 games back from the first-place Tampa Bay Rays.
According to ESPN, that's the Yankees' largest deficit since September 2018.
In their losses over the last 18 games, the Yankees' offense has significantly struggled. It has scored three or fewer runs in 10 of those 13 losses and was shut out on Sunday, losing 7-0 to the Philadelphia Phillies.
"We're clearly in the midst of incredibly tough times," Boone said, per ESPN. "We've faced it throughout this season. And we're going to find out what we're made of and if we're the team we think we are. It gets no easier as we have to go to Buffalo and play an outstanding offensive club in Toronto [on Tuesday]. And we need to step it up. Period."
Aaron Boone slammed a reporter after a Yankees loss
After the Yankees' embarrassing 7-0 loss to the Phillies on Sunday, a reporter asked Boone if the players are "almost getting used to losing," to which Boone replied by saying, "No," per a tweet from Yankees Videos.
When the reporter asked him "why not," Boone showed just how incredibly frustrating this tough stretch has been on him.
"I know them too well and I don't think there's any getting used to freakin' losing. Hell no," Boone said, per ESPN. "Get the hell out of here with that."
While his frustration was probably misdirected, Boone being upset is for good reason. The Yankees had high expectations this year, and while injuries have hurt them tremendously, many Yankees fans are still calling for Boone to lose his job, despite the fact that he led New York to three consecutive playoff appearances, one ALCS appearance, and two 100-win seasons in his first three years as manager.
So, can Boone's team turn it around before it's too late?
Can Aaron Boone's Yankees turn things around and make the MLB playoffs?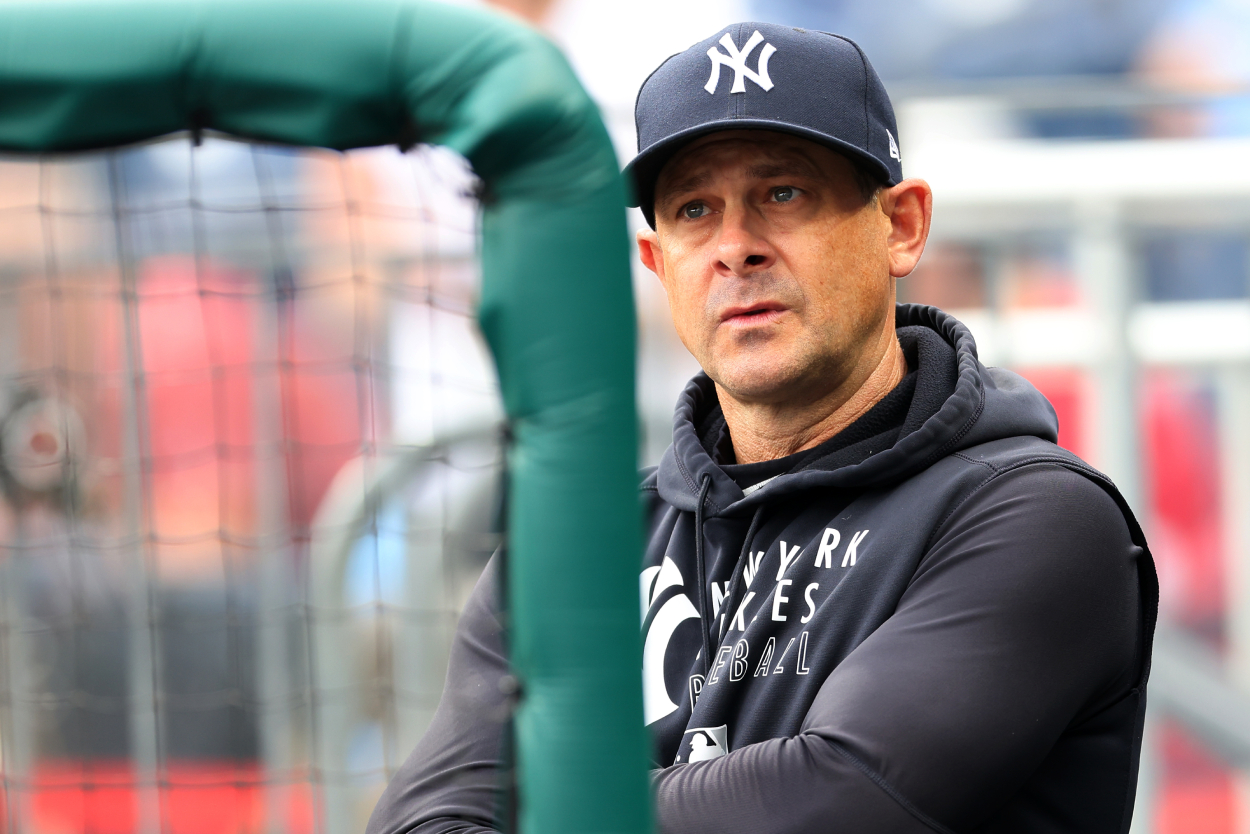 At this point, it's hard to see the Yankees coming back from an eight-and-a-half-game deficit to claim first place in the division, although they have more than half a season to play. They still have a great chance at earning a wild-card spot, though, as they only trail the Houston Astros by four games.
What the Yankees must do first, though, is try to get as healthy as possible. Luke Voit, who led the AL in home runs last season, is currently on the 10-day IL but started a rehab assignment this past weekend. Two-time All-Star pitcher Luis Severino, who hasn't pitched at all this year, is also currently on a rehab assignment but hurt his groin during an outing this past weekend. 
According to Yahoo Sports, the team also reinstated two-time All-Star reliever Zack Britton on Saturday, and former All-Star reliever Darren O'Day could throw from the mound soon.
Of course, there isn't much Boone and New York can do about some of the more severe injuries. Aaron Hicks and Corey Kluber are both on the 60-day IL, but if the Yankees can get some of the guys above back, they have enough talent to go on a run.
Yes, the Yankees are struggling significantly of late, but having the likes of MLB superstar Gerrit Cole on the mound, and Aaron Judge and Giancarlo Stanton at the plate, should make any fan like their chances.
Stats courtesy of Baseball Reference; Injury updates courtesy of ESPN
RELATED: New York Yankees: Ranking the Best Fits for Aaron Boone's Possible Replacement as Manager