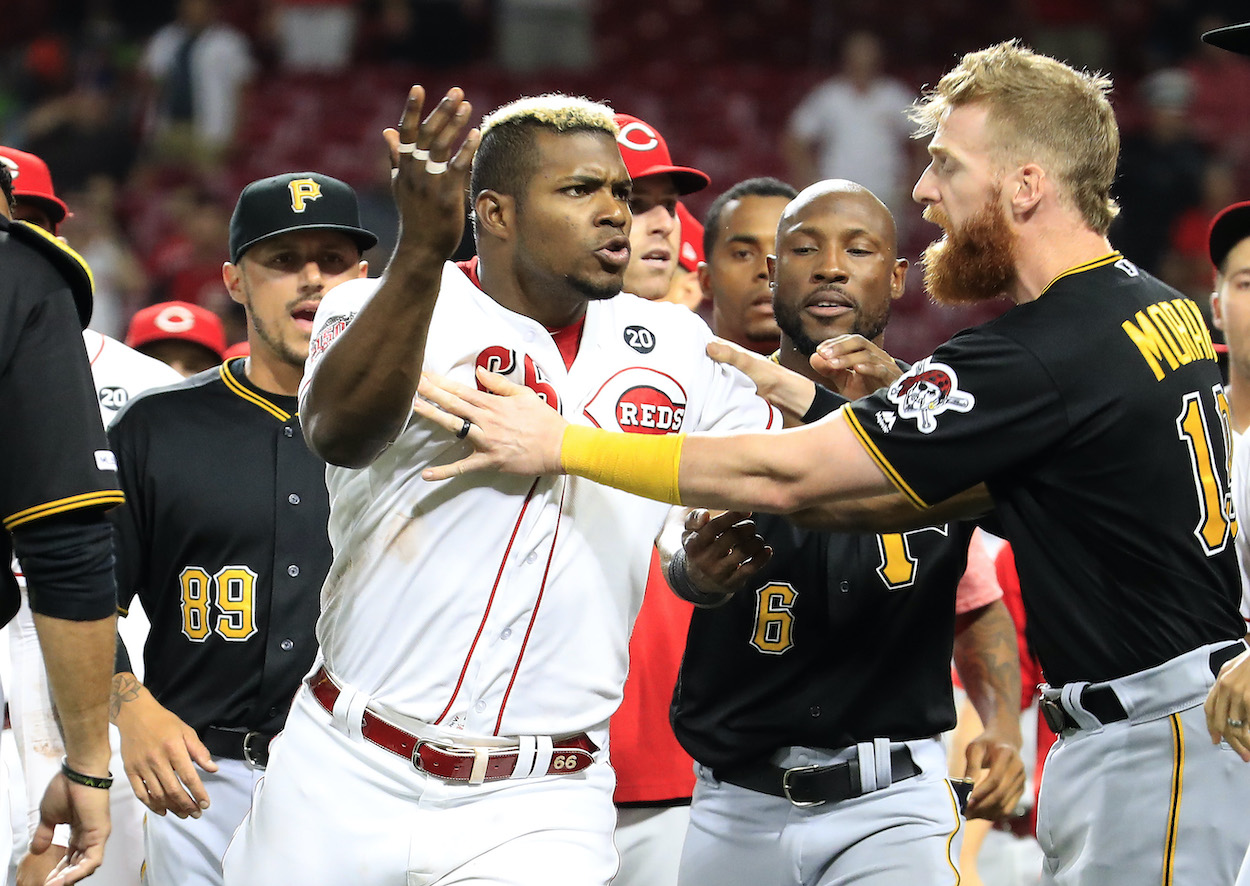 Yasiel Puig May Not Be in MLB Anymore but That's Not Stopping Him From Starting Bench-Clearing Brawls
Yasiel Puig hasn't played in MLB since 2019 but he's still finding himself in the middle of bench-clearing brawls in another league.
Yasiel Puig never steered clear of a fight. It's that mentality that allowed him to successfully defect from Cuba after numerous failed attempts.
In his MLB career with the Los Angeles Dodgers and several other clubs, Puig had more than his share of confrontations with opposing teams. Now playing in the Mexican League, Puig has once again found himself making headlines for instigating an on-field conflict and setting off a bench-clearing brawl.
Yasiel Puig started career fast
Yasiel Puig made his MLB debut with the LA Dodgers in 2013 and was quite impressive. He hit a pair of home runs in his second game and hit four home runs in his first five games with 10 RBIs, which tied him for the MLB record for most RBIs in the first five games of a career. That season he finished with 19 home runs and second in NL Rookie of the Year voting.
In 2014, Puig earned his first and only All-Star nomination. He finished that year with a .296 batting average and 16 home runs. The following year hamstring injuries dogged him for much of the season and they lingered into 2016. 
He played for two more seasons with LA before the Dodgers moved him in a trade to Cincinnati. Puig split time in his final MLB season between the Reds and the Cleveland Indians. He was scheduled to play in 2020 but tested positive for COVID-19 and it voided the deal he was expected to sign with the Atlanta Braves. 
Yasiel Puig starts brawl in Mexican League
In April 2021, Puig announced on Twitter that he signed a deal with El Águila de Veracruz of the Mexican League. Puig has played well in the first half of the season, hitting for a .300 average, including ten home runs, and showing off his cannon of an arm on a few occasions.
This week he made headlines not for his play on the field but for something else he did on a few occasions during his time in the MLB – instigating a bench-clearing brawl. 
Puig got plunked on the elbow by a pitch. He remained in the batter's box, removing his elbow pad, then removing his batting glove, when cameras showed him talking to the opposing bench. Players from both dugouts began to trickle onto the field.
After a few seconds of tension, tempers flared, and a group of players from Puig's team charged the opposing team's players now on the field. Somewhere in the middle of it all was Puig.
Involved in more than a few fights in MLB
Yasiel Puig is familiar with bench-clearing brawls. In 2018, his first in Cincinnati, he was involved in multiple skirmishes with the opponent. Against the Pirates, both dugouts had emptied and things appeared to be calming down when Puig later said a Pirates player said something to him and he charged the Pirates bench coach and several players.
A few months later, Puig was right in the middle of a fight again with the Pirates just minutes after news broke that he had been traded to the Cleveland Indians. 
Puig's willingness to fight shows he's loyal to his teammates. It also shows he sometimes can let his emotions get the best of him. As long as he's playing baseball — no matter the league — you can expect he'll bring that same level of intensity and his coaches and teammates will have to accept the good and the bad. 
Like Sportscasting on Facebook. Follow us on Twitter @sportscasting19.