Yasiel Puig Revealed That He Didn't Work Hard After Signing a Huge Contract in 2012
Much like Fernando Valenzuela, who took the Dodgers by storm four decades earlier, Yasiel Puig was loved by Los Angeleans when he joined the team in 2012. A native of Mexico, Valenzuela signed with the Dodgers in 1979. With a game shutout on 1981's opening day, "Fernandomania" began. Valenzuela maintained his hard work ethic throughout his career.
Puig previously played ball in his native Cuba. He defected in 2012 and signed a contract with LA. The right-handed outfielder made his debut in the majors in June 2013. But, Puig later admitted that once he signed, he didn't work very hard on his craft.
Vin Scully deems Puig a 'wild horse'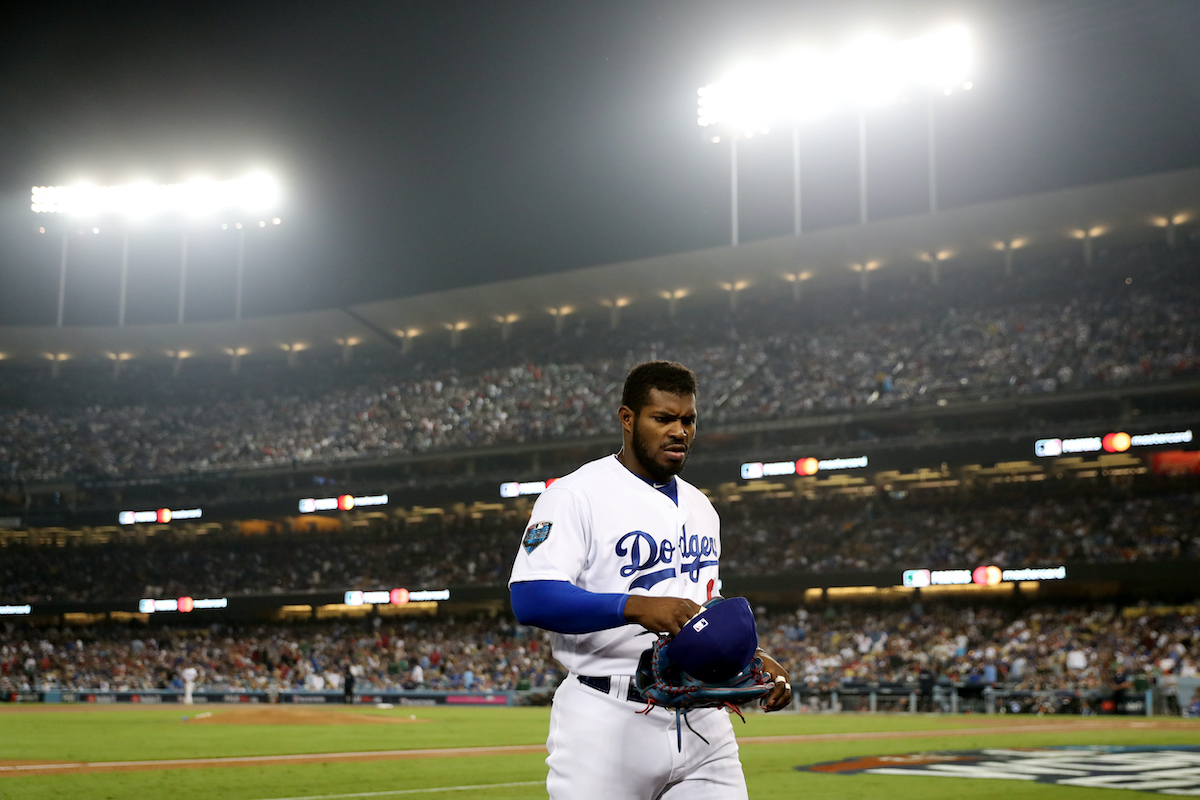 RELATED: Magic Johnson and the Dodgers Still Have the Record for Highest Buyout of a Team at $2.15 Billion
Puig's seven-year deal with LA amounted to $42 million. His rookie season he pulled in 42 RBIs with 19 home runs and 21 doubles in just 104 games. The Dodger's former longtime announcer, Vin Scully, dubbed him the "Wild Horse." Puig's second season revealed further success with 69 RBIs, 16 homers, 37 doubles, and nine triples.
But, his boss, former Dodgers' manager Don Mattingly, found Puig hard to rein in. Puig began using his own judgment without watching for signs from his coaches when running the bases. He also started making poor fielding choices. By 2016, Puig, with the guidance of the new Dodgers' manager, Dave Roberts, was sent down to the minors. The team hoped he'd "improve as a player and person," Puig, according to Bleacher Report. 
Puig was traded to Cincinnati in December 2018 along with teammates Matt Kemp, Alex Wood, and Kyle Farmer. He signed a one-year deal with the Reds. "I never worked hard," Puig said in his interview. "Maybe that's the reason why I didn't have my better years … The last couple years, I didn't work hard because I still have a contract to go. Now I think I'll work hard more than any year in my life."
Puig's 2019 season
RELATED: Dodgers Outfielder Len Koenecke Died 1 Day After the Team Cut Him
The Reds were looking for Puig to assist the team in making it to the playoffs in 2019. Instead, the team finished fourth in National League Central. Whether he worked hard, or not, Puig didn't even make it to the Top 12 Players list for the team. He ranked eighth in hitting with a batting average of .252 in 100 games and 61 RBIs.
Just one day before the trade deadline, Puig found himself in a different Ohio ballpark via a trade to Cleveland in a three-team deal. But, the MLB sidelined him for three games due to his involvement in a Reds-Pirates brawl just before the trade. In Cleveland, Puig played 28 games with a .297 batting average and 23 RBIs.
In November, Puig became a free agent, and Cleveland didn't make him an offer. According to Cleveland.com, Joe Noga offered some possible reasoning why. Included was the fact that the Indians already had nine outfielders on their roster. Noga also cited Puig's "history of quirky behavior" and the fact that Cleveland's manager, Terry Francona, and Puig "may not see eye-to-eye."
A free agent, Puig tests positive for COVID-19
Nearing the 2020 season, baseball was put on hold due to COVID-19. The 29-year-old Puig remained unsigned. He was offered an opportunity to play in the Korea Baseball Championship League for the Kiwoom Heroes, according to Fansided. He turned it down. Rumors had it that the Giants and Marlins were considering him.
In July, the Braves came to a one-year deal with Puig, but the offer was contingent upon a negative COVID-19 test. Puig tested positive, although asymptomatic, he announced on Instagram. 
Naturally, the Braves would be jumpy about COVID. Their All-Star first baseman, Freddie Freeman had been quite ill with the virus and has just received clearance to rejoin his team. Teammates Will Smith, Touki Toussaint, and Pete Kozma have all tested positive for the virus, as well.
Whether Puig will land a job during this shortened MLB season remains to be seen. He will have to remain symptom-free and have two negative tests at least 24 hours apart as dictated by the MLB before he could join a team. By that time, roughly one-quarter of the season will be over. He's going to have to work hard to remain healthy for any team to consider him if a spot should open up on their roster.