Year in Review: The 10 Biggest Baseball Stories in 2021, From Shohei Ohtani to Atlanta's Busy 7 Months
For all of the ugliness in baseball in 2021, from your favorite team's poor pitching to the continued cultural war regarding unwritten rules, at least we had Shohei Ohtani to make us smile. Before this year, baseball had never seen a player like Ohtani, and we may not witness a talent like the Los Angeles Angels' two-way star again.
Ohtani was only one of the most notable stories in America's national pastime this time. In fact, so much happened that it only feels right to do a year in review. Any baseball-related events which took place in the 2021 calendar year were eligible for this list. That includes the next chapters in issues that began prior to this year, including the ongoing pandemic.
Based on consideration of the aforementioned prerequisites, the most memorable storylines stack up as follows:
10. The official end of the Cleveland Indians
Once the Cleveland baseball organization ditched Chief Wahoo in 2018, we knew the Indians name wouldn't be around much longer. The social justice movements of 2020 brought about changes with the Washington Football Team, who rid themselves of Native American imagery for good. Next up, naturally, were the Indians.
Cleveland announced in advance that the 2021 season would be its final as the Indians. After months of speculation, the organization announced in July that it would change its name to the Guardians beginning in 2022. The last hurdle came in November when the franchise resolved a lawsuit with a local roller derby team over the "Guardians" name.
Reception on social media was mostly mixed, and former President Donald Trump ripped the franchise for caving to public pressure.
"A small group of people with absolutely crazy ideas and policies is forcing these changes to destroy our culture and heritage," Trump said in a release.
9. The lockout we all expected to happen
There isn't too much to say about the lockout, at least not yet. If not for the fact that all parties expected this to happen, we'd probably rank the ongoing work stoppage higher on the list.
As of publication, there have been no meaningful or credible updates about when the 2022 season could potentially begin. If March arrives and baseball still isn't in sight, have fun watching The Sopranos for the 22nd time in the last two years.
8. The Hall of Fame's divergent paths
Had we made this list in late November, the National Baseball Hall of Fame probably would have warranted an honorable mention. There is only so much to say at this point about the trio of Barry Bonds, Curt Schilling, and Roger Clemens' respective Hall cases.
The most recent ballot added Alex Rodriguez, who served a 162-game suspension for performance-enhancing drugs, and Boston Red Sox legend David Ortiz. The three-time World Series champion is in a gray area because he failed a drug test in 2003, a year before the league created modernized PED punishments.
However, something notable happened in early December. The Veterans Committee inducted six men, including Negro League legend Buck O'Neil and Bud Fowler, the earliest known Black player in professional baseball history, into the Hall of Fame. Those two joined MLB greats Minnie Miñoso, Gil Hodges, Jim Kaat, and Tony Oliva in earning their bronze plaques.
The upcoming induction of those six propelled the Hall of Fame's spot on the list. On the one hand, the Baseball Writers' Association of America refuses to come together and induct some of the greatest players in the sport's history, including Bonds and Clemens, over performance-enhancing drugs or character concerns. However, a committee of former players, executives, and media members/historians want to preserve the game's history by any means necessary.
At the end of the day, the Hall of Fame is a museum. It's a shame that the BBWAA still appears reluctant to accept that fact.
7. Mets owner Steve Cohen loves tweeting and spending
Mets fans might not agree with Cohen's politics (he donated $2.25 million to then-New Jersey governor Chris Christie's presidential candidacy in 2015 and another $1 million to Trump's inauguration) or how often he tweets, but they certainly appreciate his wallet.
Since officially taking over the Mets in late 2020, Cohen spent big on extending shortstop Francisco Lindor ($10 years for $341 million) and signing pitcher Max Scherzer (three years for $130 million), among others. He empathized with tortured Mets fans and openly criticized the struggling team on Twitter throughout the season.
Cohen, like all of us, tweets far too much for his own good. However, don't expect Mets fans to hold it against him if there's a parade in the Canyon of Heroes next fall.
6. The end of the sticky stuff?
In June 2021, Major League Baseball decided enough wasn't enough. No, we're unfortunately not talking about blackouts or hearing Alex Rodriguez on Sunday Night Baseball. The league prohibited pitchers from using foreign substances, including Spider Tack, and introduced new rules to crack down on hurlers having an unfair advantage.
Several pitchers, including Yankees ace Gerrit Cole, saw their numbers trend downward after the crackdown. The league later suspended Seattle's Hector Santiago and Arizona's Caleb Smith for using "sticky stuff" after the rule change. Even after MLB put its foot down, this is worth keeping an eye on in 2022 and beyond.
5. Trevor Bauer's legal issues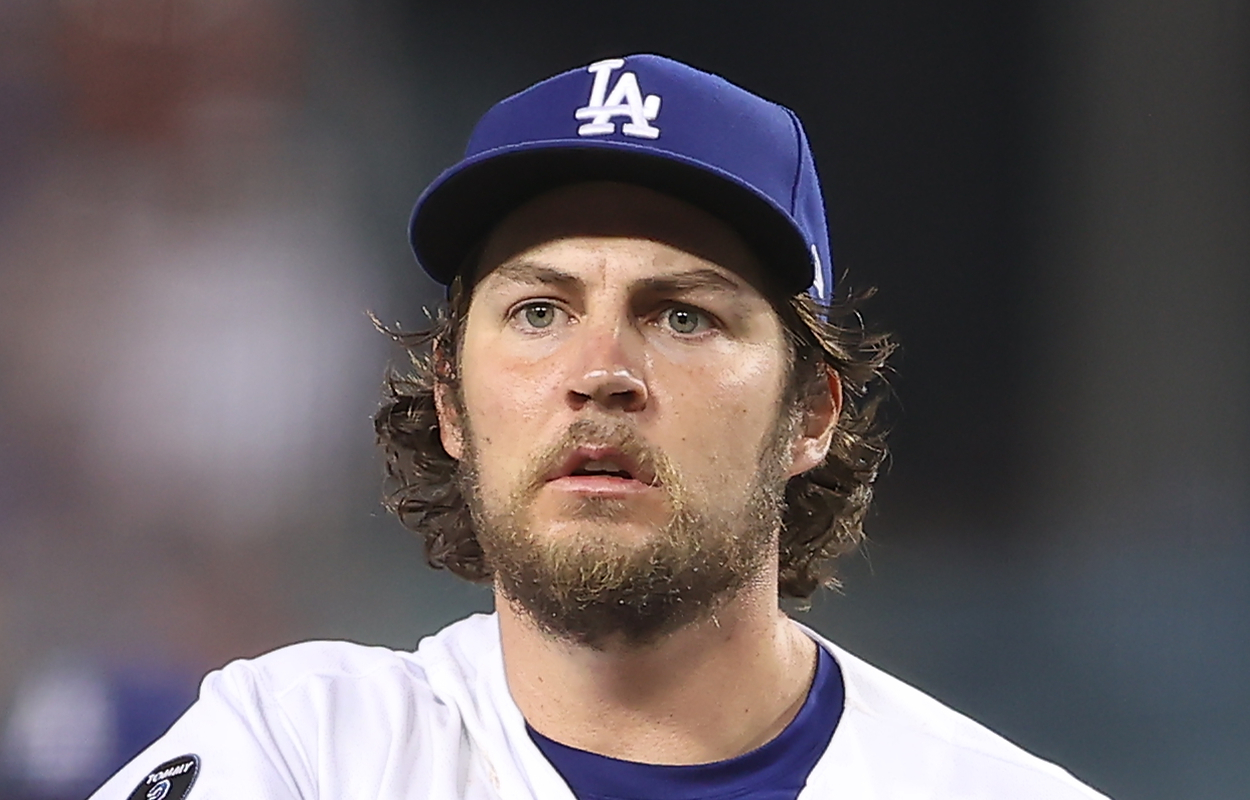 Only months into his first season with the Los Angeles Dodgers, All-Star pitcher Trevor Bauer went on paid administrative leave after accusations of sexual assault. He did not pitch in the season's second half or in the playoffs as the Pasadena Police Department investigated the claims against him.
According to The Athletic, the Pasadena Police Department presented its investigation to the Los Angeles County District Attorney's office on Aug. 27. Major League Baseball is still actively investigating the case. As of publication, neither the DA nor the league had announced their respective findings. However, the league can still punish Bauer even if criminal charges are not filed.
Bauer reportedly exercised a $32 million player option to return in 2022. It is not yet known if the Dodgers will bring him back or if the team will absorb the financial ramifications of releasing him.
4. Major League Baseball vs. Atlanta
Consider this entry the first part of a two-part saga. In March, Georgia passed the Election Integrity Act of 2021, which tightened ID requirements following the 2020 election. Amid public outrage and President Joe Biden comparing the law to Jim Crow, Major League Baseball moved the 2021 All-Star Game from Atlanta to Colorado.
The political involvement on both sides, ranging from Biden's outspoken commentary to Georgia governor Brian Kemp later calling the Braves' World Series win "poetic justice," propels the entry up our list. For their part, the Braves organization publicly disagreed with the move. As of publication, Major League Baseball has not announced if or when Atlanta will next host an All-Star Game.
3. The Yankees keep spending and keep falling short
When the New York Yankees last won a World Series, LeBron James was still in his first stint with the Cleveland Cavaliers, and Tik Tok was nearly seven years away from being created. Suffice to say, it's been a while.
Despite entering the 2021 season as universal favorites to win the AL East and contend for a 28th World Series title, the Yankees lingered around .500 throughout the campaign's first four months. A strong second half (51-29 in their final 80 games) pushed the Yankees and their $201 million payroll into the postseason as the second wild-card team. The rival Red Sox knocked Cole and his nine-year, $324 million contract out early en route to a 6-2 victory at Fenway Park.
At this stage in the game, the Yankees are a team willing to spend as much as possible only to fall short of the ultimate goal time after time. In a move showcasing how content the franchise is, the Yankees retained manager Aaron Boone and general manager Aaron Boone rather than even attempt to start over.
2. The Braves finally end their World Series drought
Welcome to the second chapter of the two-part saga. The Braves ended play on Aug. 1 at 52-54 and in desperate need of a spark. Two months later, Atlanta ended the season at 88-73 and celebrating a fourth consecutive NL East title.
In a miracle run for the ages, Atlanta defeated the Houston Astros in the World Series. Veteran outfielder Jorge Soler, acquired at the trade deadline for minor league pitcher Kasey Kalich, hit .300 with three home runs and six RBIs en route to earning World Series MVP honors. Not bad for a team that baseball fans understandably wrote off as dead in July.
1. Shohei Ohtani dominates everything in his path
We could bore you with an essay about Shohei Ohtani's greatness, but we'll let the numbers speak for themselves. The two-way star hit .257 with 46 home runs, 100 RBIs, 26 stolen bases, and eight triples in 155 games. On the mound, he went 9-2 with a 3.18 ERA and 156 strikeouts in 130.1 innings.
Please, baseball gods, allow Ohtani to stay healthy and enjoy a brilliant 2022 season. Something tells us we'll need it, especially if Rodriguez remains on Sunday Night Baseball. 
Like Sportscasting on Facebook. Follow us on Twitter @sportscasting19.