Year in Review: The NFL's 10 Biggest Stories in 2021, From Aaron Rodgers' Drama to Legendary Quarterbacks Saying 'Sayonara'
Life in the NFL in 2021 belonged to the likes of Aaron Rodgers and Tom Brady, as was often the case throughout the 2010s. For a league that makes so much money each year, it still lacks personal growth.
Brady's success and Rodgers' drama were only two of the most notable stories in professional football over the last 12 months. In fact, so much happened that it only feels right to do a year in review.
Any NFL-related events which took place in the 2021 calendar year were eligible for this list. That includes the next chapters in issues that began prior to this year, including the ongoing pandemic. Anything tied solely to college football, including NIL (Name, Image, and Likeness) is ineligible.
Based on consideration of the aforementioned prerequisites, the most memorable storylines stack up as follows:
10. Dak Prescott is wealthy, healthy, and winning games
You know the story by now. In October 2020, Prescott suffered a severe ankle injury that ended his season after five games. The Cowboys nonetheless signed the star quarterback to a four-year, $160 million extension in March. In spite of the injury, the Mississippi State product received $95 million guaranteed at signing and will earn another $31 million in March 2022.
For now, it appears the Cowboys made the right move. Prescott totaled a 68.7 completion percentage, 3,928 yards, 29 touchdowns, and 10 interceptions in his first 14 starts this year. The Cowboys clinched the NFC East in Week 15 and are postseason-bound for the first time in three years. Maybe Jerry Jones still knows what he's doing once in a while.
9. The 'ManningCast' (AKA 'Monday Night Football With Peyton and Eli')
After years of being linked to the Monday Night Football booth, Peyton Manning finally took the job. Well, somewhat. He and his younger brother, Eli, agreed to host a simulcast on ESPN2 at points during the 2021 football season where, instead of analyzing the game in a traditional setting, they'd welcome guests, including active players.
Not only was the ManningCast a ratings hit, but the loose atmosphere allowed for some of the game's top stars, including Tom Brady, to stop by and feel comfortable. However, a supposed jinx involving active players losing their next game after joining the Manning brothers appears to have scared those active players away.
Trouble also arose in late October when former Pro Bowl running back Marshawn Lynch cursed on the air, leading Peyton to apologize when the broadcast returned. ManningCast has also gone a safer route in recent editions, often bringing on broadcasters and celebrities. If the current ManningCast resembled its Week 3 form, double birds and all, it might rank higher on this list.
8. Drew Brees and other NFL legends finally say goodbye … we think
Barring any sudden comebacks, the 2020 season appears to have marked the end for the likes of Drew Brees, Larry Fitzgerald, and Philip Rivers. The first two will easily find themselves in the Pro Football Hall of Fame later this decade, while Rivers' candidacy is far more subjective.
Former Super Bowl MVP Julian Edelman, five-time All-Pro center Maurkice Pouncey, and legendary kicker Adam Vinatieri all also hung up their cleats in recent months. Jason Witten, who had previously retired following the 2017 season before returning in 2019, called it quits once again.
Pittsburgh Steelers quarterback Ben Roethlisberger is expected to lead the brigade of players who will retire after the 2022 season. However, don't expect to see Tom Brady in this section next year.
7. A mostly-mediocre year for rookie quarterbacks
Five quarterbacks were selected in the 2021 NFL Draft's first round. Only one, New England's Mac Jones, entered Week 17 having thrown more touchdowns than interceptions as a full-time starter. San Francisco's Trey Lance, the third overall pick, has thrown three touchdowns and only one interception in five games and one start.
Jacksonville's Trevor Lawrence threw three touchdowns in his first game but six in his next 14. Zach Wilson has done nothing to convince New York Jets fans that better days might be ahead. Chicago's Justin Fields has played well in spurts, but not at the level fans expected from him.
Football fans should keep an eye on Houston's Davis Mills (the 67th overall pick), who has thrown 12 touchdowns against nine interceptions and looked sharper in recent weeks. If anything, he might keep the Texans from investing an early-round draft pick on a quarterback next spring.
6. Omicron surges and the league's recent COVID-19 problems
Had we published this list on Dec. 1, COVID-19 may not have even warranted its own spot. Players were always going to test positive and miss games, but the league fared much better than last year, the first season of the pandemic.
Then came December and the Omicron variant. The NFL moved three Week 15 games because of COVID-19 outbreaks. Numerous starting quarterbacks and head coaches have tested positive in recent weeks. However, the league did not cancel any games during that time.
The NFL had more than 400 players test positive from Dec. 1-27. Don't be surprised if Omicron keeps at least one superstar on the sidelines when the playoffs begin.
5. Bill Belichick and the Patriots are contenders yet again
When the Patriots dropped to 2-4 in mid-October, questions rightfully arose about how much longer Bill Belichick would remain in New England. Over two months later, the eight-time Super Bowl champion is a candidate for Coach of the Year yet again.
In large part because of Jones' play at quarterback (67.2 completion percentage and 18 touchdowns against 12 interceptions) and an elite defense (a league-best 17.3 points per game), the Patriots have an excellent opportunity to win the AFC East yet again. So much for the idea of Belichick retiring to a quiet life in the Florida Keys after this season.
4. Deshaun Watson's legal issues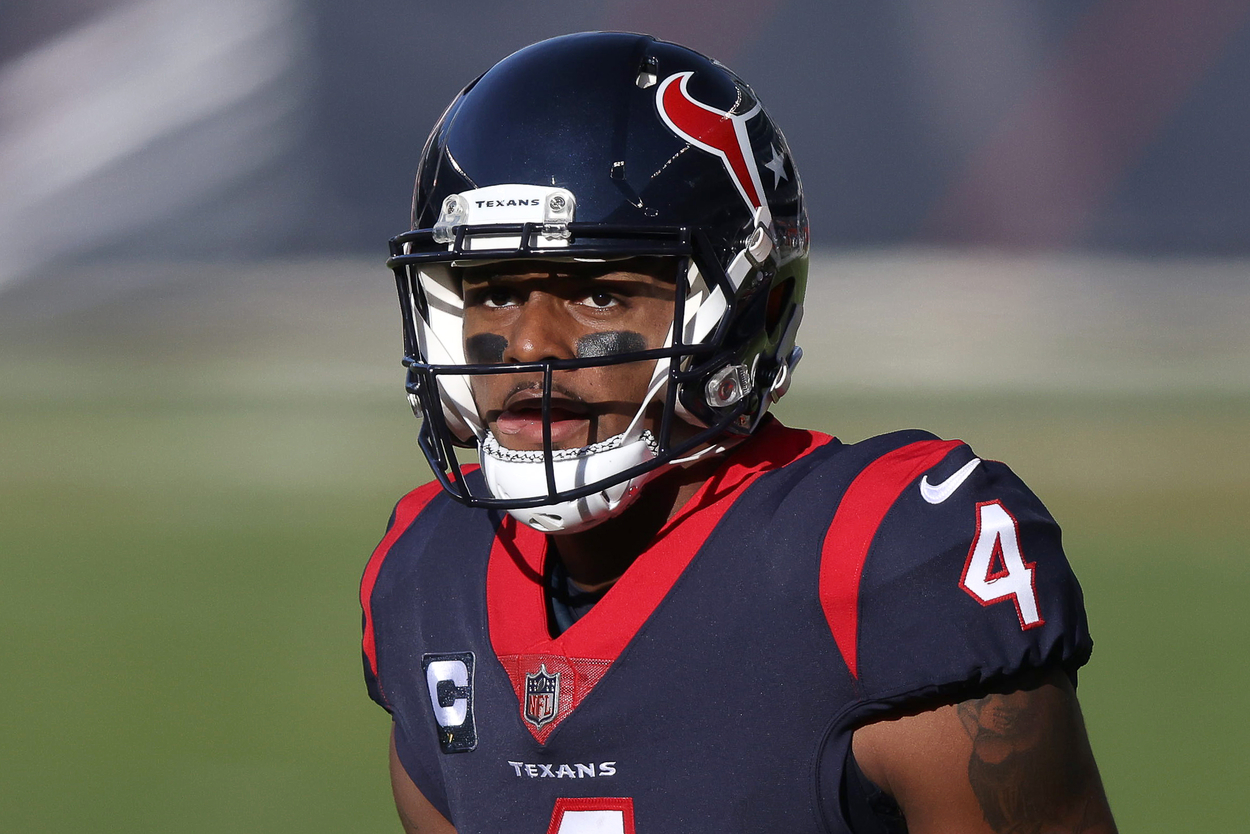 A quick recap of Watson's situation: From March 16 through April 14, 23 lawsuits were filed against him describing sexual harassment and sexual assault. Although the Houston Police Department and the FBI are reportedly investigating him, he had still not been charged with a crime as of publication. According to ABC 13 in Houston, a judge signed warrants to access Watson's social media accounts, including Instagram and Cash App. 
Watson has not played a down for the Texans this season, and his NFL future remains uncertain. It is not known if the league will impose discipline at a later point.
3. The Urban Meyer saga. All of it.
Jacksonville Jaguars fans thought they won the lottery when the woeful franchise secured the 2021 NFL Draft's No. 1 overall pick. What sounded like a picturesque dream quickly turned into a nightmare under Meyer's watch. Need we say anything more about the video of him at an Ohio bar?
Eventually, the Jaguars had enough and fired Meyer overnight in mid-December. As of publication, the franchise had not yet announced who will replace him, nor did Meyer reveal what his next plans are.
2. Tom Brady might be immortal after all
In 18 seasons as the Patriots' full-time starting quarterback, Brady only topped 40 passing touchdowns once. In two years with the Buccaneers, the 44-year-old has already thrown 77 regular-season touchdowns against only 23 interceptions. The three-time NFL MVP has an excellent chance to add a fourth to his resume.
Most importantly, he won his seventh Super Bowl in February and has the Buccaneers on track to win a second consecutive title. Barring injury, Brady will become the oldest starting quarterback in NFL history next year, and he's shown no signs of slowing down.
1. Aaron Rodgers loves his drama and hates cancel culture
Aaron Rodgers' 2021 — and we mean the entire year, not just the season — can be separated into several distinct chapters. First, there was the NFC Championship Game loss in January. Then came Rodgers' reported frustration with the Packers' organization, a situation which lingered throughout the summer until he rejoined the team on the eve of training camp.
Things went fine until Rodgers, who is unvaccinated, tested positive for COVID-19 in early November and went on The Pat McAfee Show to clear things up. Months after saying he'd been "immunized" against the virus, Rodgers created a viral firestorm when he referenced "cancel culture," spread misinformation about the vaccines, admitted he sought feedback from podcast host Joe Rogan, and criticized the NFL's protocols.
After apologizing for misleading people, Rodgers recently returned to McAfee's show and asked why "society and the NFL [haven't] talked about legitimate treatment options." He cited ivermectin, which the FDA has said is not proven to treat COVID-19, and suggested, "If science can't be questioned, it's not science anymore. It's propaganda."
On the field, Rodgers entered Week 17 owning a 68.0 completion percentage, 3,689 yards, 33 touchdowns, and four interceptions. We urge Packers fans not to treat COVID-19 with ivermectin, even if Rodgers does finally reach the Super Bowl for the first time since February 2011.
According to the Centers for Disease Control and Prevention (CDC), "Over 423 million doses of COVID-19 vaccine have been given in the United States from December 14, 2020, through November 1, 2021. COVID-19 vaccines are safe and effective."