You Can Go Home Again: How 10 Stars Fared vs. Former Teams
On Sunday afternoon, Ravens WR Steve Smith did what every athlete wishes he could do when facing a former team: win and have a monster game. Smith led the way for Baltimore with seven catches, 139 receiving yards, and two touchdowns in a 38-10 win. It's true: revenge can be very, very sweet.
Smith's heroics got us thinking about other famous athletes who have faced off with former franchises. Depending on the player, team, and fan base involved, some of these showdowns have been bitter, while others have been bittersweet. Here, then, is a trip down memory lane to 10 notable 'first reunions' between franchise and ex-player from the last 20 years, listed in chronological order.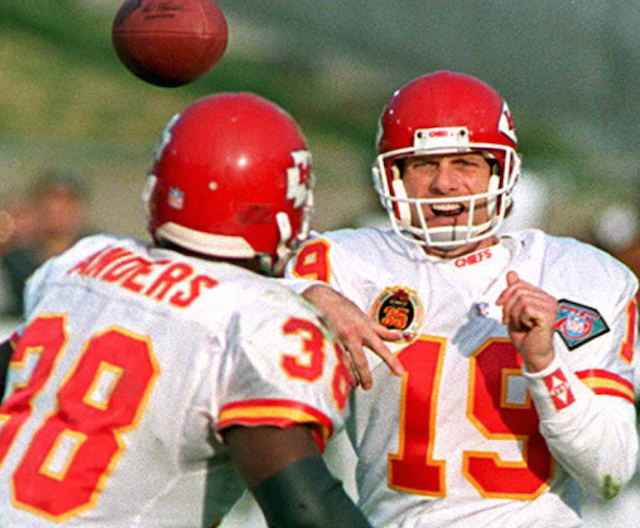 1. Joe Montana vs. 49ers, 1994
After 13 remarkable years with the San Francisco 49ers, veteran quarterback Joe Montana was traded to the Kansas City Chiefs in April 1993. Montana played two years for Kansas City before retiring, which included a 24-17 victory over his former team on September 11, 1994. Montana went 19-31 for 203 passing yards and two touchdowns in the game, while his successor as Niners QB, Steve Young, had more yards through the air but threw a pair of interceptions.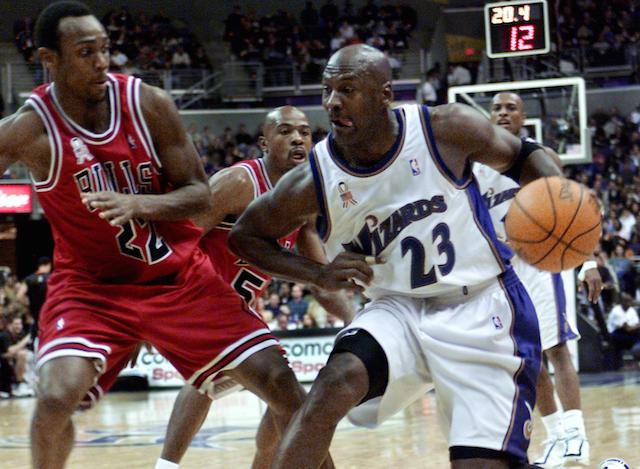 2. Michael Jordan vs. Bulls, 2001-2002
Arguably the greatest basketball player in history, Bulls legend Michael Jordan came back from his second retirement in the 2001-2002 season as a member of the Washington Wizards. Jordan faced his former squad for the first time on January 4, 2002 and made his return to Chicago fifteen days later. The Wizards won both games, with MJ racking up a game-high 29 points in the former (an 89-83 win) and finishing with a respectable 16 in a 77-69 victory at the United Center, which is often referred to as 'The House That Jordan Built.'
3. Shaquille O'Neal vs. Lakers, 2004
While the Lakers weren't Shaquille O'Neal's first team, L.A. was the city where Shaq won three straight titles (2000, 2001, and 2002) with Kobe Bryant by his side. When the Lakers blew everything up in the summer of 2004, they traded the Big Diesel to Miami. That set the stage for a Christmas Day showdown on national television as the former friends — and later, former enemies — turned fierce rivals. Although Kobe won the scoring battle that day with 42 points, Shaq won the war: The Heat prevailed 104-102 in Hollywood behind 24 points and 11 boards from the big man. Miami took the rematch as well, winning 102-89 in South Beach the following March.
4. Johnny Damon vs. Red Sox, 2006
Johnny Damon only spent four years with the Red Sox, starring for the team in 2002-2005. However, Damon was there when the franchise broke the dreaded 'Curse of the Bambino' and won its first world championship since 1918, rallying past the hated rival Yankees after losing the first three games of the ALCS and then sweeping the Cardinals for the title. Note the 'hated rival' part of the previous sentence, because Damon left Boston before the 2006 season and signed with the team Red Sox fans despise more than any other. The outfielder made his return to Fenway Park on May 1, 2006, and the hometown crowd enjoyed it thoroughly: Damon went 0-for-4 in a 7-3 Yankees loss.
5. Brett Favre vs. Packers, 2009
The man that just couldn't stay retired, former Green Bay legend Brett Favre played against the Packers twice in 2009. Minnesota won both games, taking the first meeting 30-23 on a Monday night in October and then defeating Green Bay 38-26 at Lambeau the next month. Favre played brilliantly in both contests, throwing a total of seven touchdown passes without an interception. Minnesota edged Green Bay by a game for the NFC North division championship that season because of the Favre-led sweep.
6. LeBron James vs. Cavaliers, 2010-2011
Cleveland loved LeBron James. Then they hated him. Now they love him again. It's the circle of life, sports-style. Back when Cavs fans were mad at LeBron for 'taking his talents' away from northeast Ohio in 2010, the 'King' made his return to Quicken Loans Arena that December in one of the most hyped, anticipated regular-season basketball games in recent memory. Once the game started, though, there wasn't much drama: LeBron scored 38 points and Miami coasted to a 118-90 victory. LeBron's new team would win the first three matchups against his old team that season before the Cleveland faithful got what they wanted, a 102-90 Cavs win on March 29, 2011 where the former favorite son only scored 27.
7. Carmelo Anthony vs. Nuggets, 2011-2012
Carmelo Anthony played the first eight and a half seasons of his NBA career in Denver before forcing a trade to the Knicks in 2011. 'Melo faced off against his former team for the first time on January 21, 2012 during a lockout-shortened season. Anthony scored 25 points in the game, including a jump shot that forced overtime with 1.7 seconds to play. The Nuggets ultimately came out on top, though, winning 119-114 in double overtime. Anthony didn't make his return to Denver until March of 2013, and the emotions might have gotten to him a bit: the star scorer only tallied nine points on 3-12 shooting in a lopsided 117-94 loss at the Pepsi Center that year.
8. Dwight Howard vs. Magic, 2012-2013
It seems like Dwight Howard has plenty of people that enjoy cheering against him, as Howard's return to Orlando after playing eight seasons there or his visit back to Los Angeles the following year as a member of the Rockets could have gone on this list. We'll stick with the first one, though, as the Magic and Lakers split a pair of games in 2012-13 with the biggest storyline being ex-Orlando superstar vs. current Orlando team. Howard's Lakers lost at home that December (113-103) before rebounding for a 106-97 win in his Orlando homecoming three months later. Howard's numbers were decent in the first game — 21 points and 15 boards — but otherworldly in the second. He had 39 points and 16 rebounds and was a whopping 25-39 from the foul line, making the Magic's 'Hack-a-Howard' strategy look foolish.
9. Ray Allen vs. Celtics, 2012-2013
The Celtics weren't very happy when Ray Allen decided to leave Boston as a free agent in the summer of 2012. Especially not happy: Paul Pierce and Kevin Garnett, who wouldn't even speak to him afterward. (That seems a bit hypocritical, as both Pierce and Garnett have moved on to new franchises since then, but that's a story for a different time.) Allen's Heat faced Pierce and Garnett's Celtics four times during the 2012-2013 season (including opening night), with eventual champion Miami winning three of the four. Allen averaged nearly 16 points per game against his former team in 2012-2013. Of small consolation to the remaining Big Two (and the Celtics fanbase), Boston did knock off the visiting Heat 100-98 in Allen's return to Beantown.
10. Peyton Manning vs. Colts, 2013
The Colts released all time great Peyton Manning before the 2012 season so Indianapolis could get the Andrew Luck era underway and Manning could attempt to recover from neck surgery somewhere else. The decision has seemed to work out well for both sides so far, with Luck getting the rebuilding Colts to the playoffs a season ago while Manning has already taken his new team to the Super Bowl. Manning made his return to Indianapolis in October 2013, throwing for 386 yards and three touchdowns against the team he played thirteen seasons for. However, the Colts got the last laugh, winning the game 39-33 behind Luck's three passing TDs and one rushing score.