You Won't Believe How Many Kids Cam Newton Has Fathered
Cam Newton has risen to prominence in the NFL as one of the most exciting players to watch. That saw him become a franchise cornerstone for the Carolina Panthers for many years before that came to an end earlier this offseason. After playing for the New English Patriots in 2020, Newton returned to the Panthers when he signed a one-year, $10 million free-agent deal. What is perhaps even more surprising, however, is the number of kids that Cam Newton has fathered. Keep reading to learn more.
Here's a look a Cam Newton's NFL career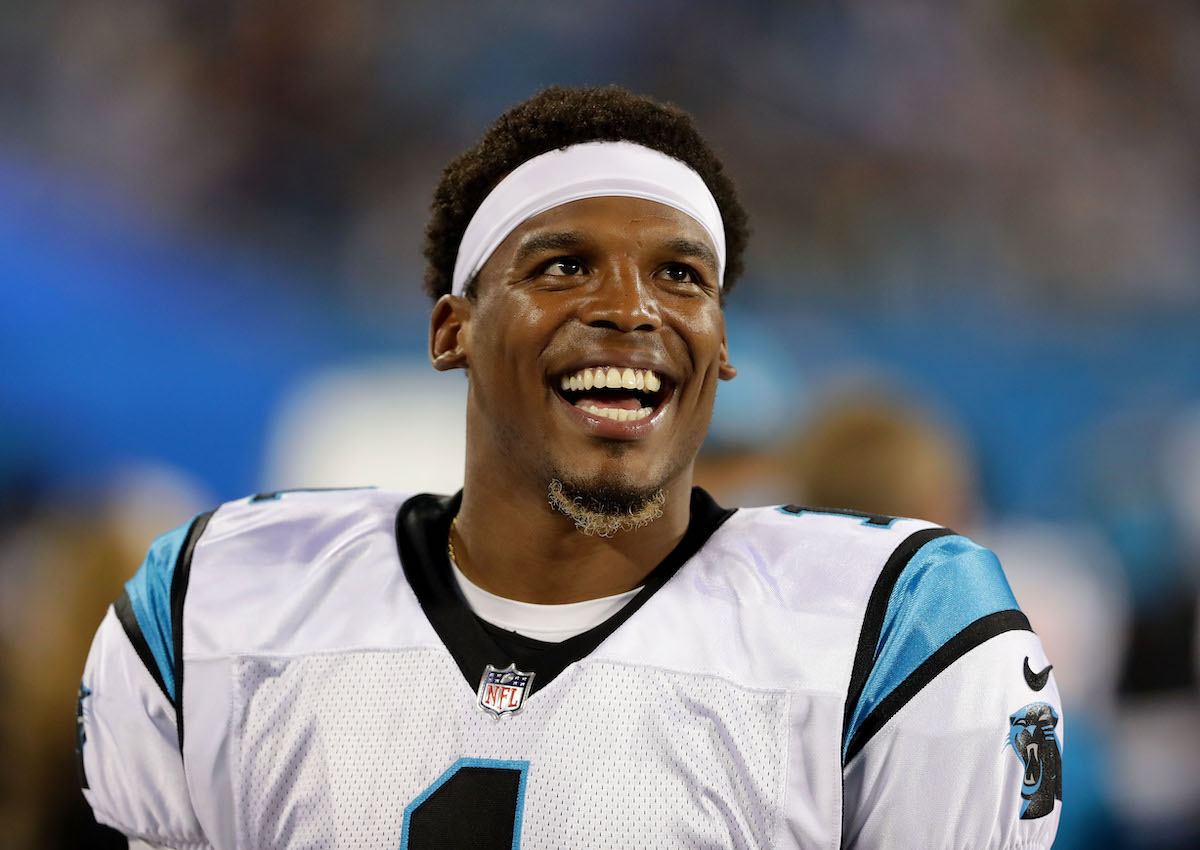 During his time in the NFL, Cam Newton has established himself as one of the better quarterbacks in the league.
He spent most of his professional career with the Panthers, where he experienced much success by showcasing his dual-threat ability as a passer and a runner. That helped him earn three Pro Bowl selections, a First-Team All-Pro nod, an Offensive Player of the Year award, and a regular-season MVP award. Newton also led the Panthers to a Super Bowl 50 appearance in his MVP season in 2015.
Cam Newton is one of the most physically gifted quarterbacks in the league, and it has been quite difficult for opposing defenses to game-plan against him. Injuries have piled up over the last couple of years, which has led to his release from the Carolina Panthers in the 2020 offseason. That put him in entirely new territory for the first time in his career.
Cam Newton has fathered seven kids
Throughout his career, Cam Newton was the face of the franchise for the Panthers, leading them on the field.
Cam Newton's life off the field has been quite busy as he has his hands full with the numerous kids he has fathered. The 32-year-old revealed on Father's Day 2020 that he is the father to seven children named Jaden, Shakira, Chosen, Sovereign-Dior, Camidas, Caesar, and Cashmere. Newton voiced on Instagram how proud he was to have his children.
"A daddy isn't defined as the man who makes the child (not in all instances) but rather a MAN who extends his hands and time to help with the child's raising and his heart to LOVE the child through anything! Blood doesn't always make you DADDY. Being a dad comes from the heart. Anybody can make a baby but it takes a real man to raise a child! Kudos to all the real men worldwide! Happy Father's Day to us."
With the quarterback having seven kids, many fans might wonder: Does Cam Newton have a wife? Currently, Cam Newton's girlfriend is La Reina Shaw. He shares one kid, Caesar Lorenzo Newton, with Shaw, and acknowledges her child from a previous relationship, Jaden, as his own.
Meanwhile, he shares four kids with his ex-girlfriend, Kia Proctor: Chosen Sebastian Newton, Sovereign-Dior Cambella Newton, Camidas Swain Newton, and Cashmere Saint Newton. He also acknowledges Proctor's daughter from a previous relationship, Shakira, as his own.
That should make for quite a busy life off the field to have to help take care of his seven kids. It should be noted that Newton has made more than $120 million over his career.
Cam Newton returned to the Carolina Panthers in November 2021
It was nothing short of an intriguing offseason for Cam Newton, as he has remained in free agency for a few months in 2020.
There were many factors at play that led to him remaining off an NFL roster. Because of the COVID-19 restrictions, teams had been unable to bring him in for a physical to see where he was at physically at that point in his career. Meanwhile, there were questions about whether he would accept taking on a backup role. What was also playing a factor was there weren't a lot of situations out there where teams needed help at the quarterback position.
In 2020, he ended up signing a one-year, $1.75 million contract (with heavy incentives) with the New England Patriots, according to NFL.com. Newton then signed another one-year contract — this time, worth up to $13.6 million — in March 2021.
Fast-forward to November 2021, and Newton signed a one-year $10 million free-agent deal in order to return to the Panthers. Unfortunately, his lackluster performance on the field doesn't offer too much hope for him remaining with the team in 2022.
On the plus side, Cam Newton may very well have more time to spend with his seven kids if his NFL glory days truly are behind him.
RELATED: You Won't Believe How Many Kids Pro Bowl Running Back Travis Henry Has Fathered