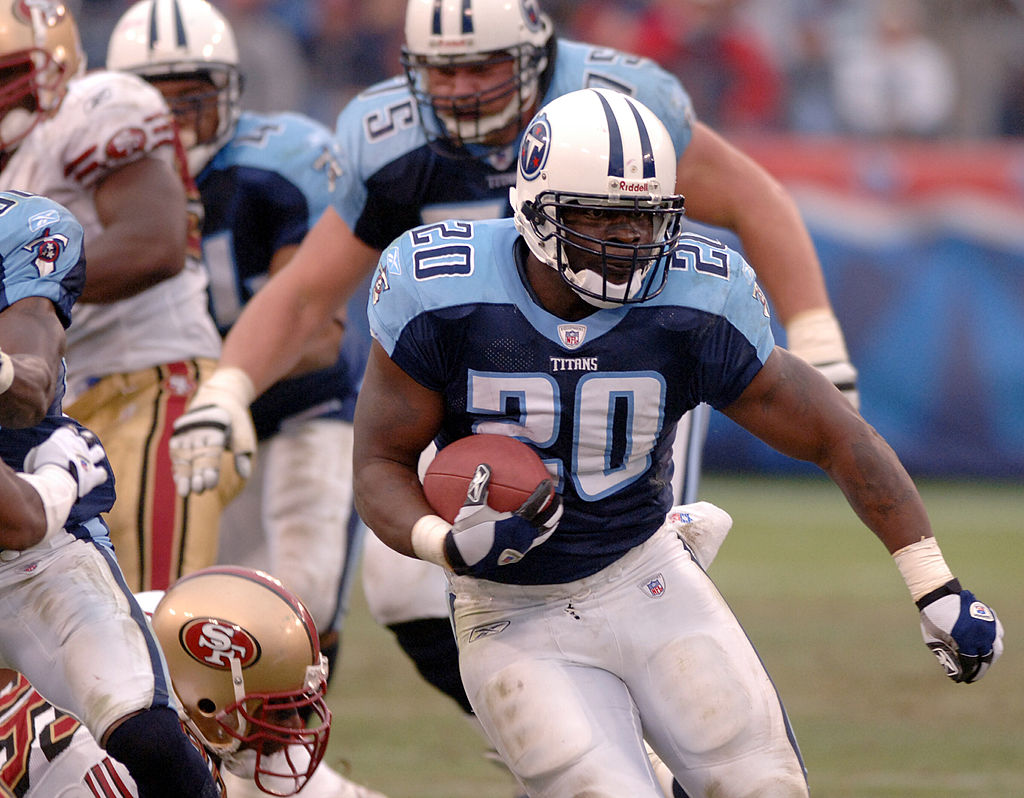 You Won't Believe How Many Kids Pro Bowl Running Back Travis Henry Has Fathered
Former NFL running back Travis Henry has fathered 11 children with 10 women and at one time was responsible for $170,000 a year in child support.
Travis Henry had a short but productive career as an NFL running back that included selection to the Pro Bowl in his second season with the Buffalo Bills. Injuries contributed to Henry losing his starting job to Willis McGahee in 2004, but the two running backs will forever be connected in a way other than just racking up yards on the ground.
Travis Henry was a star every step of the way
Travis Henry was a highly recruited college prospect thanks to a stellar scholastic career that saw him selected a Parade All-American and Mr. Florida Football after a senior season in which he rushed for 4,087 yards in 14 games.
Henry signed with the University of Tennessee and worked his way up the depth chart while sharing time with Jamal Lewis, who would go on to seven 1,000-yard seasons in the NFL. Henry became the Vols' featured back as a senior and ran for 1,314 yards.
Travis Henry's skills on the field attracted the attention of the NFL, but factors off the field could have contributed to dropping him down to the second round and the 58th pick of the NFL draft. One of those issues would have been a reported score of nine out of 50 on the Wonderlic test administered during the NFL Scouting Combine.
Travis Henry's 11 children have 10 mothers
Travis Henry did not have the typical college experience, whether for an average student or for an athlete. Henry fathered a child while still in high school in Florida. While a 19-year-old in college, he wed the 25-year-old woman who was the mother of his second child; an annulment was later granted.
However, two additional relationships while at Tennessee produced Henry's third and fourth children. The pattern continued once Henry reached the NFL, where he blossomed in 2002 in his second season, rushing for 1,438 yards and 13 touchdowns to earn a place in the Pro Bowl. His stats in 2003 included 1,356 yards and 10 touchdowns on the ground.
Off the field, Henry wandered from relationship to relationship. By not long after his retirement, he had fathered 11 children with 10 women.
After losing his starting role to Willis McGahee in 2004 while injured, Travis Henry forced a trade to the Tennessee Titans. McGahee would follow Henry in more than one respect: The former University of Miami star had 10 children with nine women.
Plenty of legal trouble
After his third and final 1,000-yard season in 2006, Travis Henry was released by the Tennessee Titans and signed with the Denver Broncos. He was leading the NFL in rushing through four games before injuries limited him significantly the rest of the way.
Henry went to court to head off a potential suspension for a positive marijuana test during the 2007 season and succeeded in his appeal. However, the Broncos gave up on Henry during the offseason. He was found to have tested positive for marijuana shortly afterward, triggering a one-year suspension.
Henry was arrested on Sept. 30, 2008, for alleged involvement in a cocaine trafficking ring. He took a plea agreement and was sentenced the following summer to three years in federal prison.
A New York Times story before Travis Henry's sentencing said he was also the subject of court actions related to missed child support payments. A lawyer representing him said the retired player was responsible for $170,000 a year in child support.