You Won't Believe What Johnny Manziel is Doing Now
For someone who flamed out of the NFL pretty quickly, Johnny Manziel gets a lot of publicity. There were high expectations for him coming out of college, but he was never able to translate his skills from the collegiate level to the NFL. Some of that was because of the difference in the level of play between college and the pros, and some of it was because of off-field issues like drugs. Regardless of the reasons, Manziel only played in 15 games — eight starts — in his two seasons in the NFL. But he is doing whatever he can to stay in the spotlight. Here's the latest on the former first-round pick.

College football success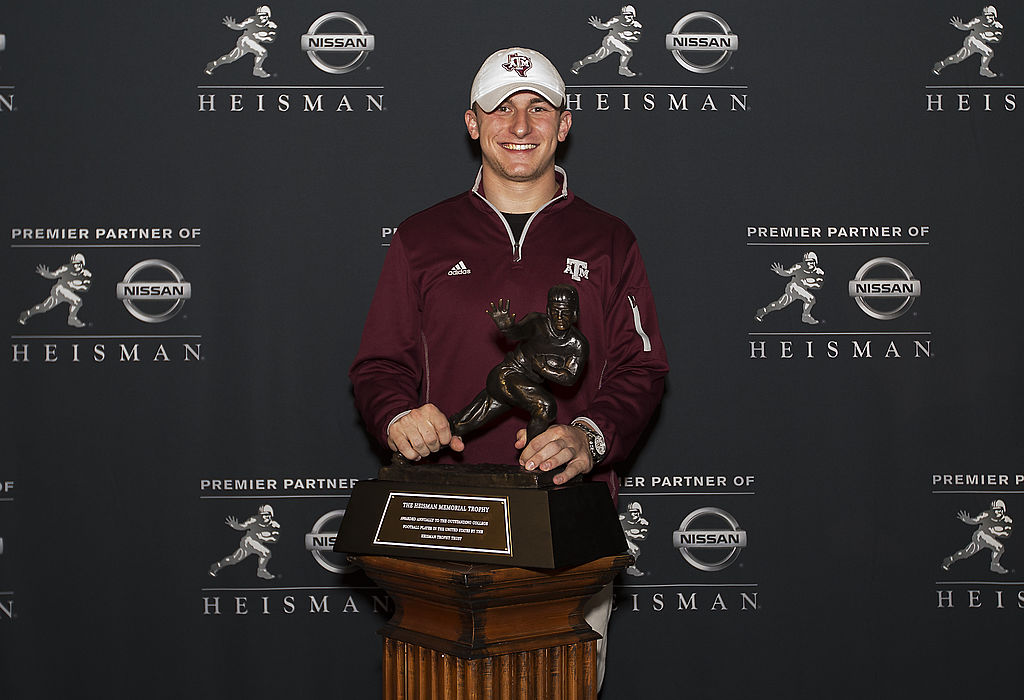 Johnny Manziel started both seasons he was at Texas A&M in 2012 and 2013. In 26 games, he completed just shy of 69% of his passes for 7,820 yards and 63 touchdowns while throwing 22 interceptions. He was also productive on the ground, rushing 345 times for 2,169 yards and 30 touchdowns. The Aggies went a cumulative 20-6, and they won both bowl games he started. Manziel won the Heisman Trophy in his freshman season and finished fifth in the voting as a sophomore.

NFL mediocrity
The Browns selected Manziel in the first round (No. 22 overall) of the 2014 draft, but his NFL stats pale in comparison to what he did at College Station. In 15 appearances, Manziel completed just 57% of his passes for 1,675 yards and seven touchdowns and seven interceptions.

His ground game also suffered at the professional level. In 46 rushing attempts, Manziel racked up 259 yards and just one touchdown. The Browns cut Manziel in March 2016, after just two of the four years on his rookie contract. That June, the NFL suspended Manziel for violating the league's substance-abuse policy, but he was never picked up by another NFL team so never served the suspension.

Post-NFL experience in Canada
Johnny Manziel didn't give up on his dream of a successful football career after losing his NFL job. In 2017, Manziel expressed interest in joining the Canadian Football League (CFL) and spent much of that year unsuccessfully negotiating a contract with the league's Hamilton Tiger-Cats. The sides finally agreed on terms of a two-year contract in May 2018. After Manziel sat on the bench for the Tiger-Cats' first six games of the 2018 CFL season, they traded him to the Montreal Alouettes in July. He played eight games for Montreal, going 106-for-165 for 1,290 yards, five touchdowns, and seven interceptions. His 29 carries netted him an additional 215 yards but no scores. In February 2019, the Alouettes released Manziel and the CFL barred him from signing with another team after he missed several required meetings.

Johnny Manziel returns to America, joins failing league
Later in 2019, Manziel returned to the States to join the upstart Alliance of American Football (AAF) in its inaugural season. He signed with the league in March and was later assigned to the Memphis Express through the waiver system. The 1-5 team needed another quarterback following an injury to Zach Mettenberger and Christian Hackenberg struggling to produce. Manziel played in two games on March 24 and 30, completing five of his eight passes for 61 yards and an interception. He left the second game early after suffering a concussion, and the AAF suspended operations three days later.

What's he up to now?
Now that Manziel has failed to succeed in three professional leagues in two countries, what is he doing now to try to remain relevant? He appears in an ad campaign for a car insurance company.

In a commercial for the "Get Direct and Get Going" campaign, Manziel discusses the uncertainty of not getting a paycheck and how the company can help with that. Also appearing in the campaign are rapper Fat Joe and fellow controversial sports figure Tonya Harding. Don't be surprised if Manziel's next stop is in the new XFL when that league relaunches in 2020.