You Won't Believe Kirk Cousins' Record on Monday Night Football
Kirk Cousins led the Minnesota Vikings to 30 points in the team's Week 13 Monday Night Football matchup against the Seattle Seahawks. But it wasn't enough to pick up the win as the Vikings fell to the Seahawks 37-30, dropping Minnesota to 8-4 on the year. At first glance, this was just a great football game between two competitive teams. To Kirk Cousins, it was another chapter in a career-long curse on Monday nights.
Dating back to his time with the Washington Redskins, Cousins has started eight games on Monday Night Football. With this latest loss against the Seahawks, the veteran quarterback is now 0-8 in games played on Monday Night. No quarterback has a worse Monday night record in NFL history than Kirk Cousins.
Seattle has dealt out a good portion of the pain
It doesn't help matters for Cousins that three of his eight career Monday Night Football games have come against the Seattle Seahawks. Seattle owns the best winning percentage in Monday Night Football history, and under Pete Carroll the team is now 10-2 (83.3%) over its last 12 appearances on Monday night.
Kirk Cousins had 276 passing yards, two touchdowns, and one interception in this most recent loss to the Seahawks. Last season, Cousins and the Vikings lost to the Seahawks 21-7, with Cousins finishing the day with 208 passing yards, one touchdown, and no interceptions.
Cousins had the very first Monday Night Football game of his career against the Seahawks when he was still a member of the Washington Redskins back in 2014. He had 283 passing yards with two touchdowns and no interceptions in that one, but his Redskins fell short in a 27-17 loss at home to Seattle.
Kirk Cousins hasn't played all that bad
For a guy who has gone 0-8 over a certain stretch of games, you'd expect to see some pretty bad numbers. But for the most part, Kirk Cousins hasn't been that bad on Monday nights.
In total, Cousins is 191-for-292 (65.4%) on Monday nights with an average of 269.2 passing yards per game and a touchdown-to-interception ratio of 11-to-5. He hasn't been stellar, but he hasn't been 0-8 awful, either.
Kirk Cousins' defenses have let him down in prime time over the years, allowing 28.9 points per game over Cousins' Monday night career. To put this number into perspective, only the Miami Dolphins (allowing 31.4 points per game) and the Arizona Cardinals (allowing 29.3 points per game) have given up more points this season than the Redskins and Vikings have given up on average for Cousins in his time as a starter.
Minnesota should still be okay in 2019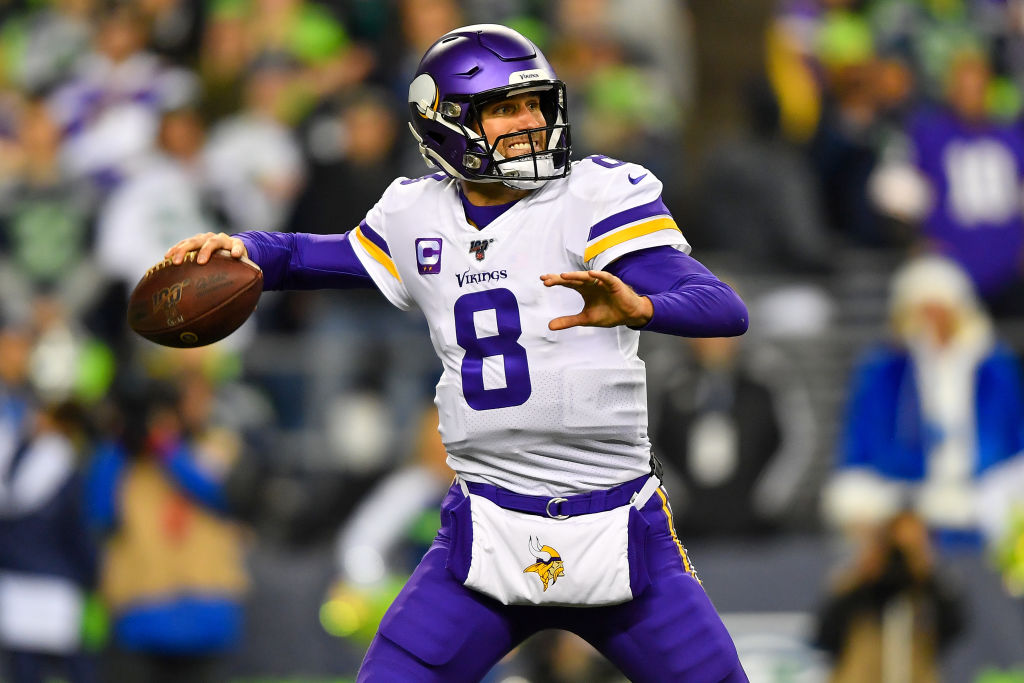 The Vikings are still in good shape to make the postseason in 2019. They currently hold the final wild card spot in the NFC, and they get three of their last four games at home, all against their NFC North rivals in the Detroit Lions, Green Bay Packers, and Chicago Bears. Their one remaining road game comes against the 4-8 Los Angeles Chargers.
There's just one problem; that home game against the Packers on December 23 is being played on Monday night. Kirk Cousins and his faithful fans in Minnesota will be hoping for an early Christmas miracle in that one.