You Won't Believe What Antonio Brown Is Doing to Stay Relevant
Antonio Brown's rapid decline from being one of the top superstars in the NFL to out of the league completely has been fascinating to watch unfold. Despite his countless distractions, Brown was given every opportunity by a very patient coaching staff to succeed and focus on football in Oakland. He squandered all of those opportunities and was eventually released by the Raiders.
Brown got another chance when he was signed by the New England Patriots after his release from Oakland. His stay in New England lasted only 11 days before he was released by Bill Belichick and the Patriots front office, who didn't want to deal with the distraction and potential league discipline set to come down on him from allegations of sexual assault.
Antonio Brown has been a free agent since September 20. Always determined to be at the center of attention, Brown has been extremely active on Instagram and on Twitter since his last release. And in his latest attempt to stay relevant, the beleaguered former wideout has started to ramp up production on his YouTube channel.
Antonio Brown is posting workout and hype videos
In his most recent YouTube video posted on November 5, Antonio Brown is putting in a hard workout on the field in the middle of the night. Titled "Antonio Brown's Time is Coming", the video is professionally shot with intense music and a voice-over of Brown talking about how determined and hard-working he is.
A video posted on November 2 titled "AB Purpose" is in the same format, with video footage of Brown putting in a workout at the gym with the former wideout providing a voice-over. "The purpose of number 84 is: 8 times 4 equals 32. There's 32 NFL teams," Brown explains in the video. "Drafted late, you know, sixth-round pick. It reminds me, when I'm in the field, that 32 teams passed up on me. My number's just motivation. When I put that jersey on, I know why I'm rocking it."
Brown is also reliving his former glory
Antonio Brown's hype videos are about the present, showing him staying in shape and trying to sell the idea that he's ready for another shot in the NFL. The two videos before that seem to be Brown remembering the good old days.
On October 30, Brown posted a video called "Antonio Brown Makes a Cameo in Drake's God's Plan video". This video shows a behind-the-scenes cut from Brown's cameo on Drake's music video. But what's odd about this is the timing; that music video was released back on February 16, 2018, when Antonio Brown was still a member of the Pittsburgh Steelers. Name-dropping Drake with a current-sounding title nearly two years after the fact just screams that Brown is desperate to be back in the spotlight.
Brown went even further back on October 27, posting a video of highlights from his days in high school and college. The caption of the video read "sharing my journey since high school days".
He continues to miss the point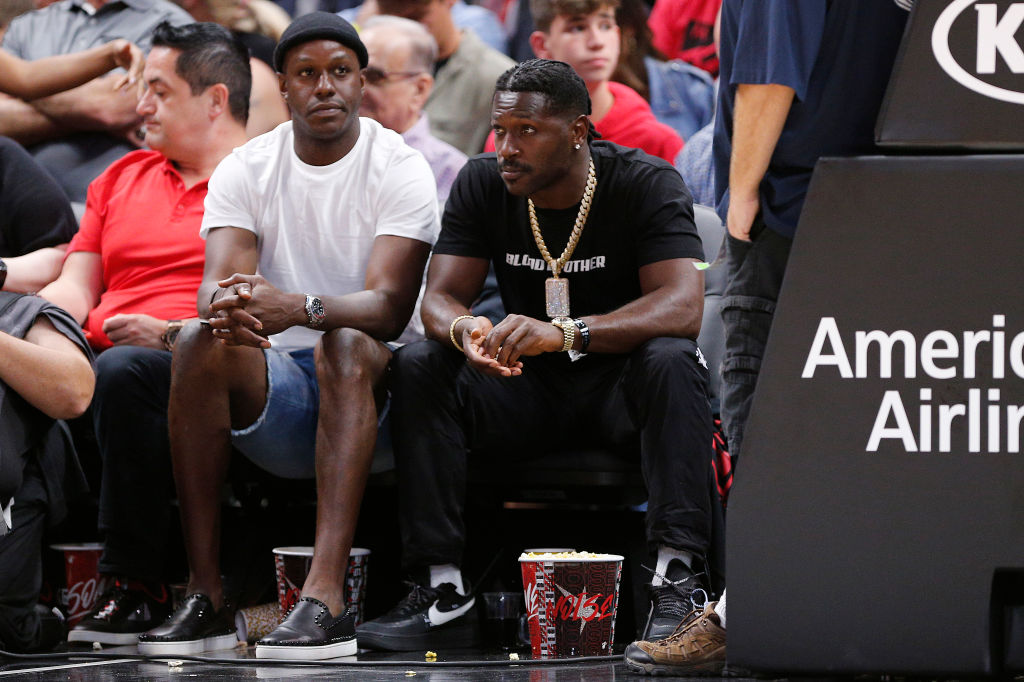 Antonio Brown's work ethic on the football field is beyond reproach. Everyone already knows that he has incredible physical gifts and works extremely hard in practice. Everyone also knows how good he is at football; his resume speaks for itself with 841 receptions, 11,263 receiving yards, and 75 touchdown catches across 131 career games.
Brown thinks that posting videos of him showing off his talent or celebrity will interest teams. But what he doesn't seem to understand is that the reason he got cut from the Oakland Raiders was his incredibly bad behavior. The reason he got cut by the Patriots was for sending out threatening text messages to the woman that had brought the sexual assault allegations against him. Even if they were false, Brown threatening the woman and calling on his friends to take actions against her were over the line.
And yet there are no video apologies from Antonio Brown. No remorse. No admission of guilt or wrong-doing. No taking responsibility for his actions. Just more of the same self-centered nonsense that is currently keeping him out of the league.
There will almost certainly be a team desperate enough to sign Antonio Brown eventually, whether it's the Philadelphia Eagles this season or another team next season. But that team will run into the same exact problems that the Pittsburgh Steelers, Oakland Raiders, and New England Patriots ran into; Brown is a self-centered diva that will create a toxic environment everywhere he goes.
On the bright side for Brown, being a diva will make him fit right in as a YouTube creator.