Is Todd Bowles a Lock to Be the First NFL Head Coach Fired in 2017?
Coaching in the National Football League is not for the faint of heart. Coaching staffs are often required to put in 20-hour work days; they must deal with some of the most egotistical athletes in the world; they are almost always the scapegoat when their team loses; and to top it all off, long-term job security is virtually nonexistent for the overwhelming majority of NFL coaches.
With the 2017 NFL season rapidly approaching, the oddsmakers in Las Vegas have put together their version of an NFL coach "hot seat." Here's who they give the best odds of being fired first in 2017.
[Editor's note: Article based on odds as of June 28, 2017.]
7. Sean Payton, New Orleans Saints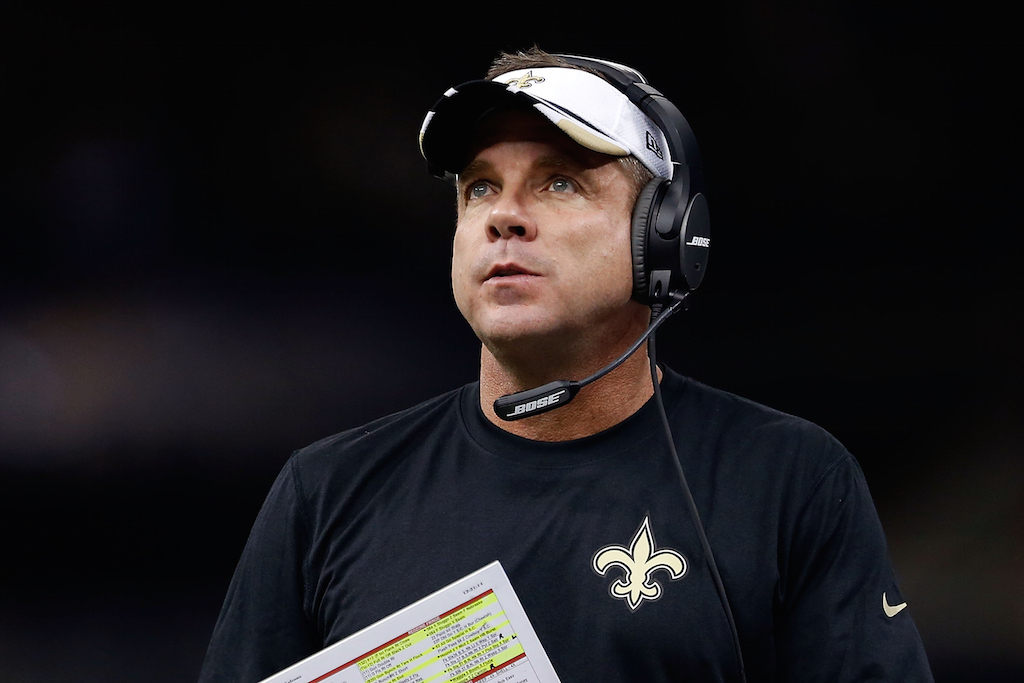 Odds: +2000 (20-1)
Sean Payton is the best coach in Saints history. You cannot argue this fact. And for that reason alone we were fairly surprised to see him rank this high on the list. Nevertheless, it's hard to ignore all of the rumors circulating about his future with the franchise over the last couple offseasons. At the end of the day, though, it would take a completely disastrous season for the Saints to actually fire Payton, who has four years and over $30 million remaining on his current contract. We don't see that happening.
6. Bill O'Brien, Houston Texans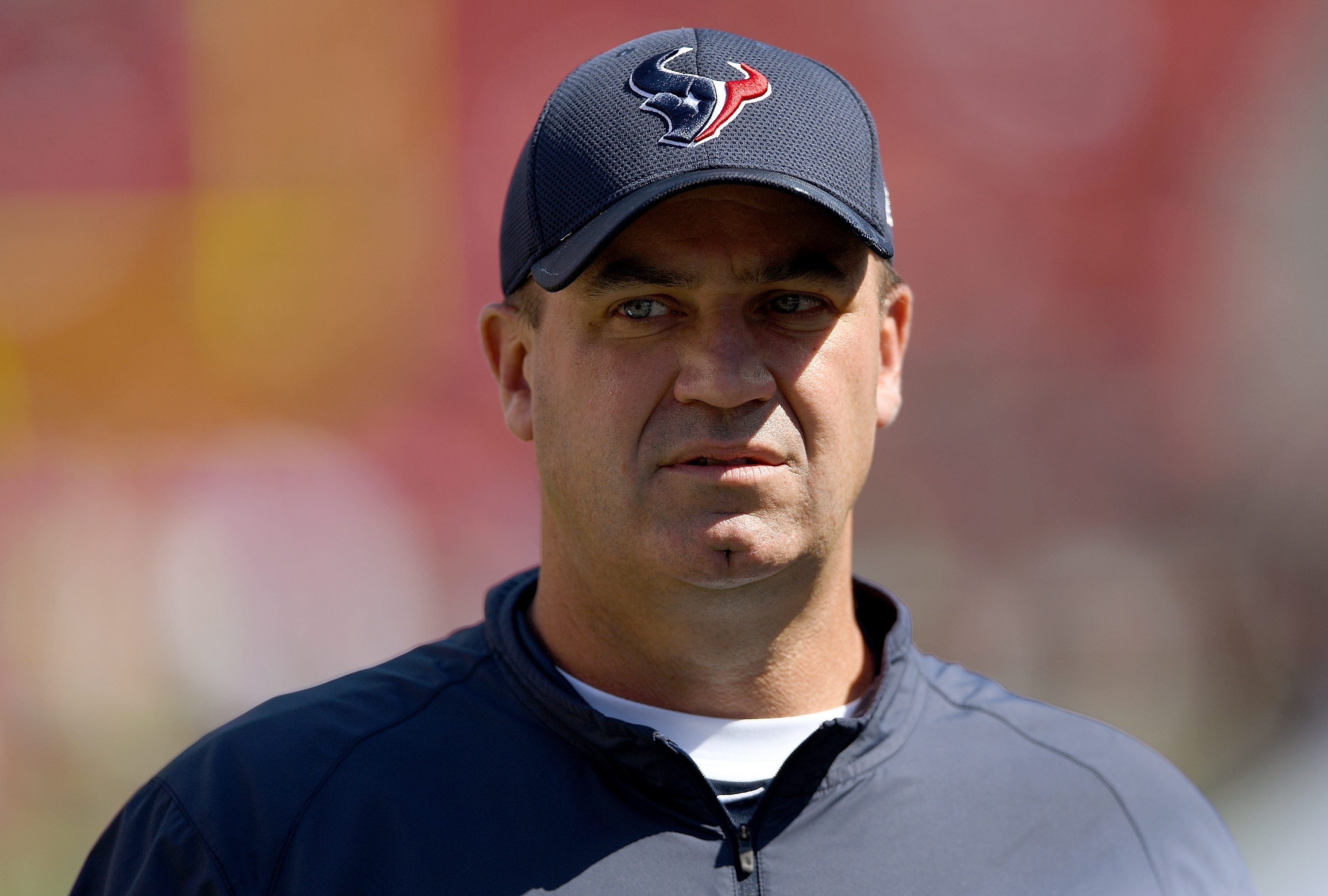 Odds: +1500 (15-1)
The Texans gave Bill O'Brien a clear vote of confidence this offseason when they sided with the 47-year-old head coach over jettisoned quarterback Brock Osweiler, who signed a $72 million contract less than a year prior to his trade to the Cleveland Browns. That said, the pressure is undoubtedly on O'Brien to guide the Texans, who have a championship-caliber defense in place, on a deep postseason run in 2017. While we don't see him getting fired any time soon, O'Brien's will start to feel the heat if the Texans fail to make the postseason this fall.
5. Jim Caldwell, Detroit Lions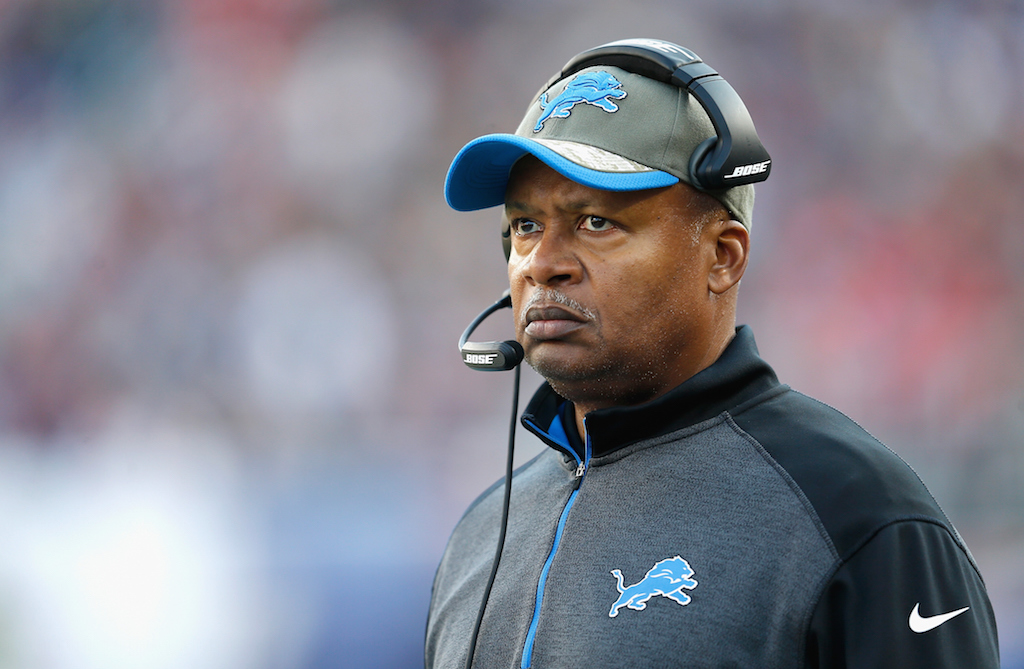 Odds: +1000 (10-1)
For one reason or another, Jim Caldwell shows up on most NFL coaching hot seats for the last couple of years. While there are a couple of signals — Detroit General Manager Bob Quinn did not hire him and did not extend his contract this offseason — that Caldwell could be in trouble, we would be absolutely shocked if he gets fired in 2017 (barring a disastrous season, of course).
In three years on the job, the 62-year-old head coach has a 27-21 overall record with two postseason appearances. Another playoff appearance will likely result in a contract extension for Caldwell.
3. (tie) Chuck Pagano, Indianapolis Colts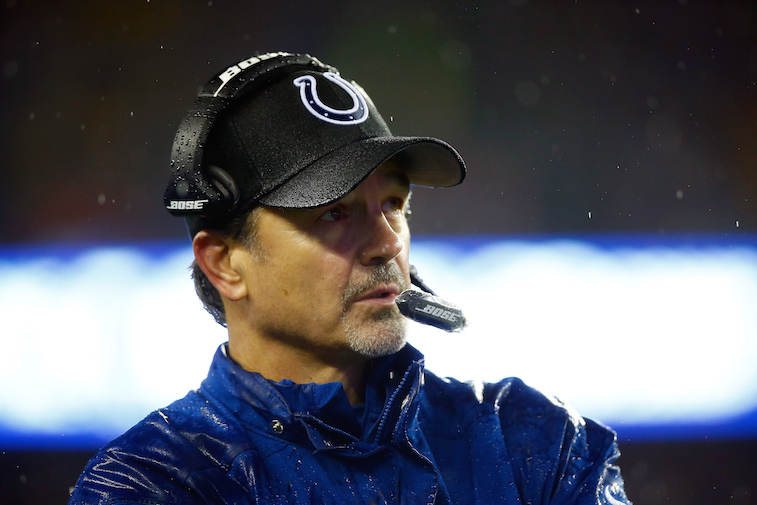 Odds: +800 (8-1)
This one is simple and straightforward. Chuck Pagano is facing a do-or-die season in 2017. Andrew Luck is now an established veteran quarterback; the Colts play in one of the weakest divisions in the league; and at the end of the day, anything other than a division title will be considered a disappointment. It also bears pointing out that the Colts have a new General Manager in Chris Ballard, who has no prior affiliations to Pagano.
3. (tie) John Fox, Chicago Bears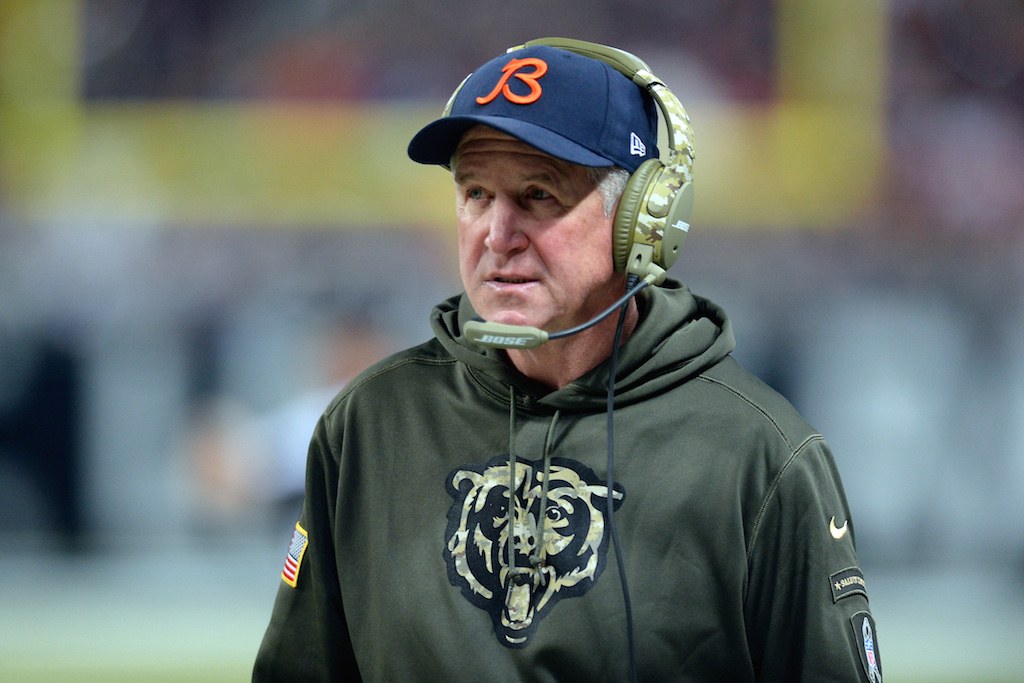 Odds: +800 (8-1)
Simply put: John Fox is in a tough situation in Chicago. On top of having to deal with coaching up a roster that is undisputedly inferior to the vast majority of the league, he also has a budding quarterback controversy between high-priced free agent acquisition Mike Glennon and rookie Mitchell Trubisky — the No. 2 overall pick in the 2017 NFL Draft — on his hands.
Fox has compiled a 9-23 record in his two seasons in Chicago. And with the Bears expected to contend for the No. 1 overall pick in the 2018 NFL Draft, Fox's career in the Windy City is clearly on life support.
2. Hue Jackson, Cleveland Browns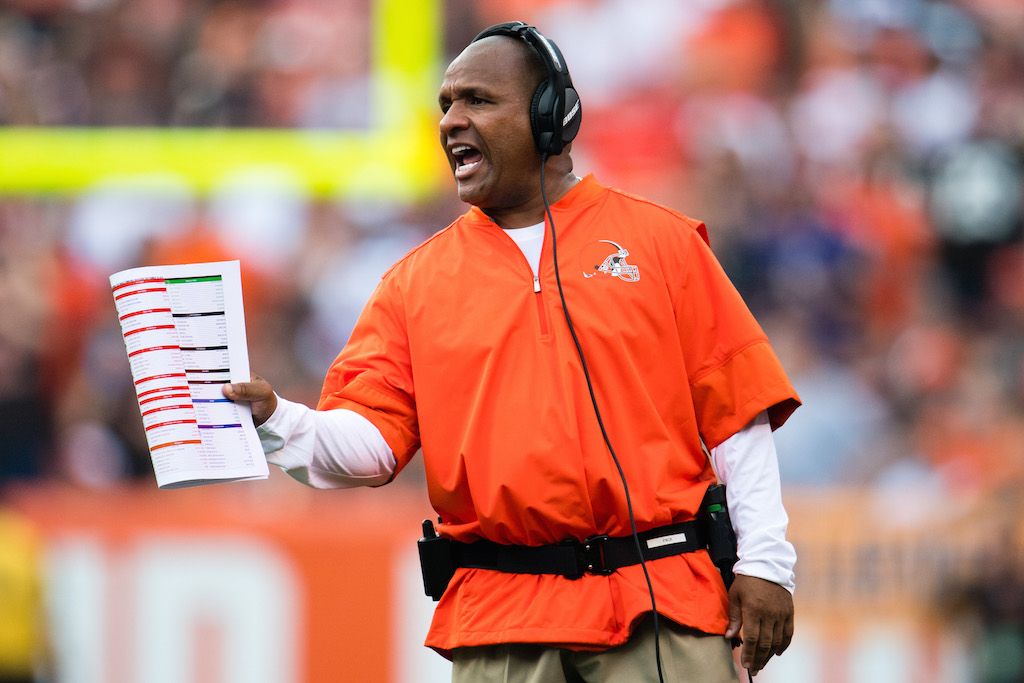 Odds: +500 (5-1)
When it comes down to it, it would be incredibly unfair and downright foolish if the Browns fired Hue Jackson at any point in 2017. In 2016, the 51-year-old head coach inherited a roster that was among the worst in league history, which makes it nearly impossible to accurately evaluate Jackson's viability as a head coach based off on that season alone.
The Browns did spend big money during free agency in addition to landing an impressive haul in the 2017 NFL Draft. For that reason, the expectations have to be higher in Cleveland this fall. Regardless, even the great Bill Belichick wouldn't be able to contend for a playoff spot with the roster Cleveland has assembled. We we'd be shocked if the Browns make a coaching change in 2017.
If the Browns did fire Jackson after only two seasons, they will likely have a difficult time finding anybody with a semblance of a proven track record to willingly take the job.
1. Todd Bowles, New York Jets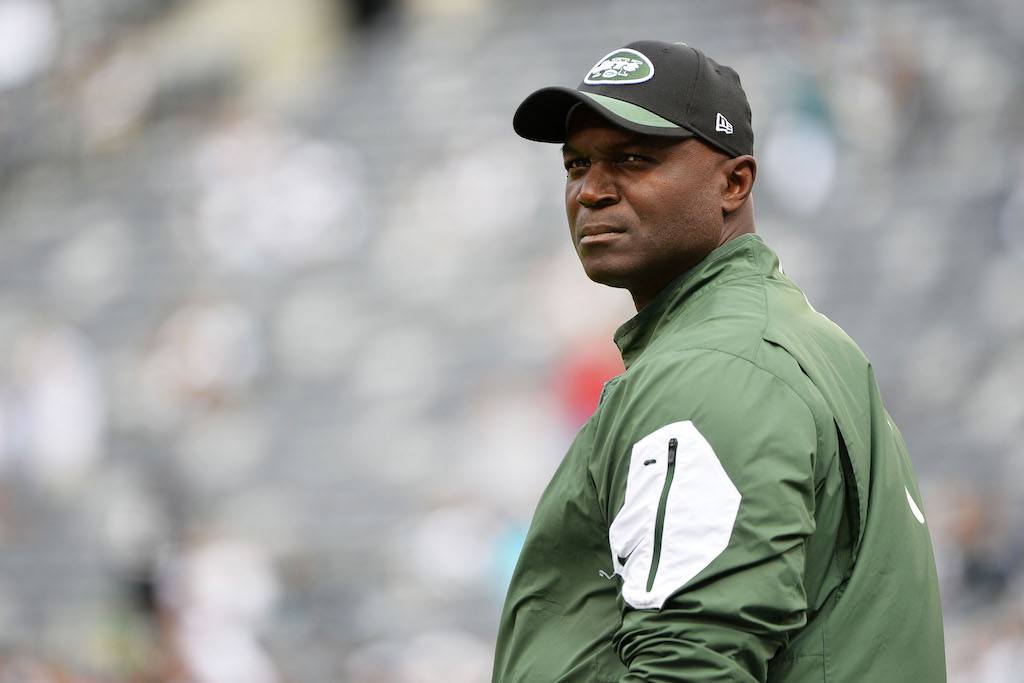 Odds: +150 (1.5-1)
Todd Bowles comes in with the best odds of being the first NFL head coach to get fired in 2017. It makes perfect sense. The Jets have already cleaned house when it comes to their roster, which leads us to believe that they are perfectly content with tanking during the 2017 season. And by tanking, we mean that they are very much one of the top contenders for the No. 1 overall pick in the 2018 NFL Draft.
Coaches feel the heat any time their team is in the running for the worst record in the league. And with Bowles' 15-17 overall record with the Jets, it's only a matter of time before the Gang Green makes a coaching change.
Statistics courtesy of Pro-Football-Reference. Odds courtesy of TopBet via OddsShark.