You'll Want to Keep an Eye on These Star College Football Players in 2017
For many fans, football season begins and ends with the NFL. These individuals are most concerned with offseason free agent signings, potential Super Bowl matchups, and ill-timed suspensions that may ruin their favorite franchises. And while there's nothing wrong with placing one's eggs in the basket that is the National Football League, you might want to save some of those eggs for the beautiful world of college football. We have high hopes for the 2017 season.
Loads of unbelievable talent is about to hit the field in college football in 2017. Some players, however, deserve a bit more attention than others. In our opinion, here's a look at some players you won't want to miss.
Baker Mayfield, QB, Oklahoma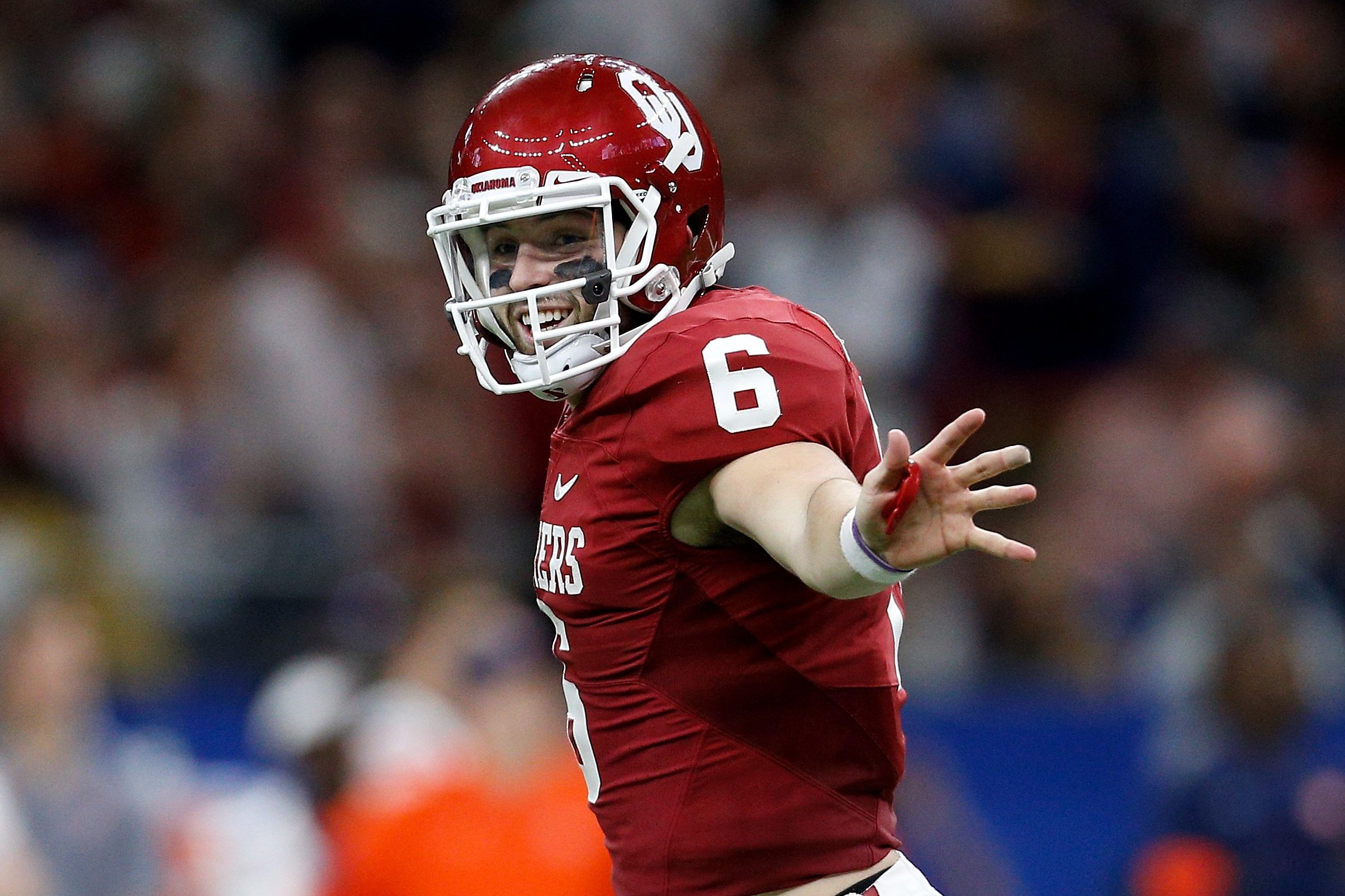 Since becoming the quarterback at Oklahoma, Baker Mayfield has been nothing short of fantastic. In 2016, the man who was named the Big 12 Offensive Player of the Year the season before completed an NCAA-best 70.9% of his passes, threw for 3,965 yards, 40 touchdowns, and just eight interceptions, and added another 177 yards on the ground along with six rushing scores.
For the second consecutive season, Mayfield was named a Heisman Trophy finalist, finishing third in the overall voting (one spot better than his fourth-place showing in 2015). If the superstar QB is able to put together another year of individual excellence and help the Sooners make a push for a national title, he has as good a chance as any player to strike that famous pose in 2017.
Derwin James, S, Florida State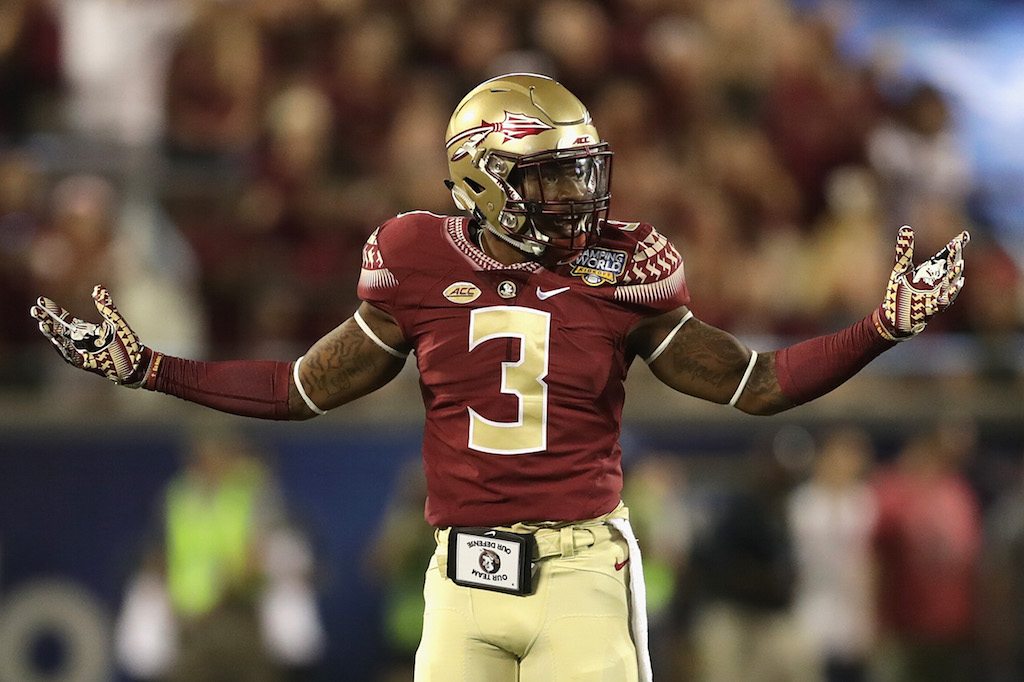 Florida State has a knack for overwhelming opponents with its physical play and jaw-dropping athleticism. No player represents this lethal combination like defensive back Derwin James. At 6-foot-3, 211 pounds, James is the ultimate heat-seeking missile at the safety position. Said NFL.com analyst Bucky Brooks when describing the FSU stud:
James has the size of a linebacker and the explosiveness of a "lockdown" corner. He's always on the attack, roaming sideline to sideline as a designated playmaker in the box. In addition, James shows outstanding skills and instincts as a rusher when used on blitzes off the edge. He overwhelms blockers with his combination of strength, explosiveness and power, which makes him a valuable asset as a potential "hybrid" linebacker at the next level.
If you know all this about James and you're still hoping to challenge Florida State through the air, we have just two words for you: Good luck.
Courtland Sutton, WR, SMU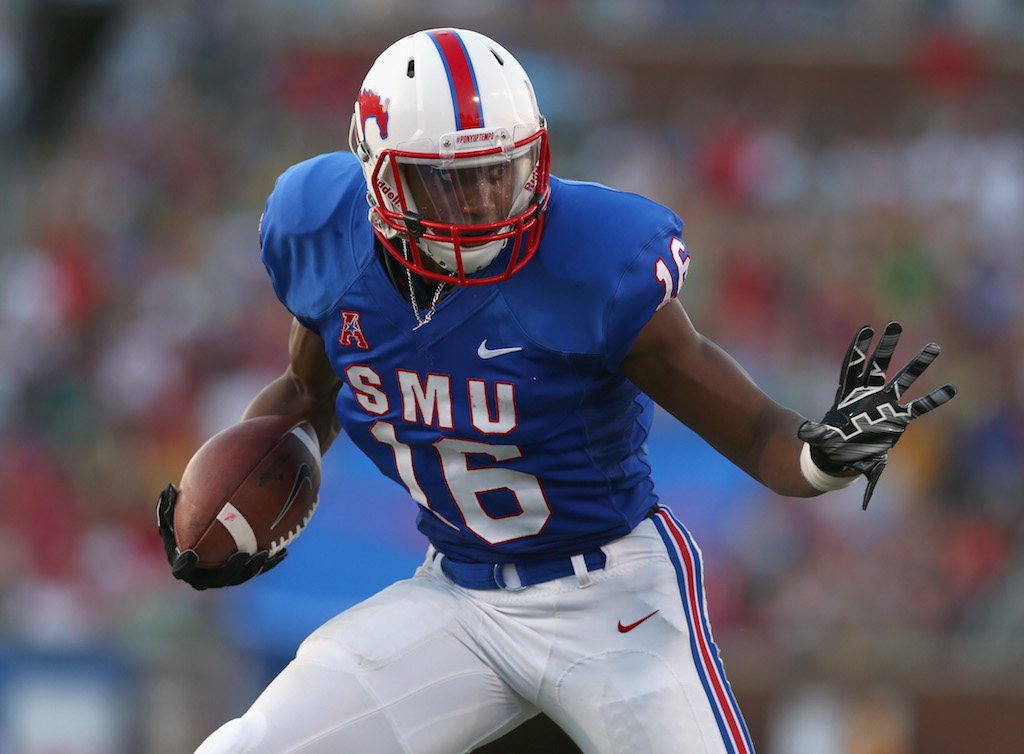 As a team, the SMU Mustangs likely aren't on the average fan's radar. But if you're a fan of monster receivers who tend to make highlight-reel catches, then you might want to start paying attention to Courtland Sutton.
During his redshirt sophomore season last year, the 6-foot-4, 215-pound receiver averaged 16.4 yards per catch and dominated the competition to the tune of 76 receptions for 1,246 receiving yards and 10 touchdowns. According to Bleacher Report's Matt Miller, in terms of the 2018 draft class, Sutton is already the favorite wideout for many NFL scouts. If you're not convinced, turn on an SMU game and see for yourself.
Ed Oliver, DT, Houston
Houston's Ed Oliver was just a freshman in 2016, but you'd never know it based on the way he wreaked havoc on the opposition. The superstar defensive tackle finished the year with 65 tackles, including 22 for loss and five sacks. For good measure, the 6-foot-3, 290-pound monster of a man also had two forced fumbles. We can't wait to see how disruptive Oliver will be in 2017. We certainly wouldn't want the task of blocking him.
Lamar Jackson, QB, Louisville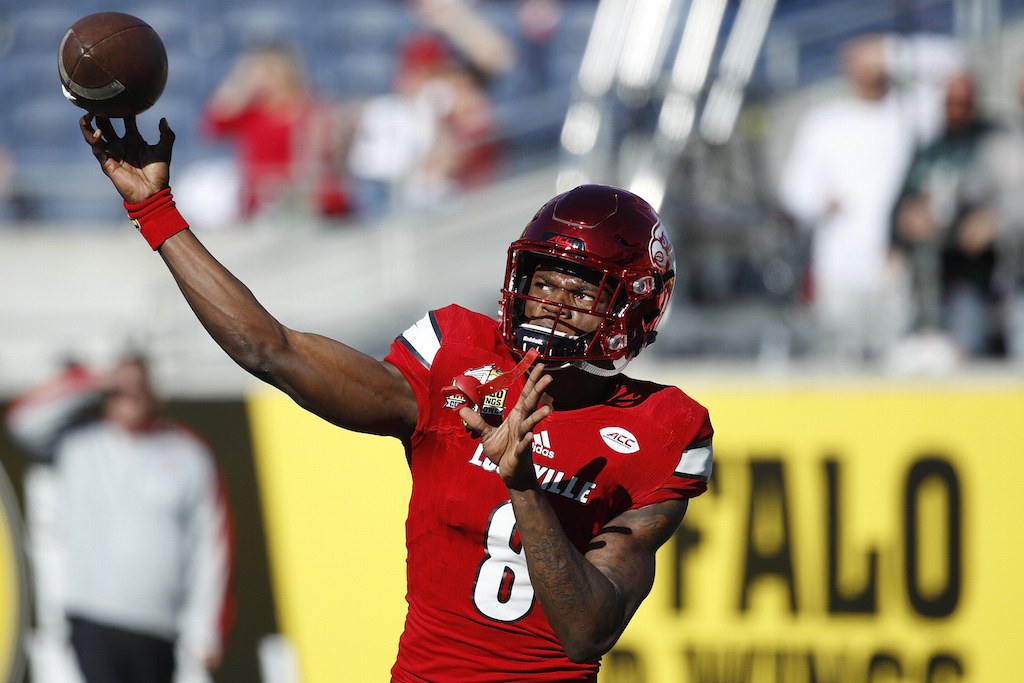 Louisville quarterback Lamar Jackson was hands down the most electrifying player in college football last season. Not only did he throw for 3,543 yards, 40 touchdowns, and just nine interceptions, the reigning ACC Player of the Year added another 1,571 yards and 21 scores on the ground.
With his otherworldly performance in 2016, Jackson took home numerous individual honors, including the Heisman Trophy. It will be difficult for the Cardinals QB to top his showing from last season. Still, who doesn't love an encore?
Saquon Barkley, RB, Penn State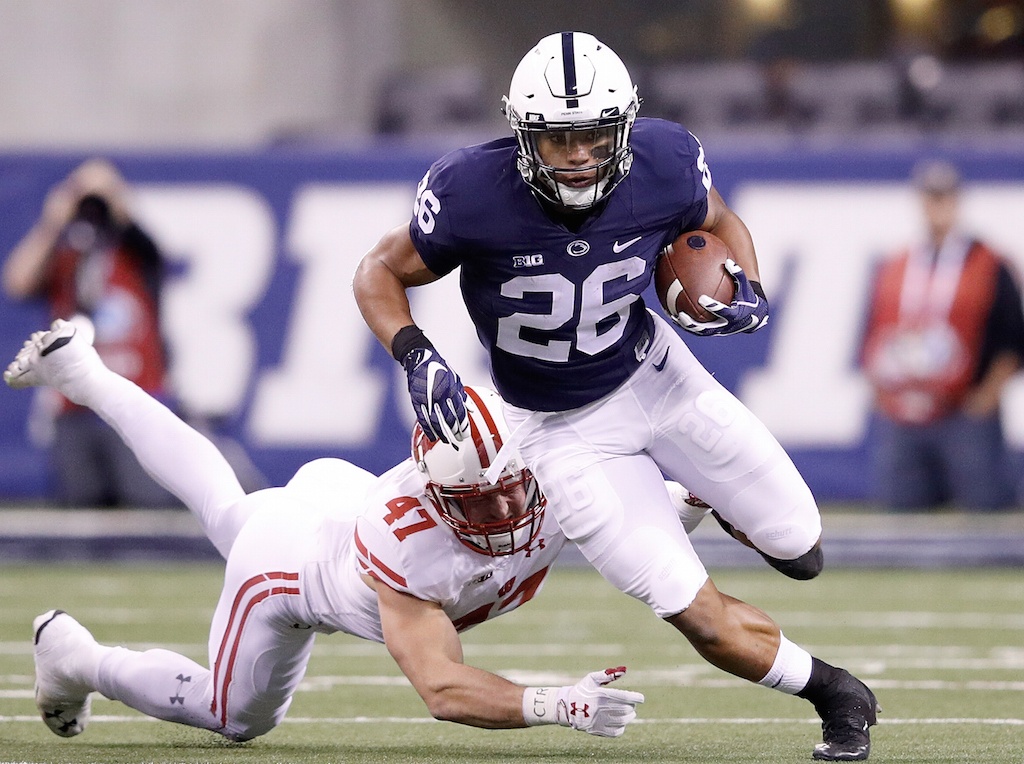 As crazy as this may sound, Penn State's Saquon Barkley might be a better running back prospect than Ezekiel Elliott. Last season as a sophomore, Barkley carried the ball 272 times, rushed for 1,496 yards, and amassed 18 rushing touchdowns. He also showed an unbelievable ability to catch the ball out of the backfield, as evidenced by the 28 receptions for 402 receiving yards and four scores.
Simply but, Barkley is big, strong, fast, elusive, and impossibly difficult to bring down. He's a three-down running back and a bona fide star. With Barkley in the backfield, Penn State games are can't miss in 2017.
Sam Darnold, QB, USC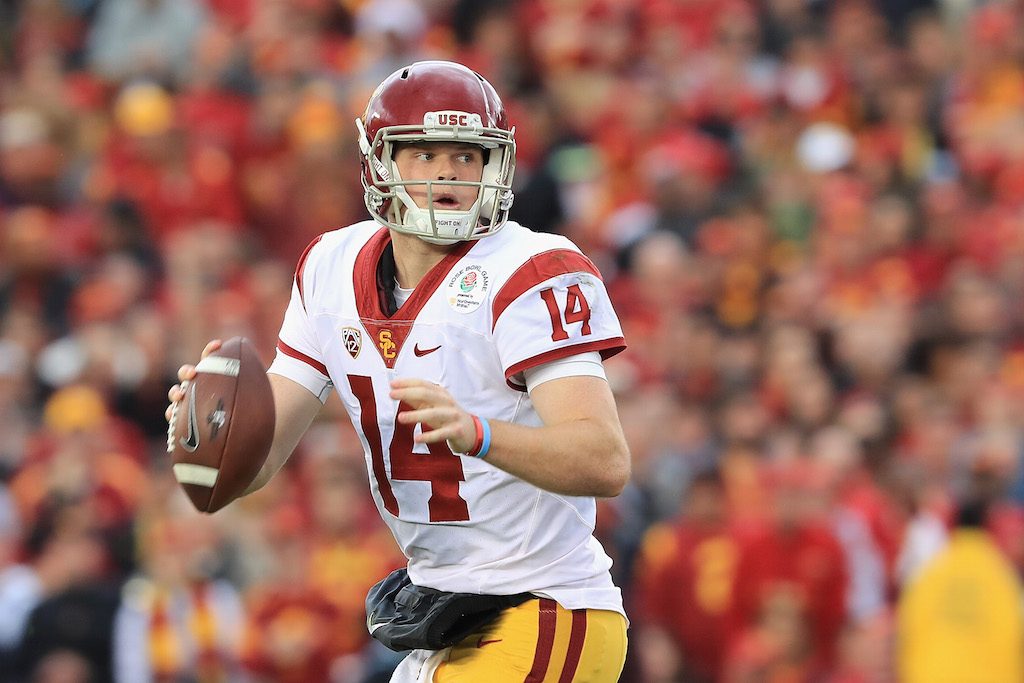 It takes a special talent to handle the pressure that comes with being the starting quarterback at USC. Luckily for the Trojan Family, pressure isn't a problem for Sam Darnold. As a redshirt freshman, Darnold completed 67.2% of his passes, threw for 3,086 yards, 31 touchdowns and nine interceptions. He also led USC to a 52-49 come-from-behind victory over Penn State in the Rose Bowl by tossing five touchdowns and amassing 453 passing yards.
The kid can make all the throws, doesn't get rattled when the pocket breaks down, and isn't fazed by the big moment. Darnold has all the tools NFL franchises look for in a potential franchise quarterback. As a result, he could easily become the No. 1 pick in the upcoming 2018 draft.
Statistics courtesy of SR/College Football.