6 Young NFL Players Poised for Breakout Seasons in 2019
While the NFL is full of proven veteran talent under constant pressure to perform, every year, upstart young players emerge to capitalize on their own potential to move towards stardom. These types of players can help make or break a team's season in unexpected ways. With that in mind, let's take a look at six young NFL players poised for breakout seasons in 2019.

6. Lamar Jackson, Baltimore Ravens
The Ravens made waves in the 2018 NFL Draft by picking Jackson towards the end of the first round. When Joe Flacco struggled with an injury, Jackson entered the starting lineup. The Ravens' foresight paid off, as he led them to a playoff berth last year.

With a year of experience under his belt and Flacco gone and not looking over his shoulder, it's clear that this is Jackson's team. His combination of passing and running ability should cause nightmares for opposing defenses for years to come.

5. Nick Chubb, Cleveland Browns
The sophomore running back hasn't been talked about as much as his QB (Baker Mayfield) or his team's newest wide receiver (Odell Beckham, Jr.), but he's poised for a big year. In his rookie campaign, Chubb scored 10 touchdowns (eight rushing, two receiving).

Beckham's presence on the outside should do wonders for Cleveland's ability to run the ball, and the man poised to benefit more than anyone from that will be Chubb.

4. Nick Bosa, San Francisco 49ers
Bosa was the highest rated defensive player in the 2019 NFL draft. SB Nation referred to him as "the best player in the 2019 NFL Draft." He entered the league ready to dominate, and he should prove to be one of the young NFL players who stand out in 2019.

In college, Bosa showed incredible explosiveness and athleticism. He was already an NFL-ready talent at defensive end last season. He's almost certain to be a disruptive force on the defensive side of the ball for years to come.

3. Dwayne Haskins, Washington Redskins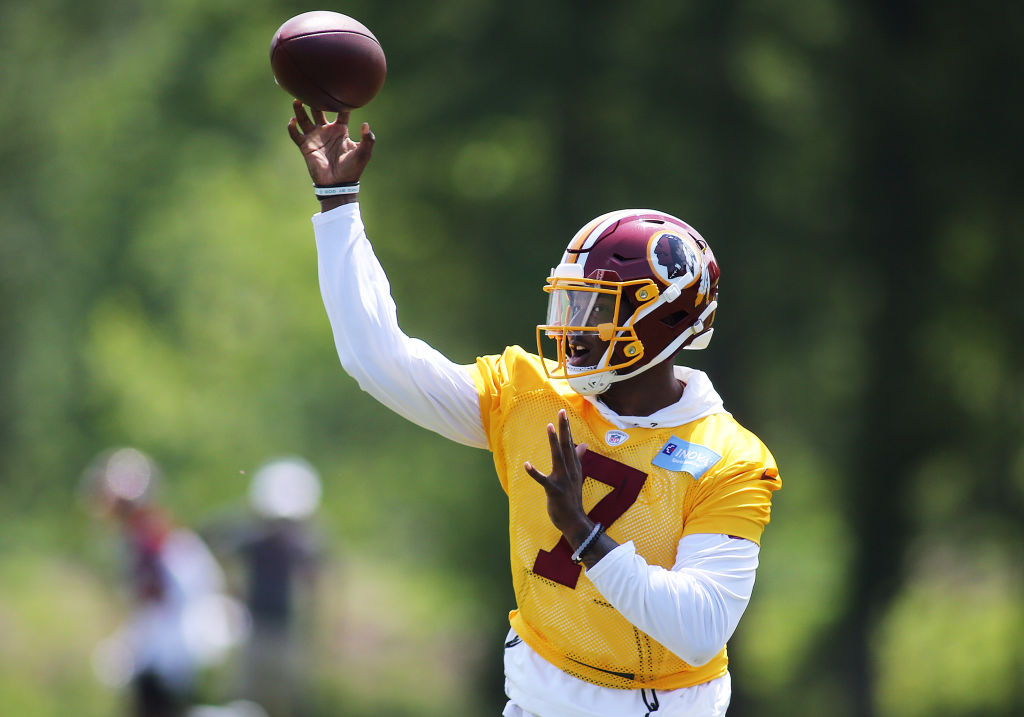 The Ohio State star looks to be the most NFL-ready prospect of the 2019 rookie QB class. He's a phenomenal pocket passer, which he proved in college. Last season for the Buckeyes, he threw for 50 touchdowns and only eight interceptions. Those totals are so good they almost look like typos.

Haskins has a capable backup in Case Keenum who may start the season if Haskins isn't ready. That gives him plenty of time to mature into the role. In the worst case scenario, expect Haskins to take over a few games into the season and never look back.

2. Tre'Quan Smith, New Orleans Saints
Smith is the perfect example of being in the right place at the right time. His numbers in his rookie season were modest: 28 receptions with 427 yards receiving. But the Saints are expecting big things in year two. Head coach Sean Payton said that Smith is expected to "take a big leap forward in his development."

The Saints are a pass-happy team, and quarterback Drew Brees is always looking for new players to highlight in the Saints' high-powered offense. Smith is as good a candidate as anyone to play a big role in that offense.

1. Kyler Murray, Arizona Cardinals
Murray comes to Arizona with high expectations: not only did the team take him with the number one pick, but they also (somewhat ineptly) jettisoned 2018 top pick in Josh Rosen to make room for the Oklahoma Sooners star. He's already setting records before throwing a pass. If Murray plays up to his potential, it will make it all worth it for the Cardinals.

After a historic NCAA season last year, Murray looked like the best player in college football. While he's not a prototypical QB like Haskins, he has tremendous upside. Despite his height, he's drawn comparisons to Russell Wilson and Drew Brees. The game is tailored to many types of QBs in this era, meaning they don't have to tower over the line of scrimmage to succeed.
Without a great backup QB on the roster, despite what Arizona coach Kliff Kingsbury says, Murray will have every chance to succeed as a rookie. Expect Murray to excel and be one of the young NFL players to become a new star in 2019.