NFL: Tennessee Titans 2015 Cheat Sheet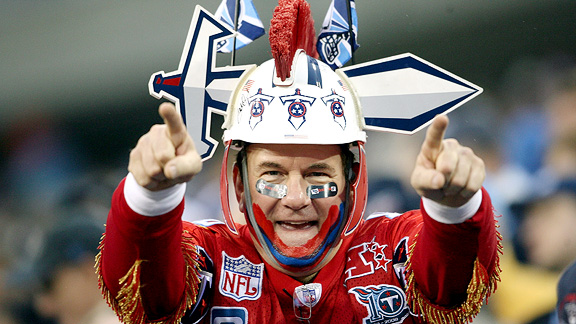 Have you ever heard that the NFL is a league with great parity? That was a joke – of course you have! Former players, talking heads, and especially fans love to drone on about the ability of moribund 3-13 teams to draft a few good young players, sign a couple others, and end up 10-6 thanks to a new "tough as nails, defensive-minded head coach."
The point is that, unless you're from St. Louis, Cleveland, Oakland, or Buffalo, your team has actually qualified for the postseason at least once in the past decade (sorry, guys). If you're not a fan of the Tennessee Titans though, you're probably at least mildly surprised they weren't on that list as well.
You see while there are some teams who at least rise to the level of having their futility be noteworthy, or who at least offer distractions like the Jaguars and their goofy mascot, there are others who pass by undetected. The only thing we can be certain of is that whether they're horrendous or very nearly average, they aren't setting the world on fire or winning anything substantial.
What's more, they're seldom employing any of the league's highest profile players – was anyone even paying attention when Chris Johnson literally ran away with over 2,000 yards and the rushing title in 2009? — or positioning themselves as a major contender for their own division title heading into a season, so as a result, there's neither an expectation of success nor a disappointment for failure. The Titans play in Music City, but no one ever seems to hear them.
So, to bring you up to speed, here's the last year and change in a nutshell: The Titans finished a perfectly okay 7-9 in 2013 and for that result, on the heels of 6-10 and 9-7 in 2012 and 2011, respectively, they fired a solid coach in Mike Munchak and in his place, bought the Ken Whisenhunt fool's gold. Whisenhunt is the offensive equivalent of Lovie Smith – a coach who had early success and a Super Bowl run that belied his actual abilities who, incidentally, took over a team in 2014 and led it to a 2-14 record. To quote Drew Magary, "everyone beats the whiz!"
On the other hand, the arrival of Marcus Mariota means that hope springs eternal in Nashville, even if those outside of that region still aren't paying close attention. Let's take a look at the club's additions, subtractions, and if they'll still be singing the blues come December.  
Additions and Subtractions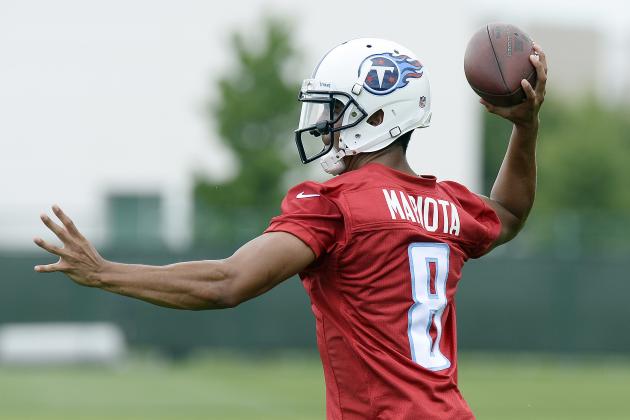 IN: (via the draft) — QB Marcus Mariota, WR Dorial Green-Beckham, G/OT Jeremiah Poutasi, DE/DT Angelo Blackson, FB Jalston Fowler, RB David Cobb, LB Deiontrez Mount, C Andy Gallik, WR Tre McBride;
(via free agency and trades) — WR Harry Douglas, OT Byron Bell, C Fernando Velasco, DE/OLB Brian Orakpo, S Da'Norris Searcy.
OUT: QB Jake Locker, WR Nate Washington, TE Anthony Fasano, OT Michael Roos, OT Michael Oher, ILB Colin McCarthy, CB Perrish Cox, S Bernard Pollard, S George Wilson, KR Leon Washington.
The most obvious swap here is the end of the Jake Locker era/experiment, who retired at 26, and the beginning of Marcus Mariota's possibly promising NFL career. What's curious about each of those quarterbacks, in juxtaposition to erstwhile pocket passer and selfie taker extraordinaire Zach Mettenberger, is that neither comes anywhere close to fitting the classic Whisenhunt QB mold.
Whisenhunt's reputation as a sort of quarterback and offensive guru is derived heavily from his time as the head coach or offensive coordinator for Ben Roethlisberger, Kurt Warner, and in 2013 with Philip Rivers. With the exception of Roethlisberger, who is by no means a "running" quarterback, those guys are practically immobile and all are classic, conventional, outstanding pocket passers. Or, you know, the opposite of Mariota. What could go wrong?
It's curious that the Titans went after so few run-stoppers in free agency or the draft, having finished 31st against the run versus a respectable 15th against the pass last season. Offensively, they rated 22nd in passing and 26th in rushing.
To that end, the additions of Dorial Green-Beckham and Harry Douglas might represent an upgrade over the departed Nate Washington. Delanie Walker and Kendall Wright are still here to catch passes, too. And the pass rush wasn't terrible last year, but having spent two of the past three seasons largely injured, the Titans are betting a lot on Brian Orakpo.
What really undoes this team though, aside from their porous run defense, is the lack of production from their running game, where they'll presumably continue to roll with Bishop Sankey unless David Cobb can take over. Shonn Greene seems to have hit his ceiling as a backup. In fairness to them (and as a warning to Mariota), though, the offensive line allowed 50 sacks, so it isn't exactly stout either in run or pass protection. Marcus better make use of that blinding speed, since his front office did curiously little to address what seems to be a major weakness in the trenches. 
Outlook
As with the Bucs, the Titans did very few things impressively last season. If they had, they wouldn't have landed the ultimate no-red-flag/red-flag Mariota at No. 2 overall. Legendary defensive coordinator Dick LeBeau is here now and has the makings of, if nothing else, a pass defense that won't get torched too often. And if Whisenhunt can draw on whatever happened to work for him with Rivers, Warner, and Roethlisberger, he might find a way to scoot himself off of the hot seat.
They'll definitely get swept by Indianapolis and will probably drop each of their contests to Houston, but at least splitting with Jacksonville is a definite possibility, as divisional games go. Beyond that, they have a fairly soft schedule that (including the two against the Colts) has only four games against 2014 playoff team on it.
Of concern: whatever improvements they've made, the Titans still got beat a lot last season, finishing with the second-worst point differential in the league. It may not matter who's on their schedule, as even below average teams routinely roughed Tennessee up last year.
The silver lining and reason to pay attention is clearly Mariota, though, and he is probably the biggest reason why this season will already represent a modicum of progress for the franchise. For the first time in a long time, we have a reason to remember the Titans.
Prediction: It'll either be a surprisingly successful partnership between Mariota and Whisenhunt or it'll be a complete dumpster fire. We'll give them the Rose Bowl rematch over Tampa, a split with the Jags, and say with games against the Jets and Falcons on the ledger, they go 4-12.
For the next month, Sports Cheat Sheet is proud to bring you previews of each of the NFL's 32 Teams (in draft order). Here you'll find out who your team added, lost, and whether or not it's shaping up to be their year (Hint: it probably isn't).
Stats provided by ESPN. Transaction information provided by WalterFootball.com
Connect with Tamer on Twitter @iamtamerabouras